One of VITA Digital Productions' unique
Virtual Walk Series
(All photos on this page are
actual still frames
from this Video.)
Watch Video Clips from this DVD
To Purchase this video as a DVD or as a 720p HD Download, please click here.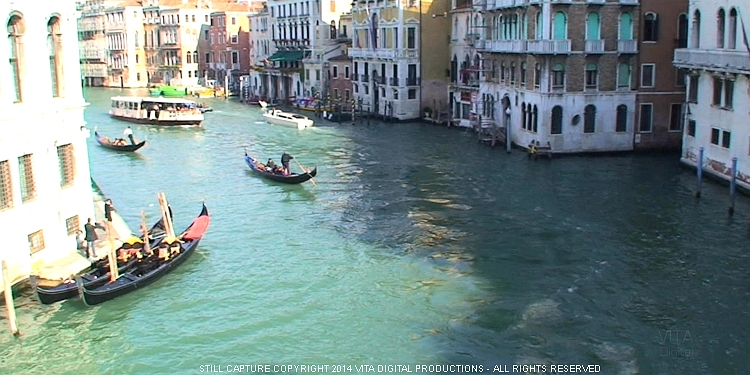 Venice, a city unique in all the world, is the subject of VITA Digital Productions' new 60 minute Walking Tour Video.
Filmed at an average speed of 3 mph, it's the perfect accessory for your treadmill, elliptical or Nordic Track.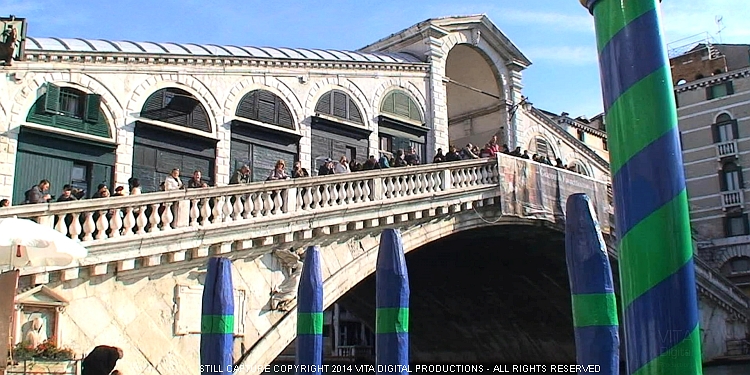 Imagine, you could be exercising tomorrow by walking in historic Venice, Italy!
Walking through this amazing city while exercising and staying fit.
You'll exercise longer than ever before and enjoy every minute!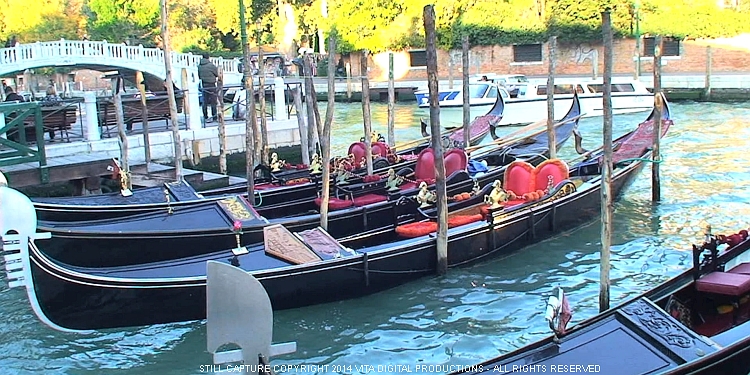 These unique Virtual Walk Scenery DVDs are not sold in stores.
They are only available directly from VITA Digital Productions
as DVDs or 720p HD Downloads.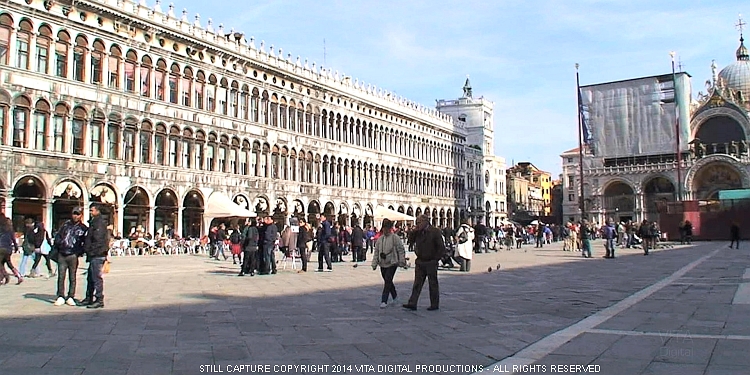 Filmed in Widescreen with a High Definition* television camera, you'll experience
a beautiful October day as you walk through this magnificent city built in the Venetian Lagoon.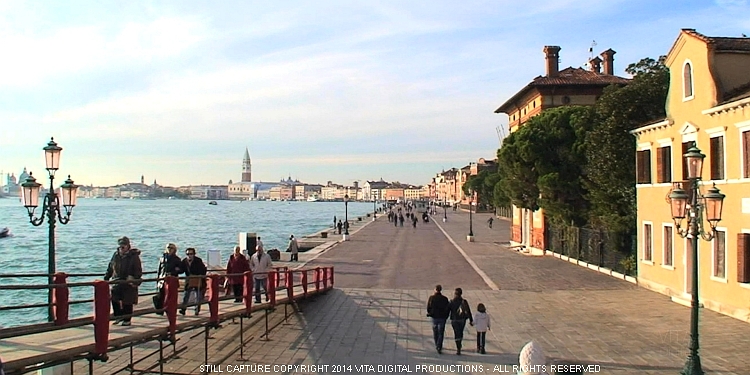 This is not a traditional travel video. There is no narrator or music.
The television camera is constantly moving forward, transporting the viewer
through some of the most historic and scenic parts of Venice, Italy.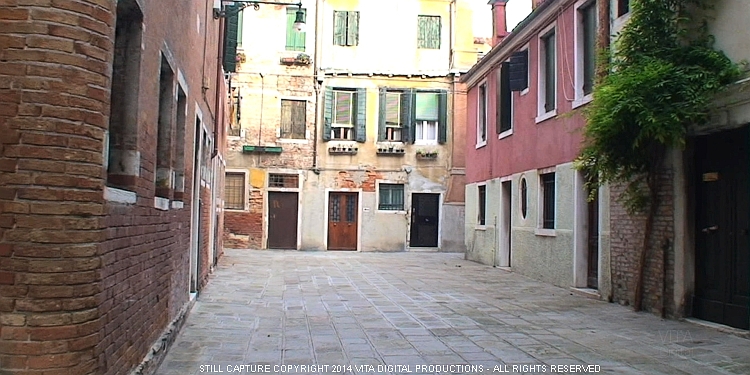 This 60 minute virtual walk is accompanied by the natural sounds
just as they were recorded in Dolby digital Stereo in Venice.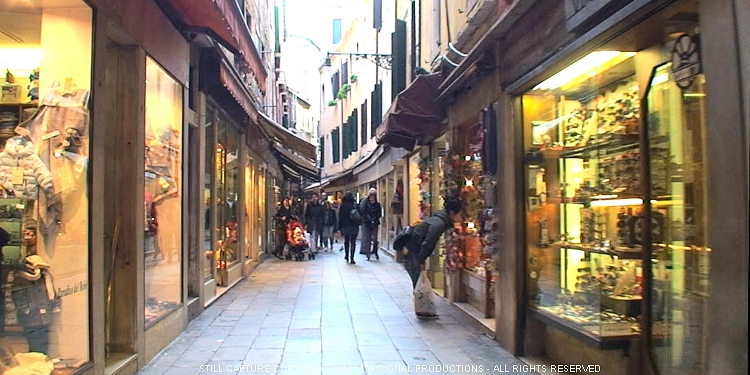 Other than booking a ticket on an airplane to Italy,
this DVD is the next best thing to "being there."
Exercising has never been easier or more enjoyable!

And this DVD is so rich in details
that you will notice something new every time you view it.

But you don't have to have an elliptical or treadmill
to enjoy this DVD.

It also makes the perfect gift for people who want
to experience Venice in a totally unique way:
a way not possible with traditional travel videos.

All of our Virtual Experience DVDs
will soon be available as
Downloads for your iPad, Tablet, Netbook, or Computer!


Watch Video Clips from this DVD
To Purchase this video as a DVD or as a 720p HD Download, please click here.

A Description of the Virtual Walk on this Video
All photos on this page are actual still captures from this Video.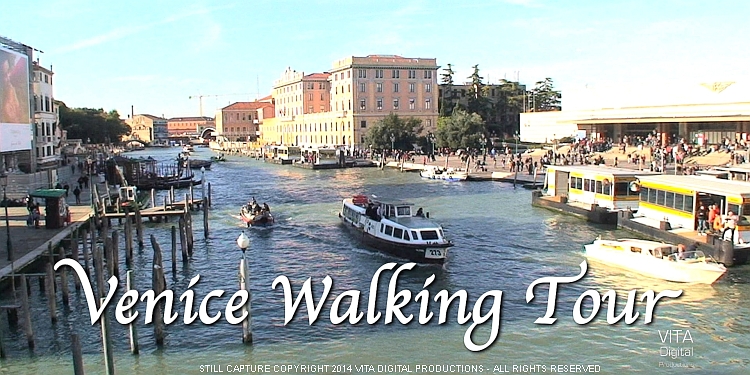 The Venice Walking Tour begins atop the Ponte degli Scalzi, with a view of
the Grand Canal directly ahead and the train station to the right.
Only three major bridges cross the Grand Canal, the Accademia, Rialto and Scalzi.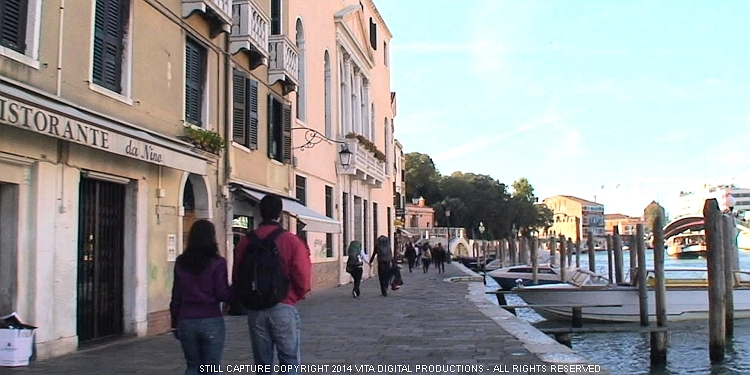 Early on this October morning tourists, along with Venetians hurrying to work,
are walking along the Fondamenta S. Simeone Piccolo beside the Grand Canal
as the venerable city comes alive once again.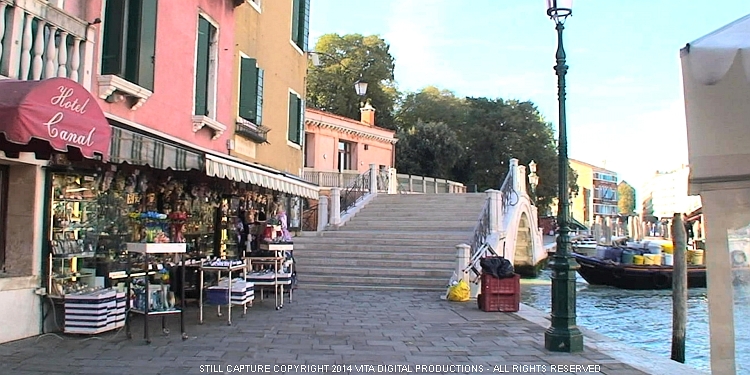 Ahead lies the first of many footbridges which we will cross today
on our walking tour of Venice. Fortunately we won't have to cross
all of the more than 400 footbridges that exist in Venice.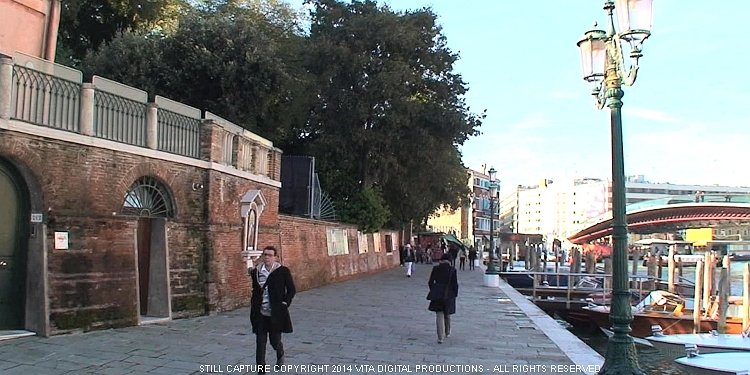 Venice is made up of a collection of approx 115 tiny islands.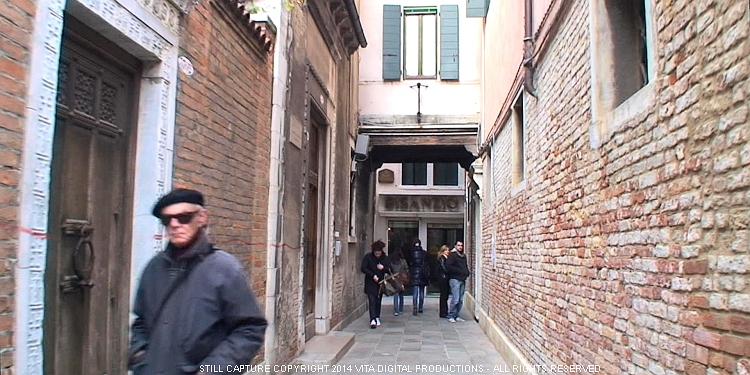 The walk next takes you onto the Calle de la Pieta
and turns right onto the Calle Pieta Cannaregio.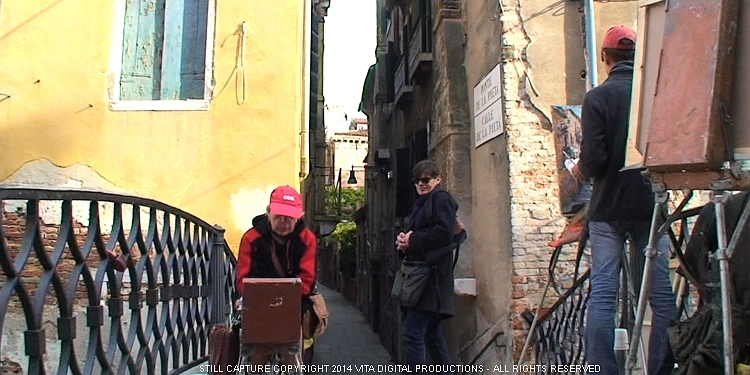 The camera passes over the Ponte de la Pieta, a small bridge which is a favorite
of local artists painting a view of the Rio de la Pieta.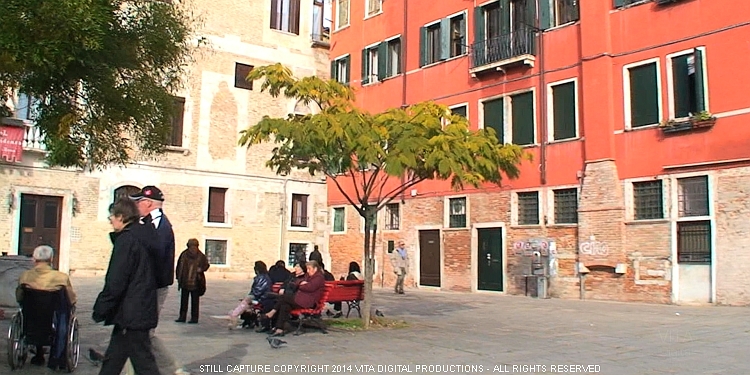 Passing through a small piazza, we turn to the right on Salita Pignater
and walk past the Chiesa di San Giovanni Battista in Bragora.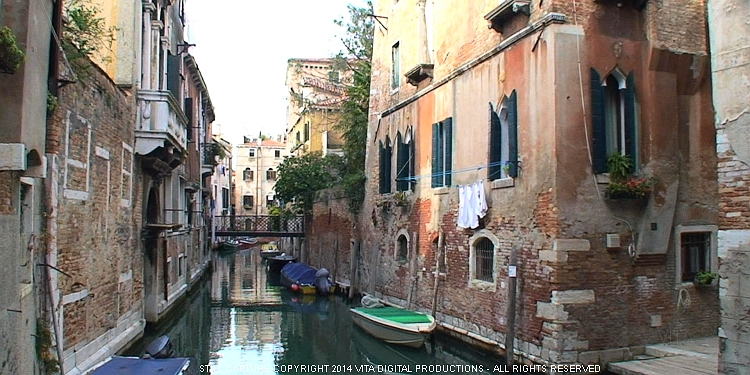 We pause briefly to take a glimpse of Rio de la Ca' en Duo from the bridge before...
Watch Video Clips from this DVD
To Purchase this video as a DVD or as a 720p HD Download, please click here.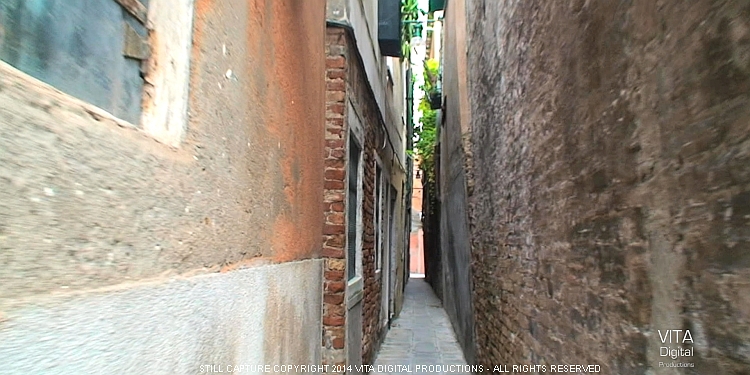 ..continuing right on the Calle de la Grana and then through one of Venice's
narrowest alleyways which parallels the Calle Scudi.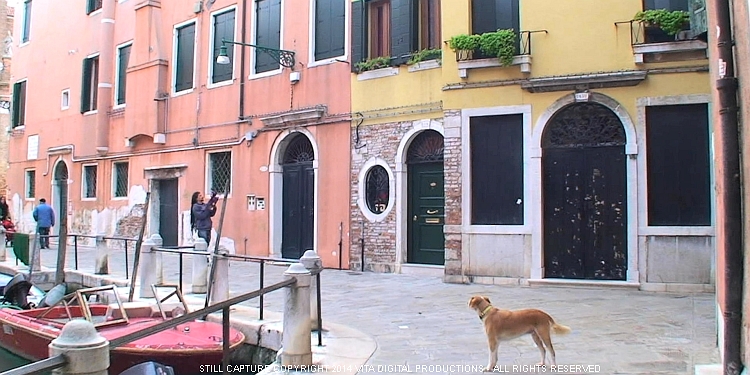 After turning right onto the Fondamenta Gorne we continue on and pass a dog and a man carrying a small child.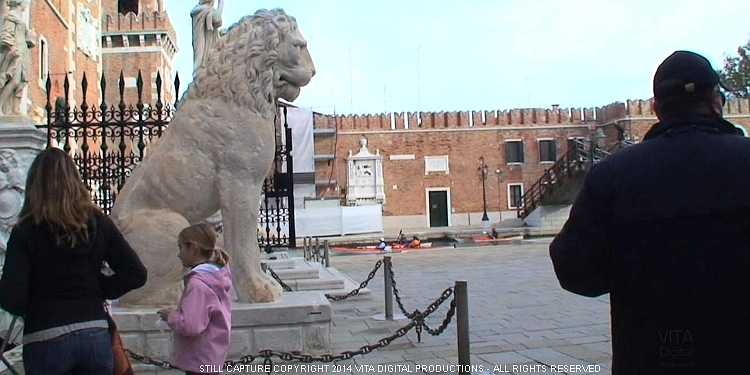 A few moments later the camera enters the Campo de L'Arsenale and passes by a large stone lion.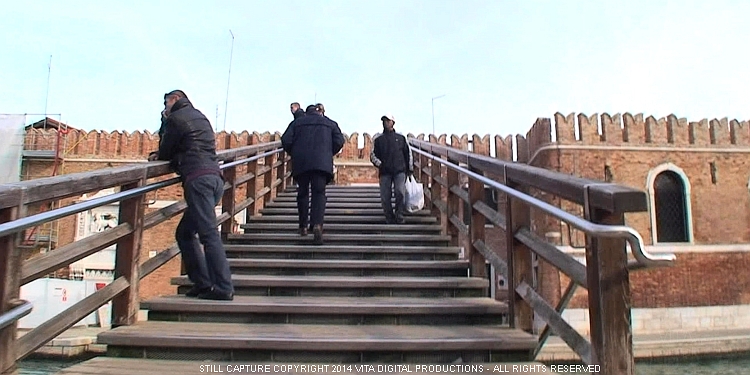 And climbing the Ponte de L'Arsenale del Paradiso, we turn to.....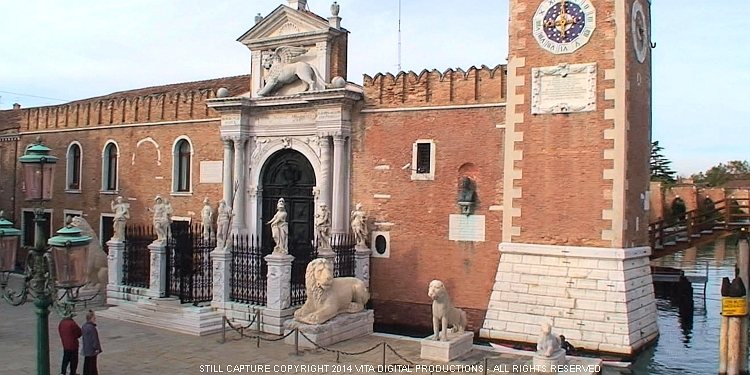 ..view the front of the Arsenale, a complex of former shipyards and armories.
It was one of the earliest large-scale industrial complexes in Europe.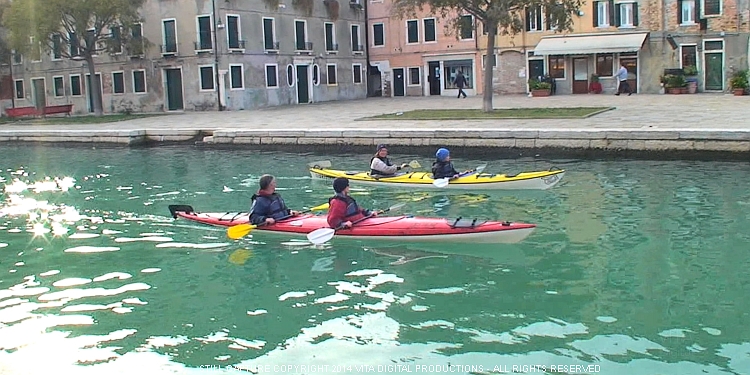 Desending the Ponte de L'Arsenale del Paradiso, we turn to watch
some kayakers enjoying a canal cruise.
Watch Video Clips from this DVD
To Purchase this video as a DVD or as a 720p HD Download, please click here.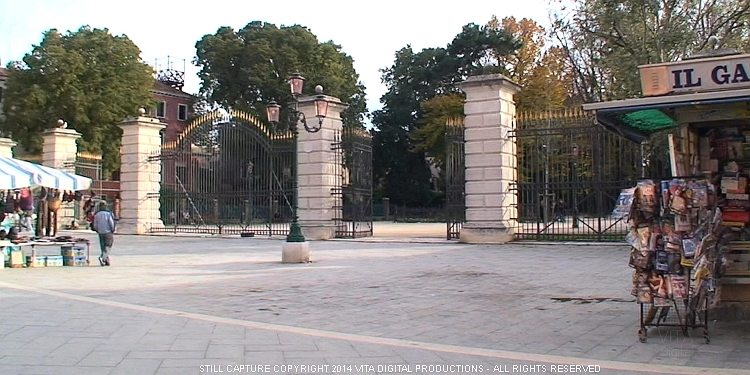 A little further along we turn and enter the Viale Giuseppe Garibaldi....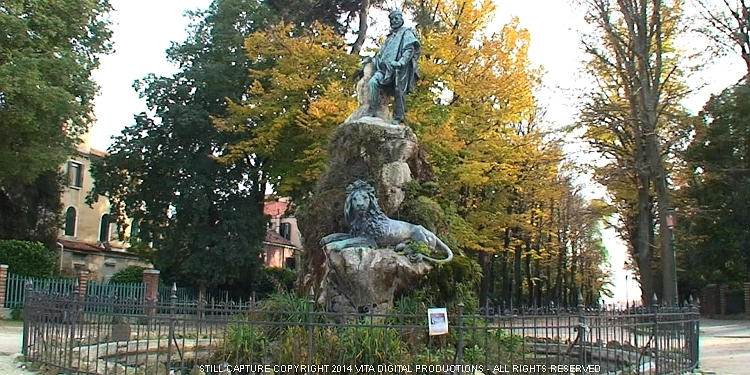 and pass a monument dedicated to the hero responsible for the country's unification in 1861.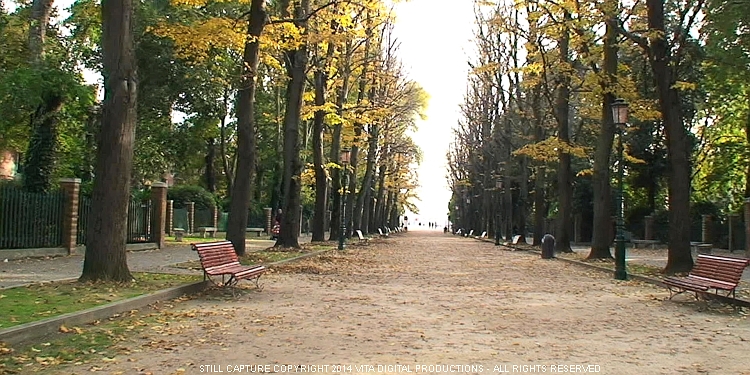 Even though it is small, visitors are surprised to find a park like this in Venice.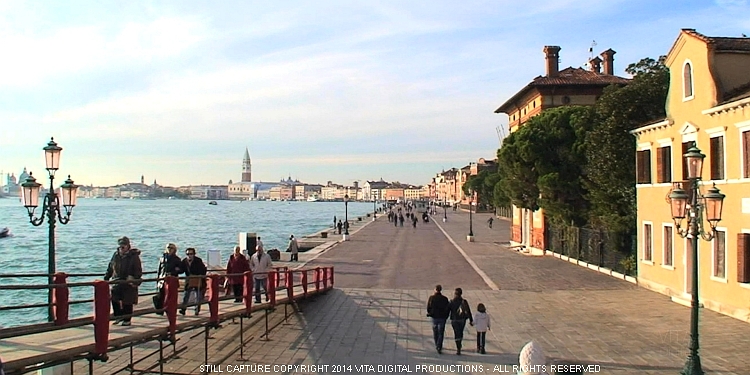 Leaving the park, we turn right on the Riva dei Sette Martiri (Bank of the Seven Martyrs),
which runs along part of the San Marco basin.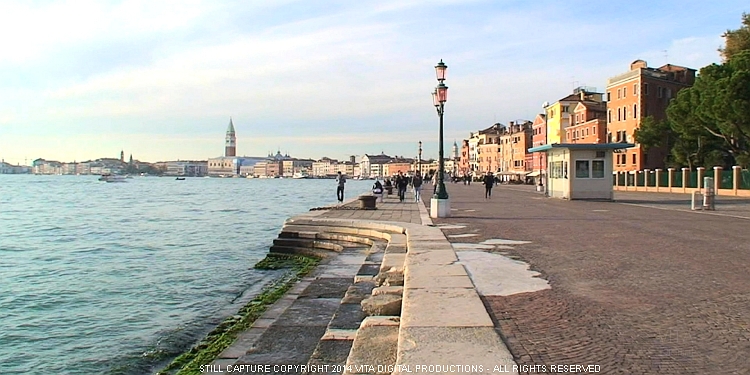 Recently, the San Marco Basin has begun to see mega-ships cruising into Venice.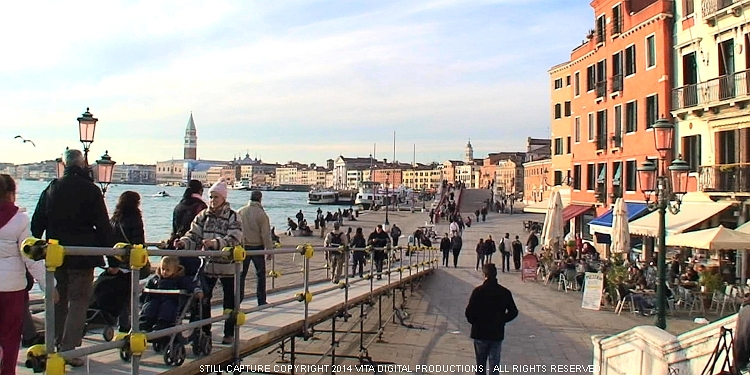 Many believe that gigantic cruise ships should not be permitted to sail in the basin so close to
the beautiful buildings of the old city.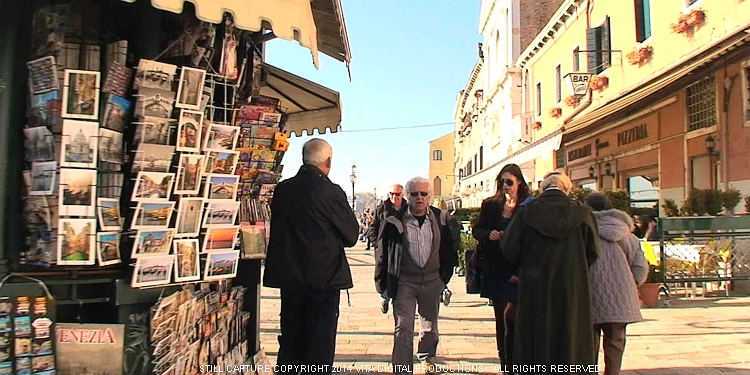 Now in the Dorsoduro district, we walk along the Fondamenta Zattere past S. Maria del Rosario
and Chiesa di Santa Maria della Visitazione....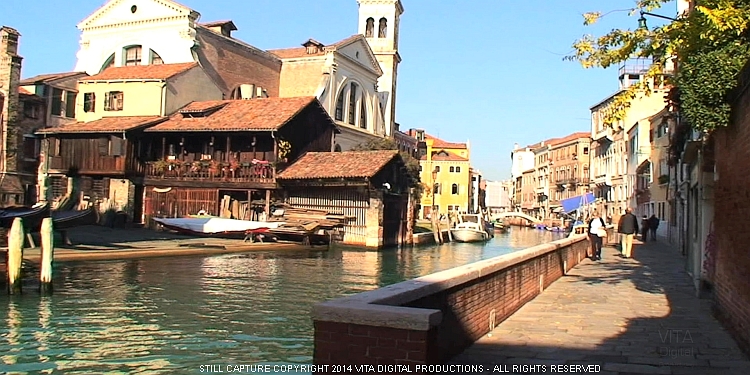 before turning right onto Fondamenta Nani beside Rio de S. Trovaso, passing the Squero di San Trovaso,
a 17th century gondola boatyard still in use today.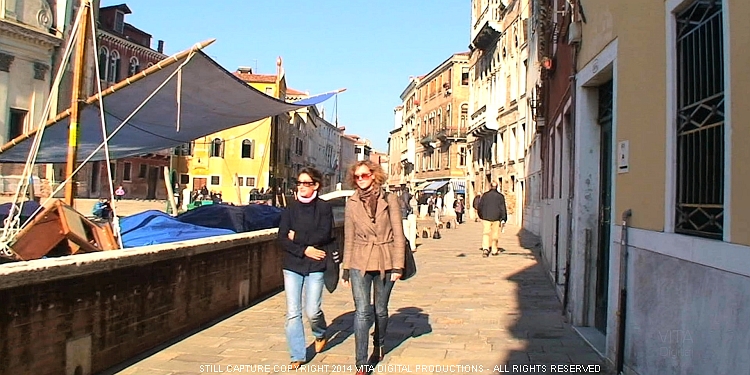 So much beauty everywhere... it's not surprising that Venice was once the home of
playwright and famous lover Giacomo Casanova, the explorer Marco Polo, and composer Antonio Vivaldi.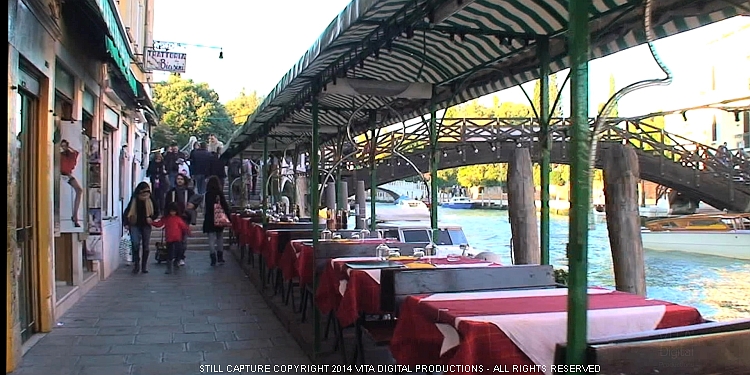 Next, we are walking along the Fondamenta Rio Nuovo where we pass sidewalk cafes.....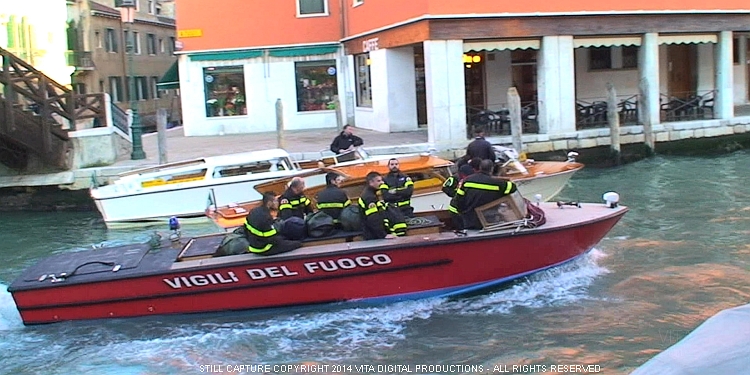 and a fire boat with firemen onboard.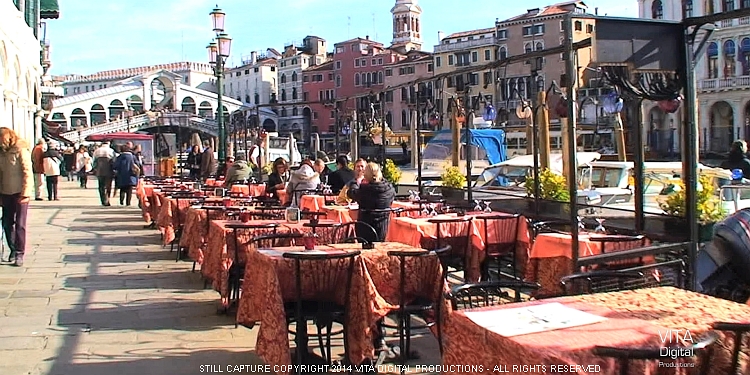 Then onto the Grand Canal and more sidewalk cafes.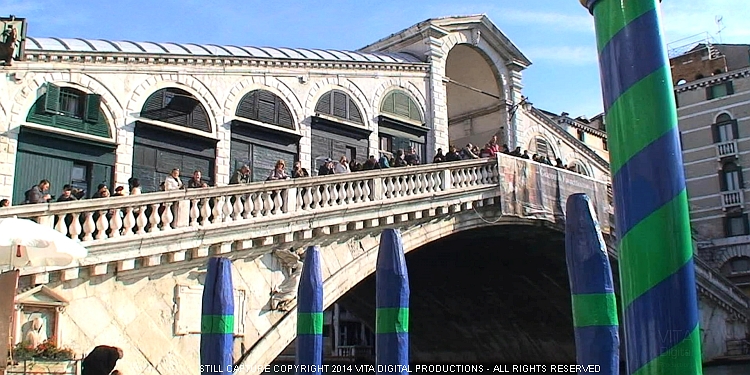 We pause to admire the Rialto Bridge before crossing it.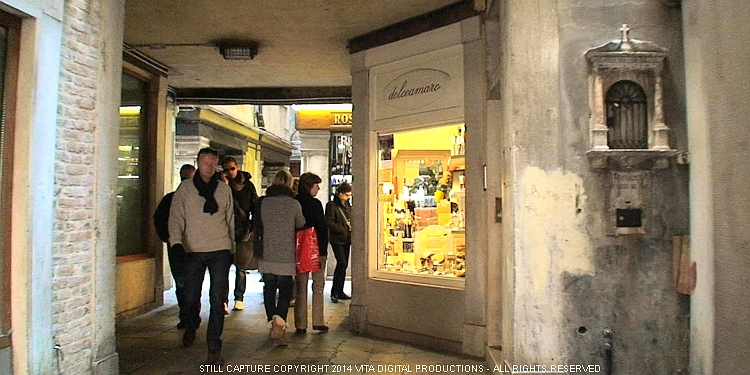 And once on the other side, we enter the congested shopping area.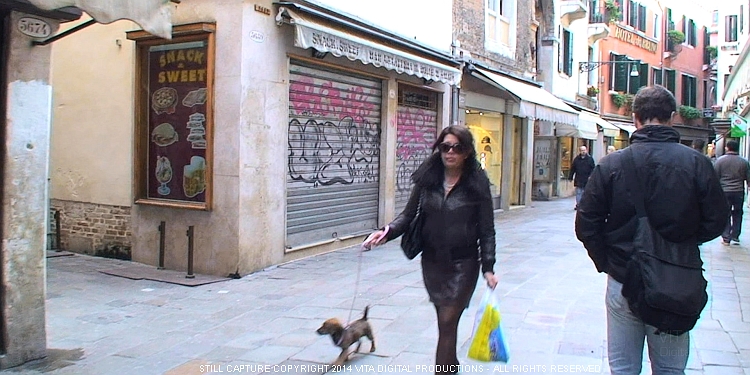 Venetians appear to love their dogs.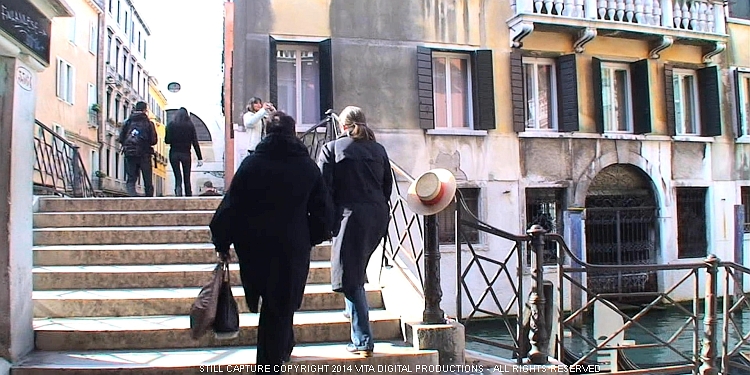 Crossing another footbridge, we notice a Gondolier's hat resting on a post.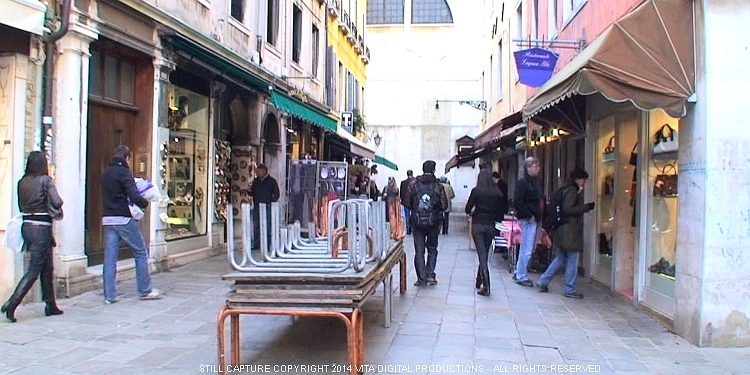 We see the first of many walkway platforms placed in preparation for the winter's "aqua alta."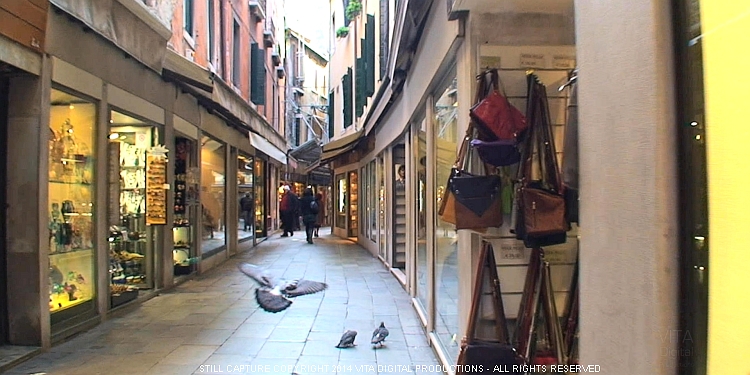 As we continue our walking tour of Venice we must watch out for pigeons, found everywhere in Venice.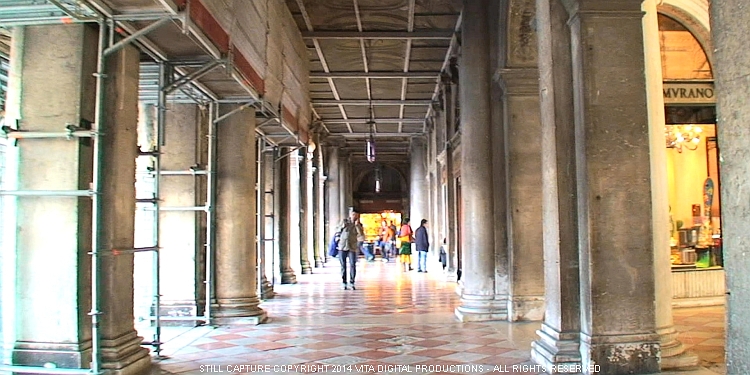 Dodging some tourists, we turn into the long arcade along the north side of Piazza San Marco,
the buildings on this side are known as the Procuratie Vecchie and today house upscale
shops and restaurants.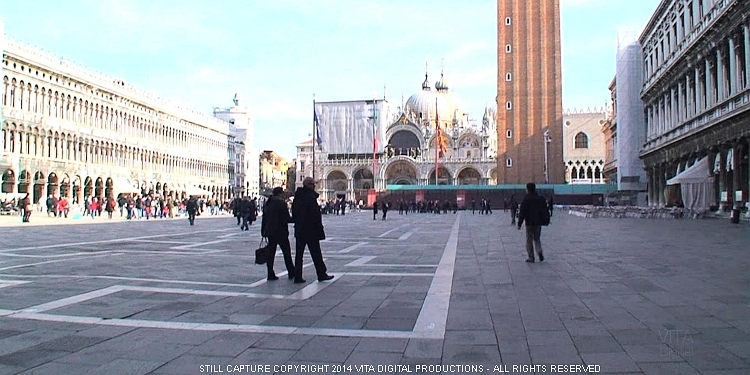 Turning into Piazza San Marco, we see for the first time the famous square,
reputedly called by Napoleon "the finest drawing room of Europe."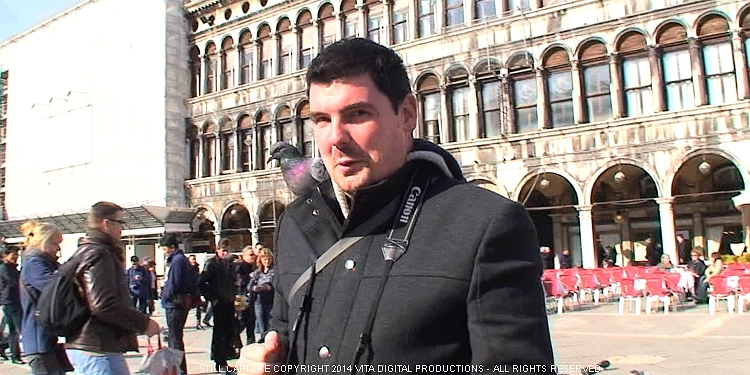 As we cross the large Piazza, we encounter visitors interacting with the pigeons.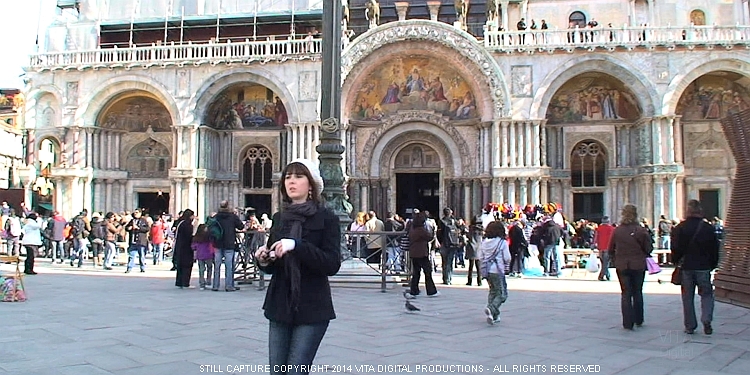 Then on towards St. Mark's basilica, one of the best known examples of Italo-Byzantine
architecture in the world and famous for its gold mosaics.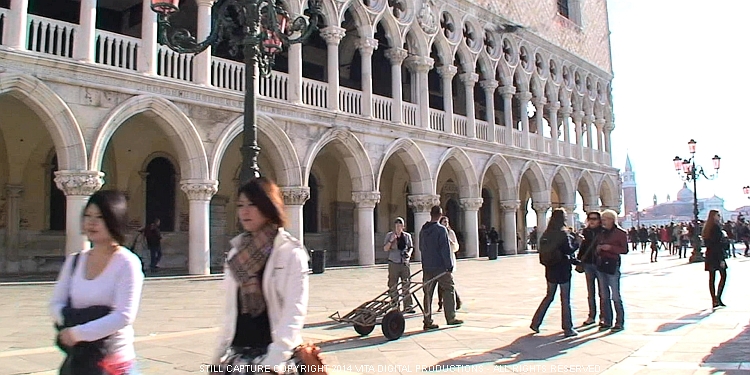 Then past the Doge's Palace, built in the Venetian Gothic style,
and one of the main landmarks of the city of Venice.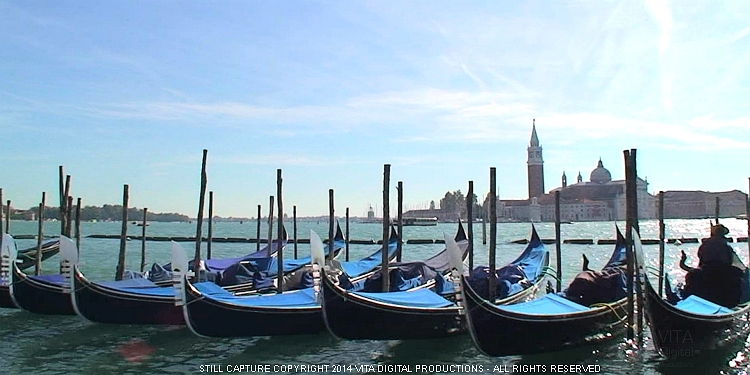 This one hour walking tour of Venice ends at the Riva degli Schiavoni with
San Giorgio Maggiore in the distance.
Plus a BONUS CHAPTER, "The Lagoon Islands of Venice," a 15 minute video which focuses
on the islands of Burano, Torcello, and Murano and is accompanied by
beautiful music is also included on the DVD.
---
And remember, this DVD makes a unique gift for family and friends!


Watch Video Clips from this DVD

To Purchase this video as a DVD or as a 720p HD Download, please click here.

PRODUCTION NOTES:

*While originally filmed in High Definition, the DVD you will receive

is in high quality Standard Definition and 16x9 Widescreen.

This video is available in High Definition as a Download for iPads, Tablets, and Computers.

The 60 minute virtual walk was filmed at an average speed of 3 mph and is accompanied

by the natural sounds in Dolby Stereo as they were recorded on site in Venice.

The DVD you will receive is a "burned" DVD which was duplicated in our studio.

It contains an interactive menu and will play on DVD players and computers.

It is NTSC format (American TV Standard) and is encoded for the US, Canada, Europe, Australia, New Zealand and Japan only.

All of the photos on this page are actual still frames from this DVD.

This DVD is ONLY available from VITA Digital Productions.

---

COPYRIGHT NOTICE:

We are VITA Digital Productions and we are selling this DVD.
We filmed all of the video footage used in this program, we edited it,
and we own the copyright to this program and will aggressively defend it.

The program contained in this DVD is licensed for HOME USE ONLY.
If you intend to use this program in connection with a business of any kind,
you must contact us to obtain a license at a small nominal fee.

This DVD is available only directly from VITA Digital Productions.
It is not sold in stores and is available only directly from us on the internet.