One of VITA Digital Productions' unique
Virtual Experience Videos
(All photos on this page are
actual still frames
from this video.)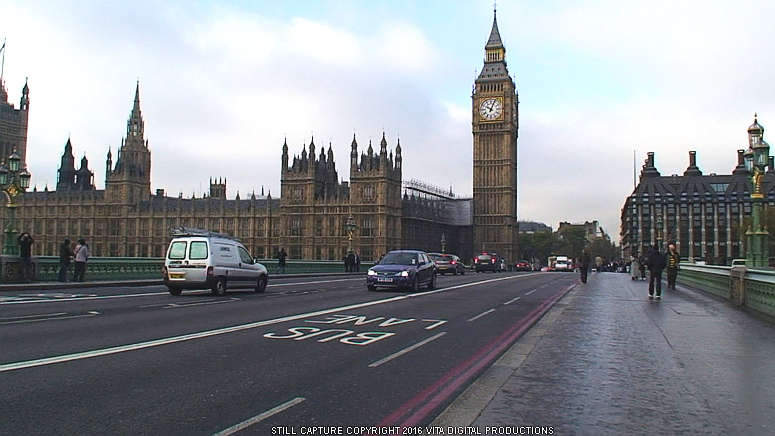 VITA Digital Productions is proud to present its 45th Virtual Experience Video,
the Sherlock Holmes Virtual Walk
a 60 minute widescreen virtual walk to 16 of the filming locations used in the hit BBC TV Series.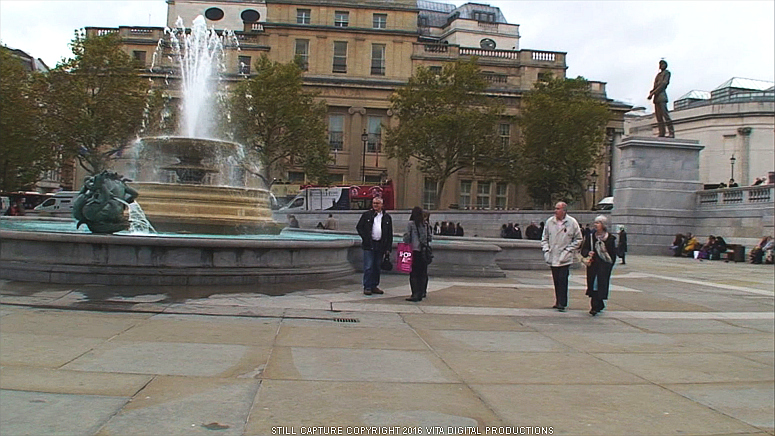 Using either the DVD version or the 720p HD Download you could be instantly "walking"
in the footsteps of the famous TV detective, Sherlock Holmes.
The time spent exercising on your treadmill will "fly by," you'll exercise longer, and enjoy every minute!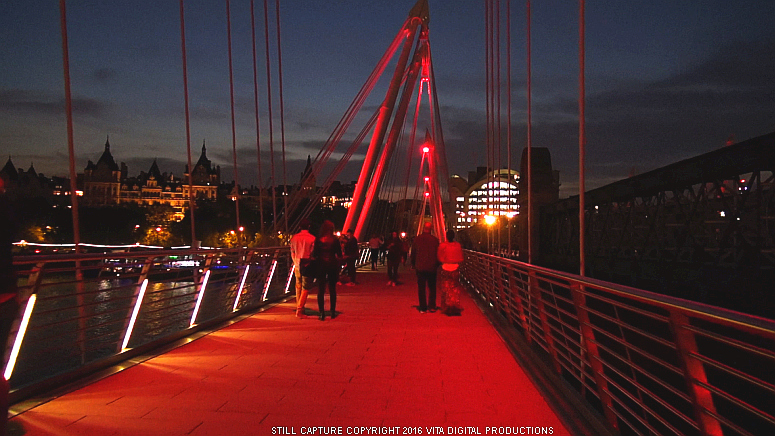 If you're a fan of Sherlock Holmes, you'll certainly enjoy "walking" to some of the unique filming locations
used in the hit series but if you've never watched the series, you'll still enjoy
visiting some of the most interesting locations in London.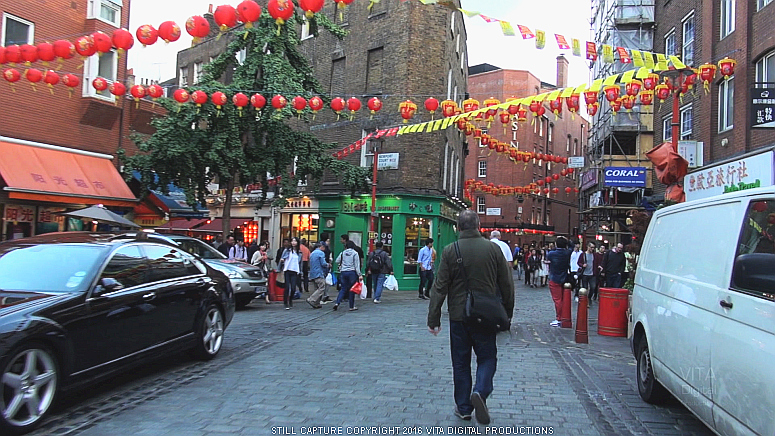 The new television series starring Benedict Cumberbatch and Martin Freeman
is a modern adaptation of the famous Sir Arthur Conan Doyle stories and
is primarily filmed in Cardiff, Wales, with numerous exterior scenes filmed in London.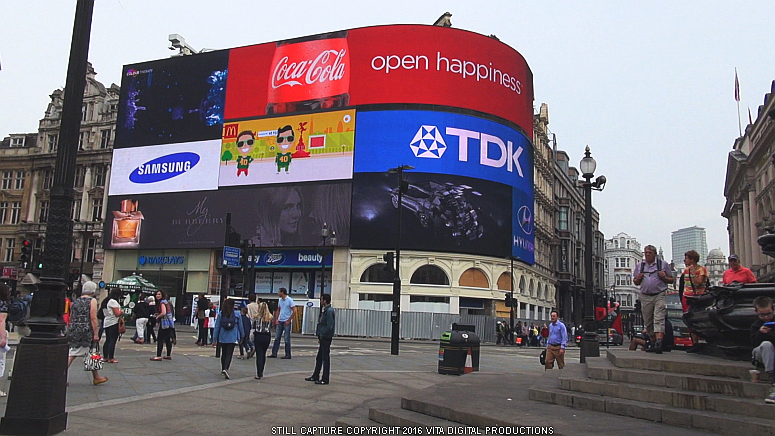 With this 60 minute Virtual Walk Video you'll visit 16 of the exterior filming locations
used in the first three seasons of the television series.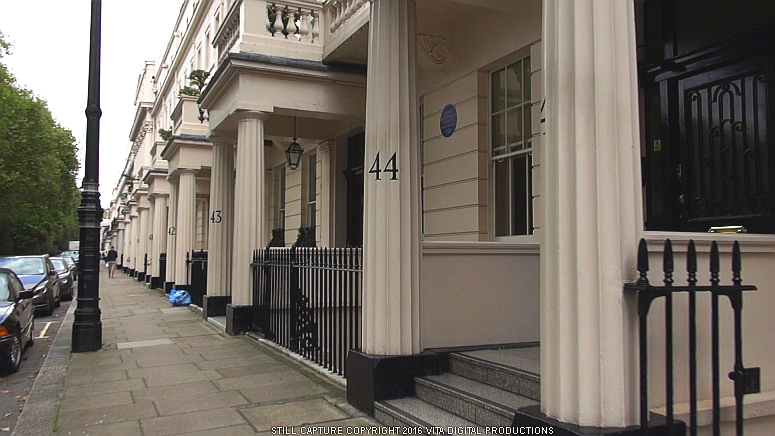 Filmed in Widescreen with a professional High Definition* television camera, you'll enjoy
every minute of your one-hour virtual walk following in the footsteps of the famous detective.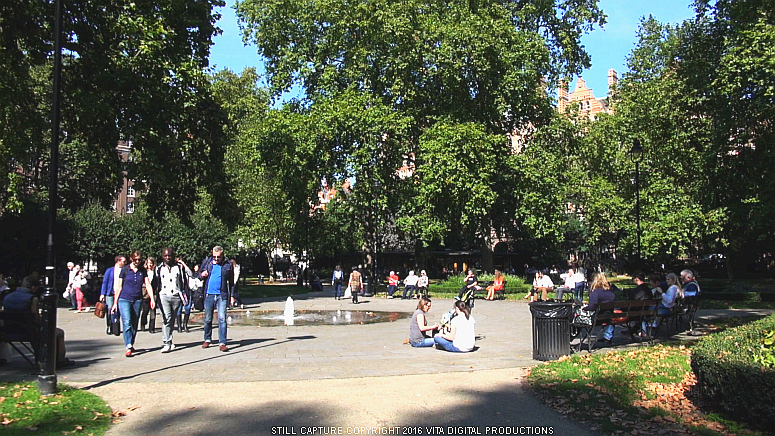 This is not a traditional travel video.
The television camera is constantly moving you forward, transporting you
through some of the most interesting sections of modern London.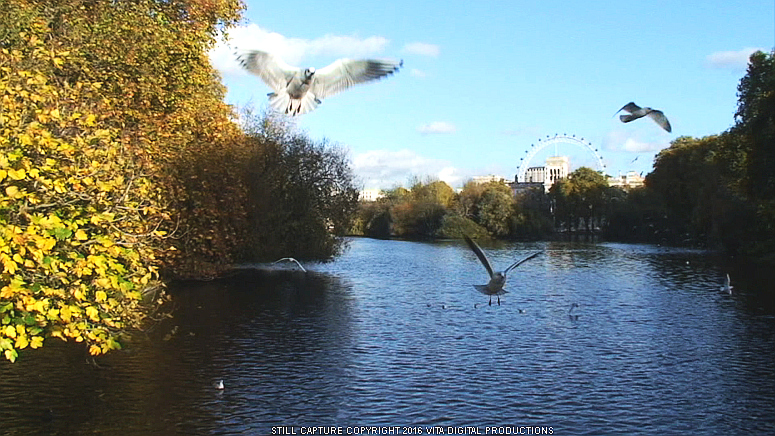 This 60 minute Virtual Walk Video is accompanied by the natural sounds
just as they were recorded in Dolby Stereo in London.
---
Exercising has never been easier or more enjoyable!

Your time spent exercising on a treadmill will "FLY BY!"

And this one hour video is so rich in details
that you will notice something new every time you view it.

But you don't have to own a treadmill
to enjoy this HD Download or DVD.

It also makes the perfect gift for people who want
to experience London in a totally unique way:
a way not possible with traditional travel videos.
---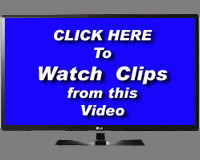 To Purchase this video as a DVD or as a 720p HD Download, please click here.
---

A Detailed Description of the Virtual Walk on this Video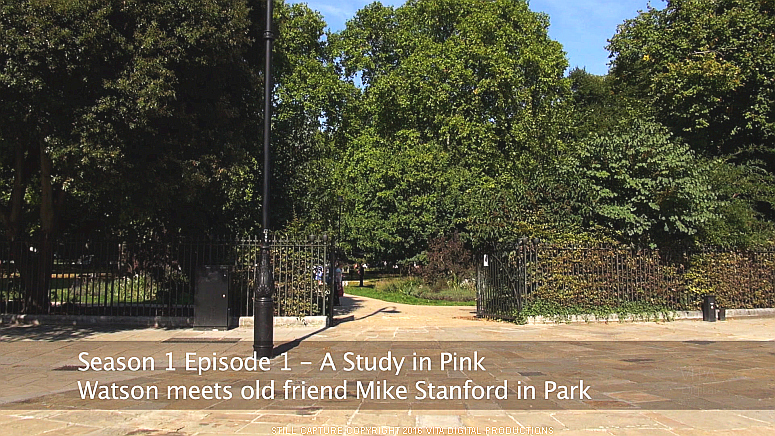 Your 60 minute Sherlock Holmes Virtual Walk begins at Russell Square, a large garden square in Bloomsbury.
It is in this park in Season 1, Episode 1, that John Watson encounters old friend Mike Stanford...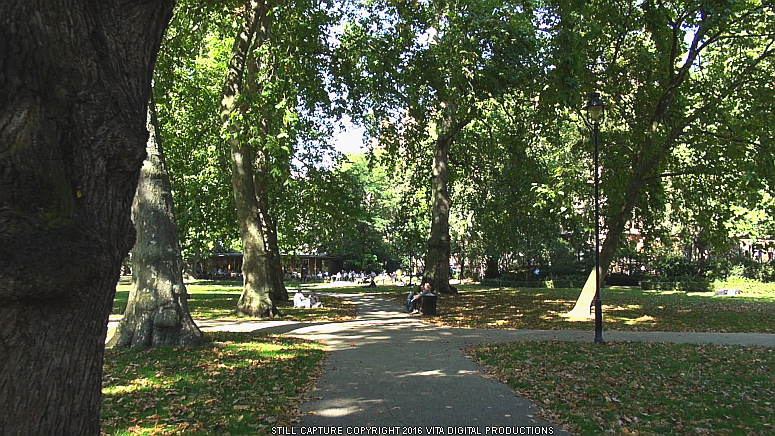 ...sitting at a park bench placed here on the right. Stanford informs John that he has met a man looking for a flat mate.
That man is Sherlock Holmes.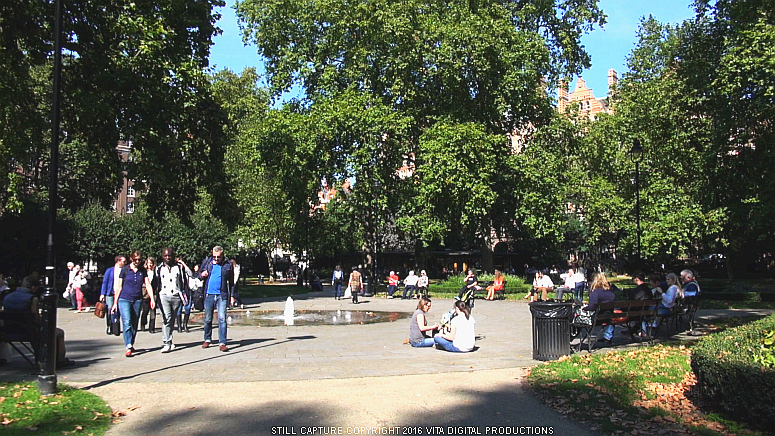 Your walk continues through the garden at Russell Square past the fountain installed in 2002.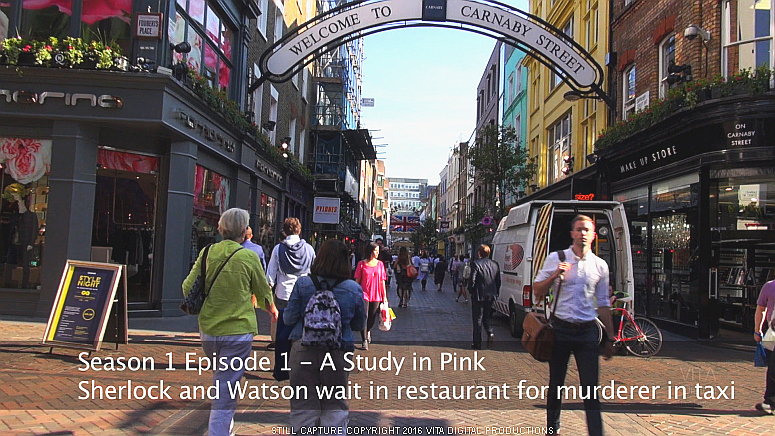 The next section of your walk begins in the borough of Soho where in Season 1, Episode 1,
Sherlock and John sit at a restaurant window while they wait to meet a murderer.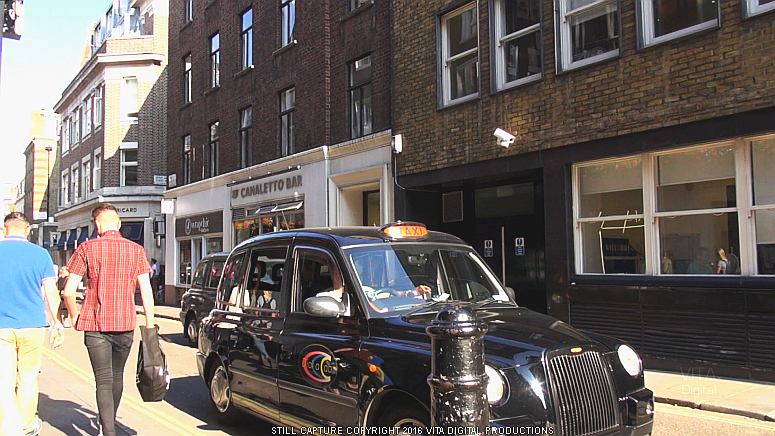 As you walk through Soho, you pass several of the ubiquitous black taxis that populate London streets,
similar to the taxi driven by the murderer.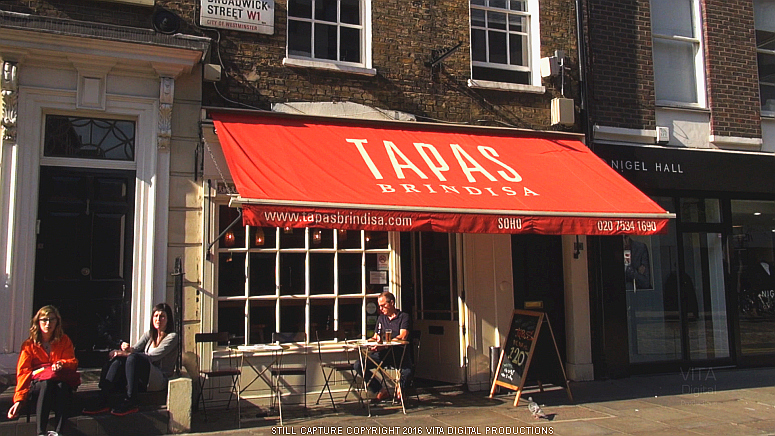 After a short five minute walk through Soho, you arrrive at the restaurant and window
where Sherlock and John talked as they waited.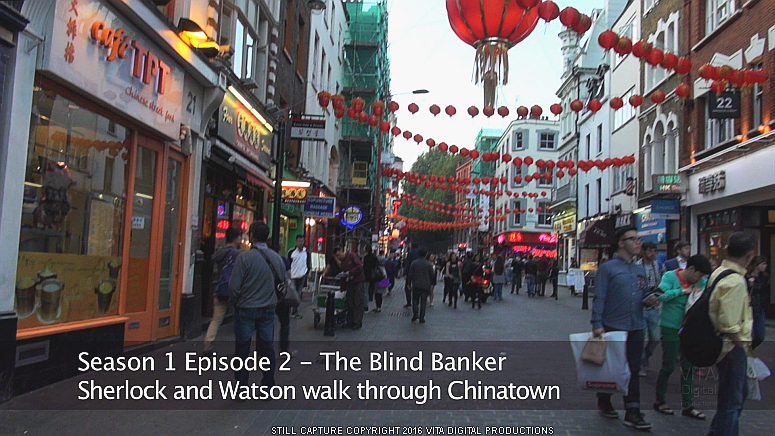 Next you travel to London's colorful Chinatown where in Season 1, Episode 2, Sherlock and John
attempt to discover the meaning of cryptic symbols left at murder scenes.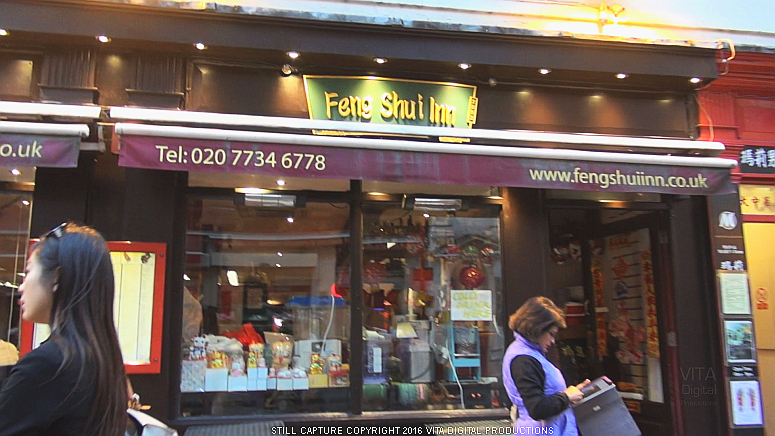 As they pass the Feng Shui Inn Restaurant, Sherlock realizes that the symbols are an ancient Chinese number system.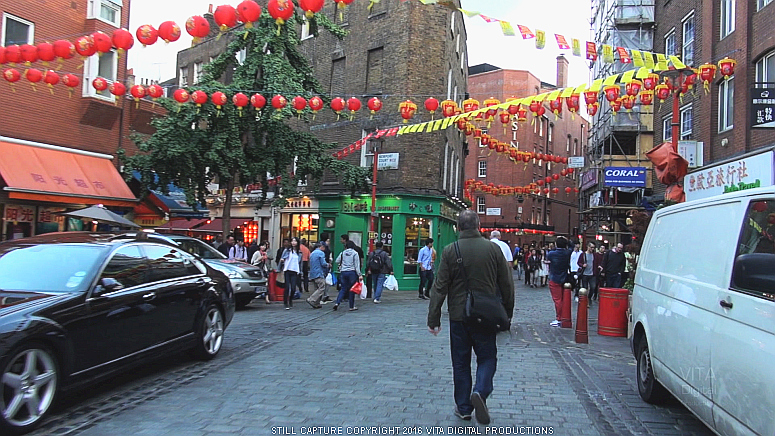 Your walk continues on through Chinatown.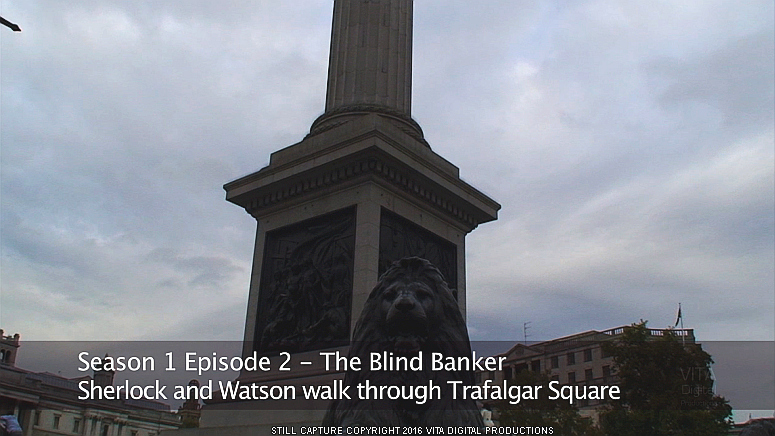 In the same episode, Sherlock and John walk through the middle of Trafalgar Square...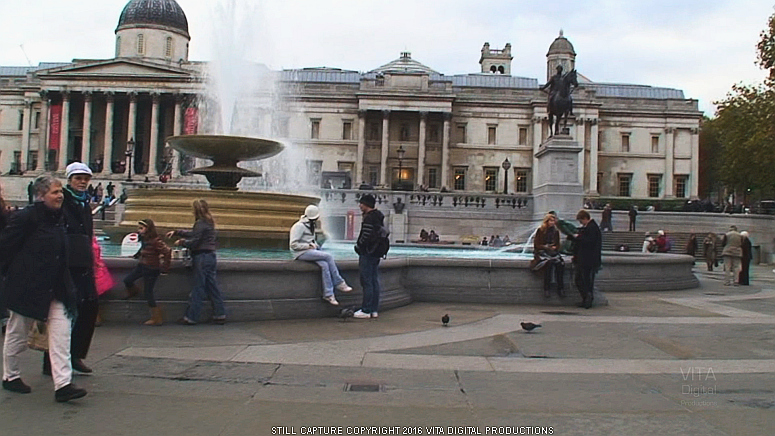 ...discussing ancient cryptology methods.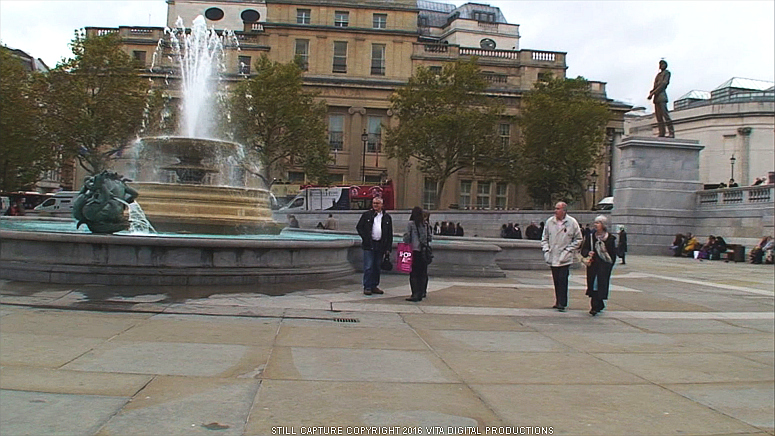 They continue on through crowded Trafalgar Square and...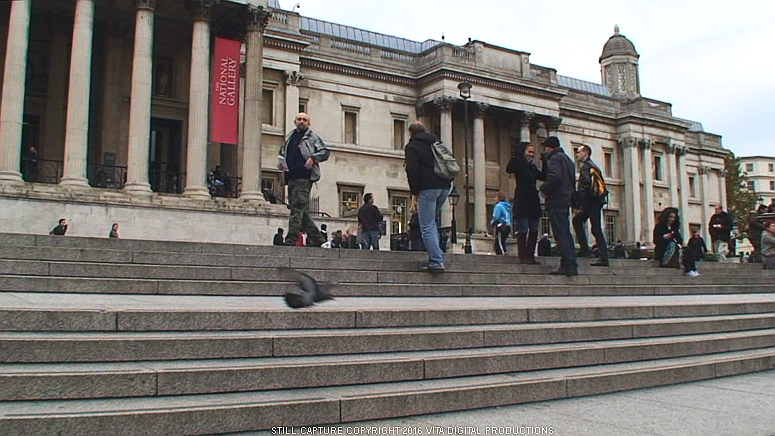 ...as they walk up these steps, Sherlock admits to John that he
needs to consult an expert in painting.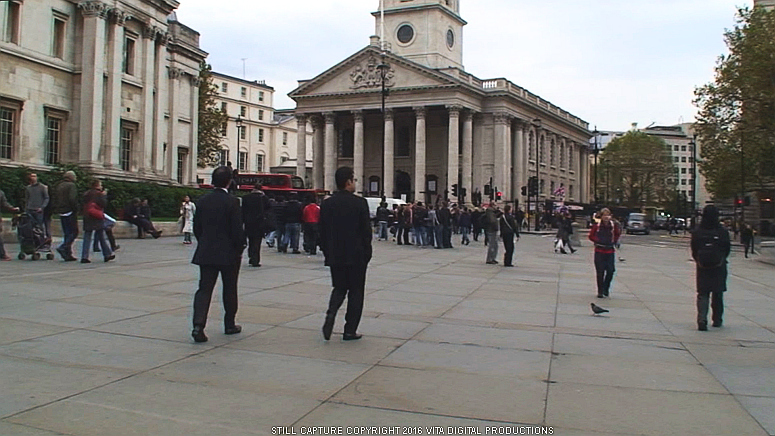 The painting "expert" is Raz, a graffiti artist.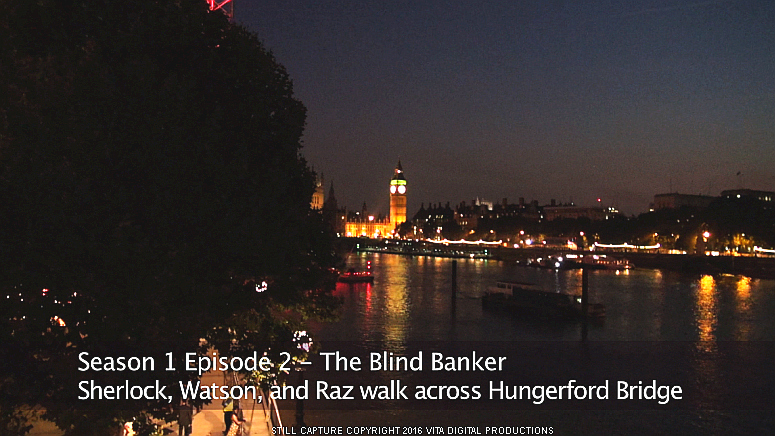 Later on in the same episode...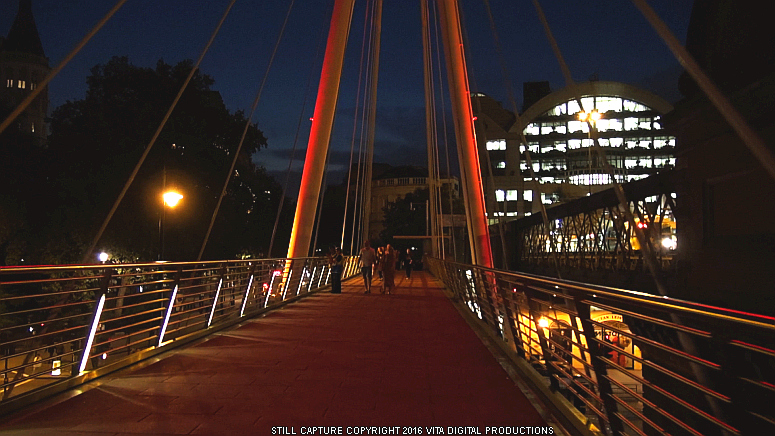 ...Sherlock, John, and Raz cross the Hungerford Pedestrian Bridge on their way to
the South Bank Skate Park to examine more Chinese symbols.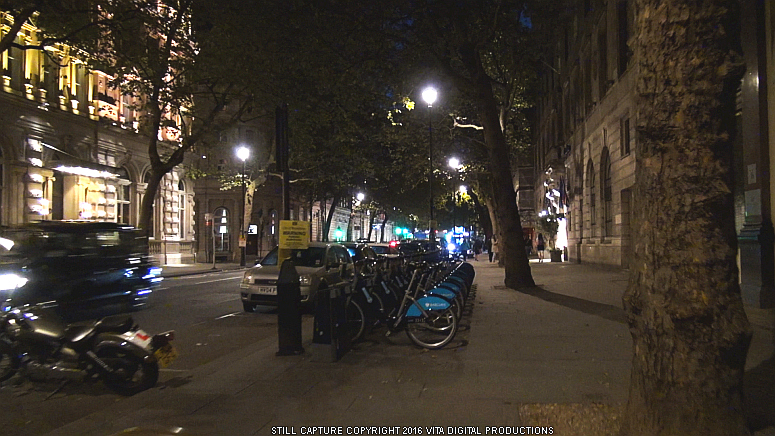 Leaving the Hungerford Pedestrian Bridge and continuing straight on for a few more blocks...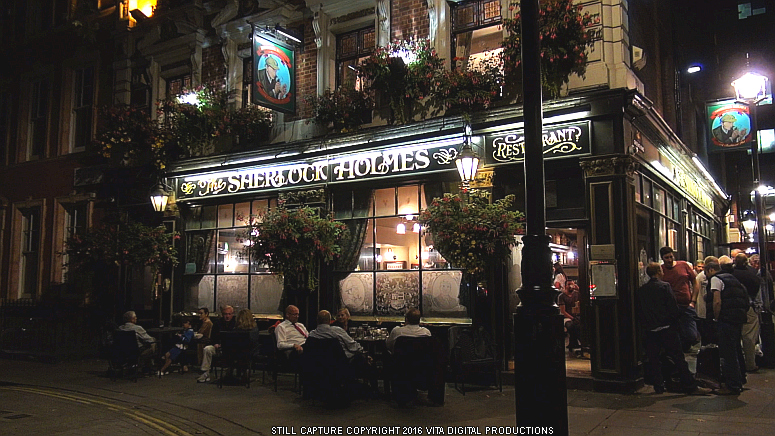 ... you come to the famous Sherlock Holmes Restaurant, not yet used in any episode of the series.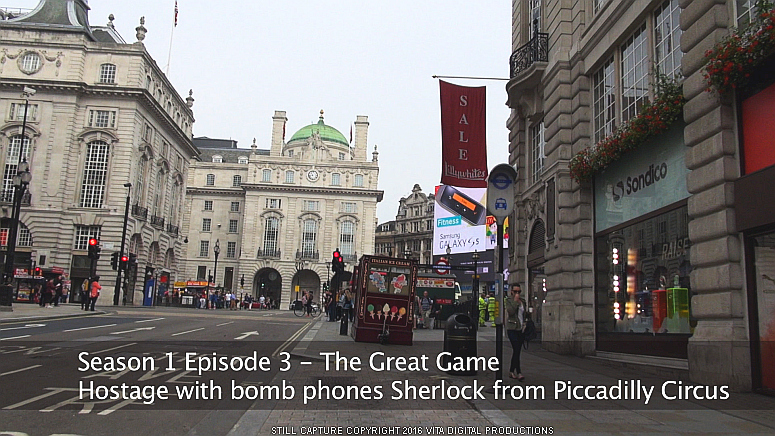 In the same episode, the plot moves to Piccadilly Circus where...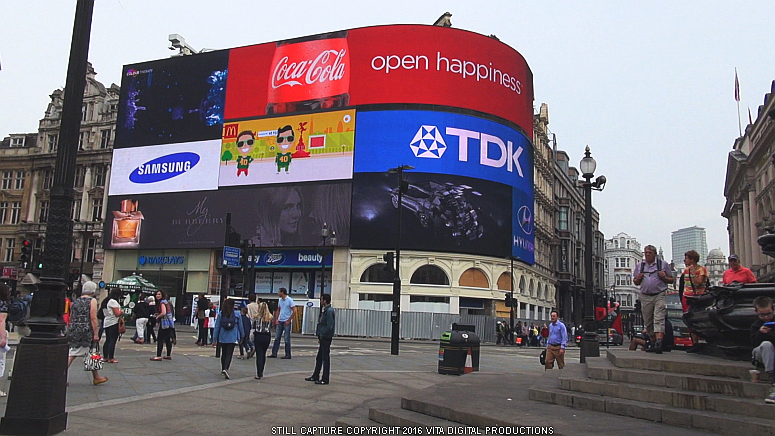 a man with explosives strapped to his body is forced to make cell phone calls
to Sherlock to relay cryptic clues from Moriarty.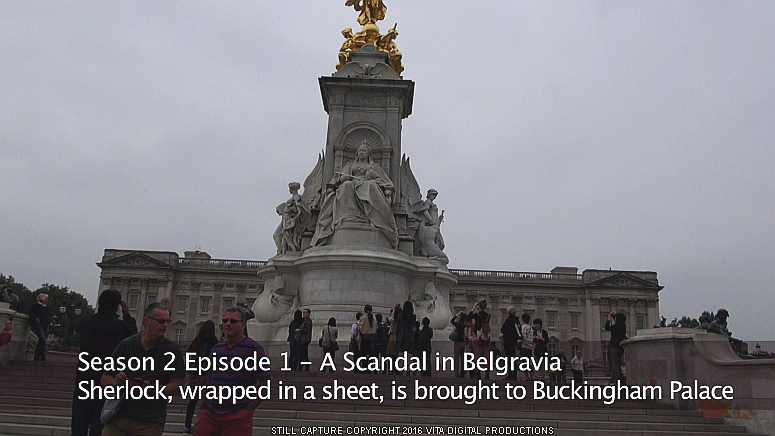 Next, in Season 2, Episode 1, Sherlock, against his will and wrapped only in a sheet...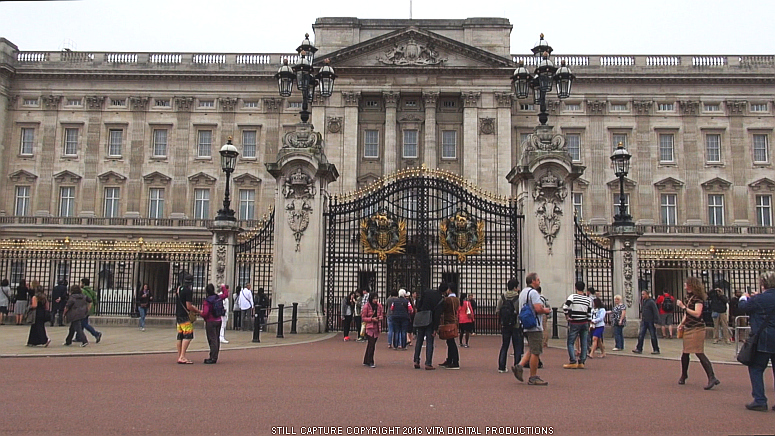 is taken to Buckingham Palace for an important meeting with Mycroft.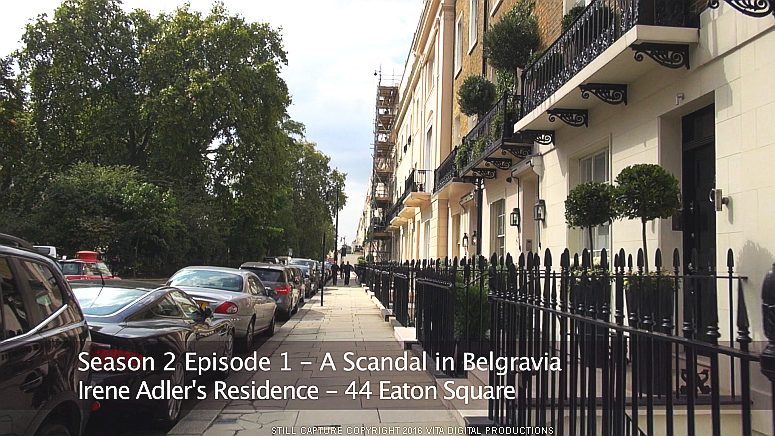 In the same episode, Irene Adler, "the woman," is driven to her residence...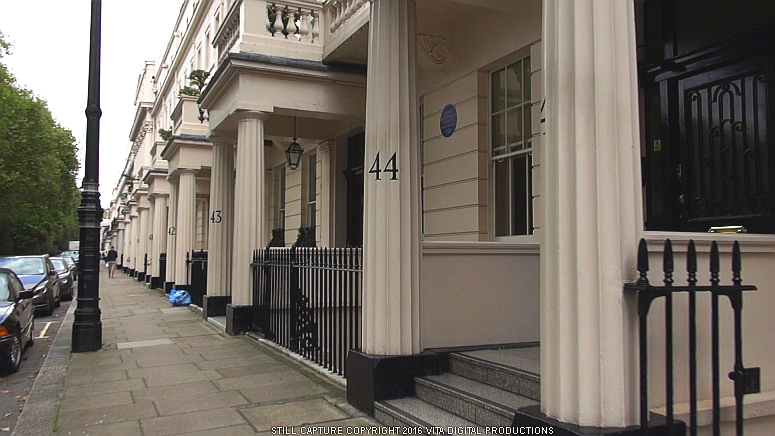 ...at fashionable 44 Eaton Square.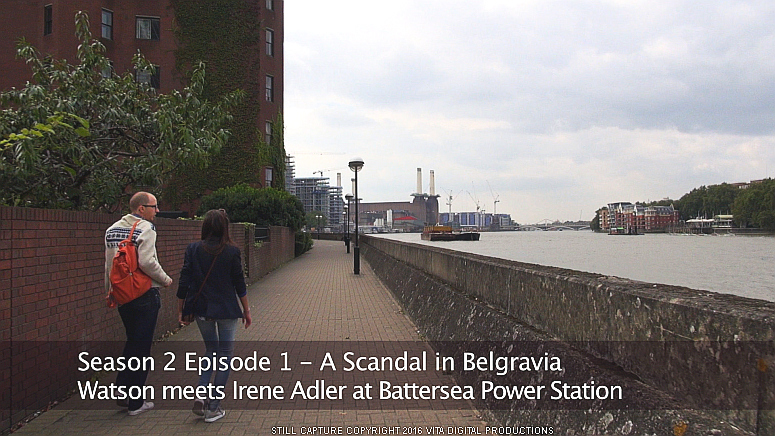 In the same episode, John, under the assumption that he is meeting Mycroft, is
actually taken to meet Irene Adler at the old but...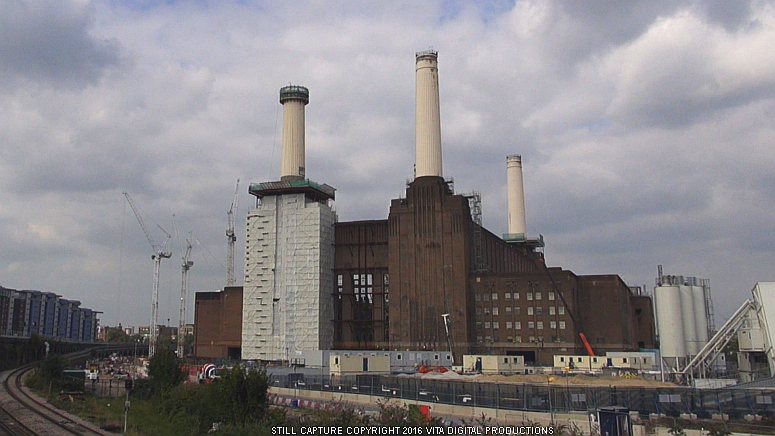 ...iconic Battersea Power Station.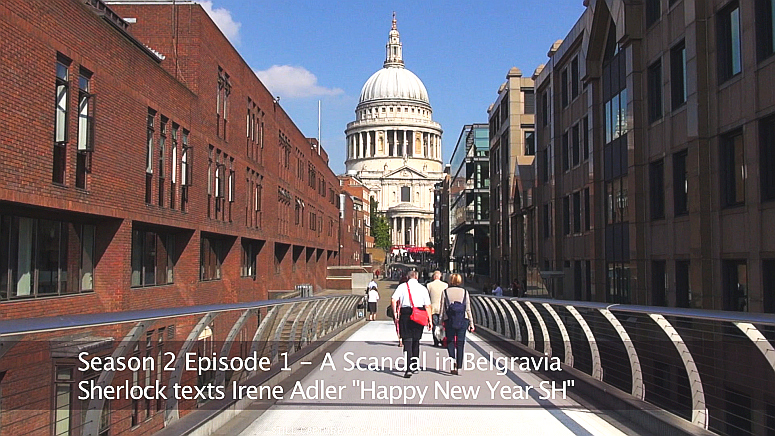 In the same episode, Irene Adler in a black coat and hood...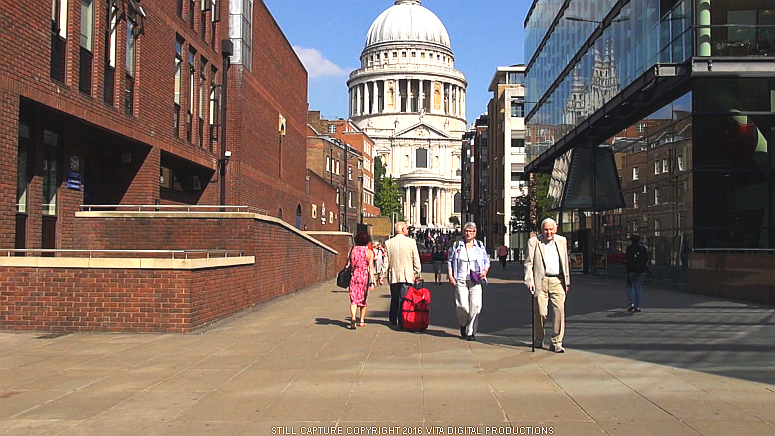 receives the text, "Happy New Year, SH," while standing beside the black glass building on the right.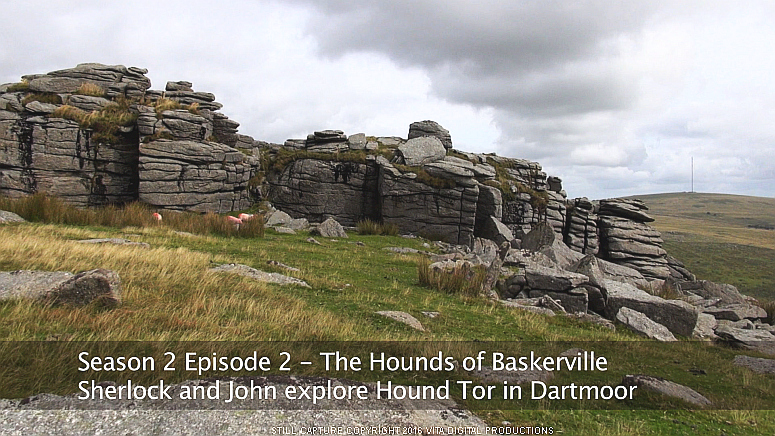 In Season 2, Episode 2, we travel to Dartmoor on a very windy day...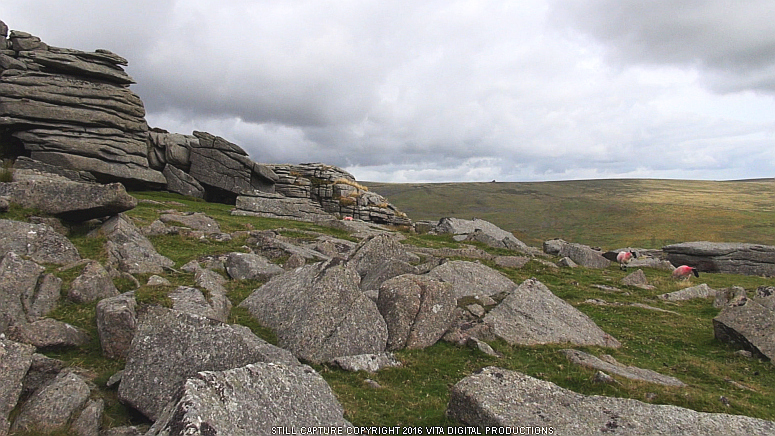 ...to visit the area where "The Hounds of Baskerville" was filmed.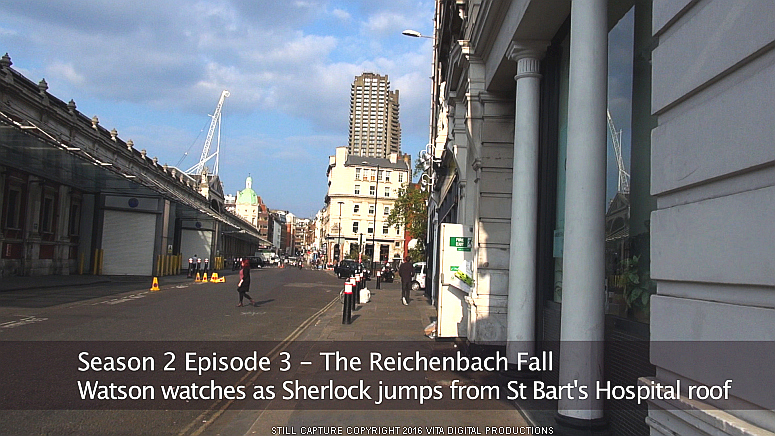 For Season 2, Episode 3, we travel to St. Bart's Hospital in London for possibly the most discussed and controversial scene
in the entire TV series.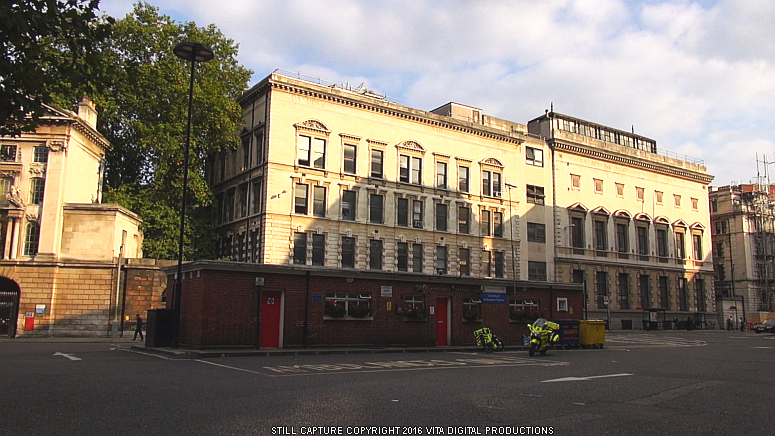 For this pivotal scene, you are standing approximately where John Watson stood when Sherlock jumped from the roof
of St. Bart's. Notice the brick Ambulance Station which blocks John's view of the sidewalk where Sherlock landed.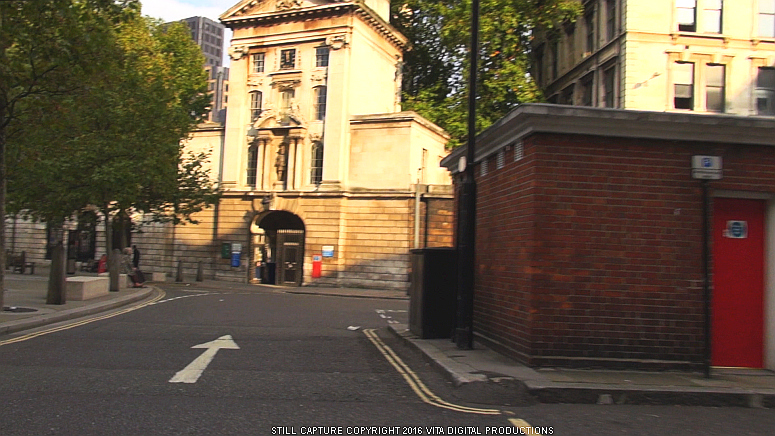 After seeing Sherlock jump, John runs around the left side of the Ambulance Station
and is knocked to the ground by a cyclist.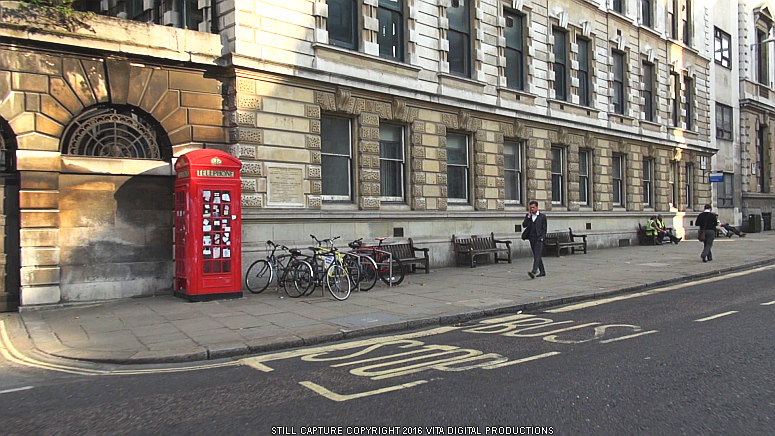 After recovering from the collision with the cyclist, John runs towards the sidewalk...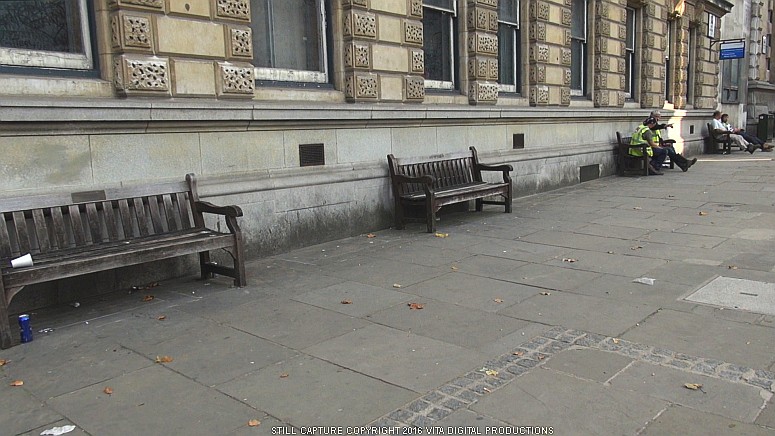 ...to find Sherlock's body in a pool of blood on the pavement.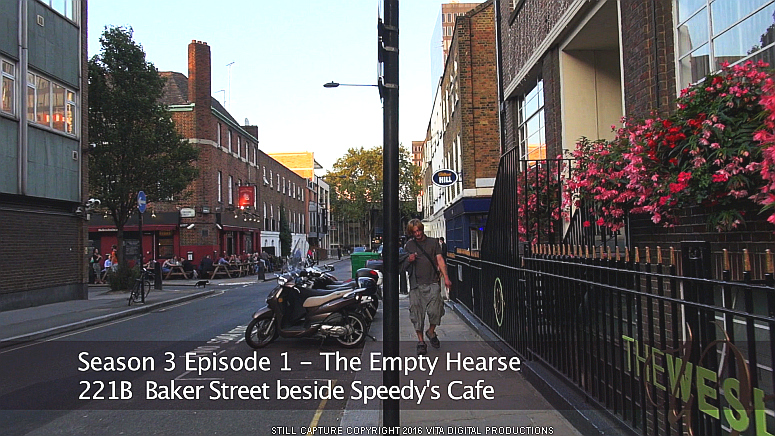 For Season 3, Episode 1, we walk a few blocks to the most familiar location in the entire series...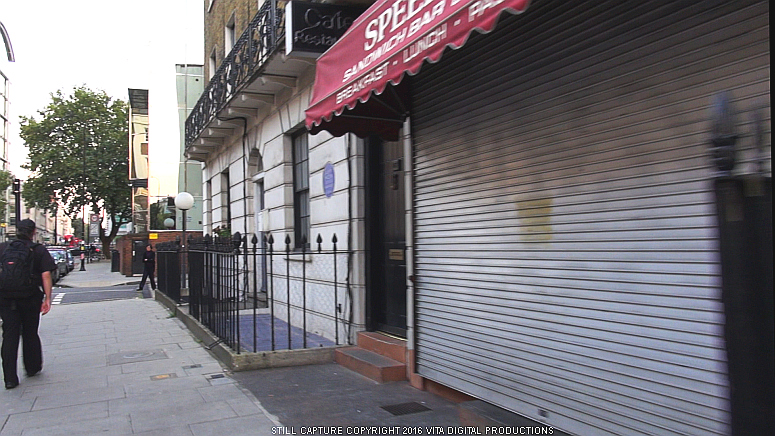 "221B Baker Street" beside the real Speedy's Cafe...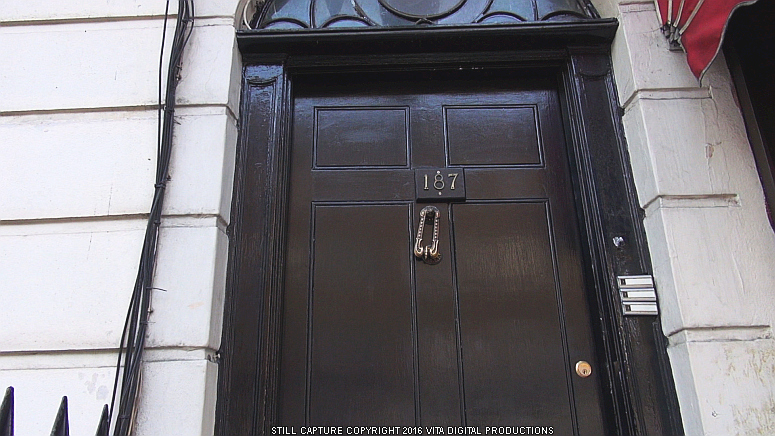 ...and discover that the door knocker is just the way Sherlock liked to position it, slightly off kilter.
If it was perfectly vertical, it would signify that Mycroft - who suffered from OCD - was a visitor!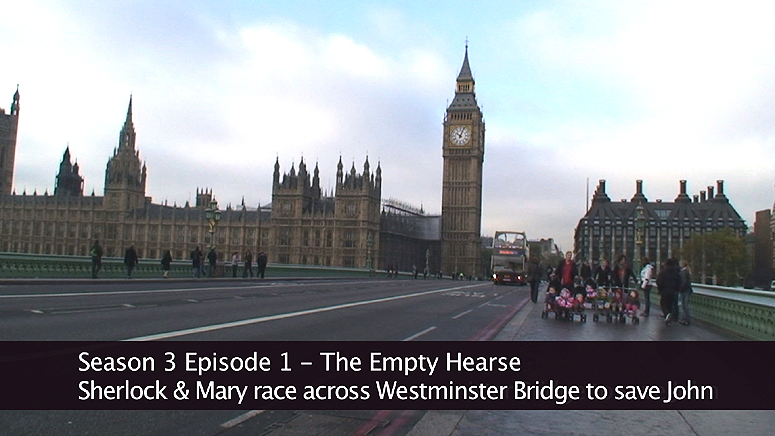 From the same episode, we walk across Westminster Bridge where...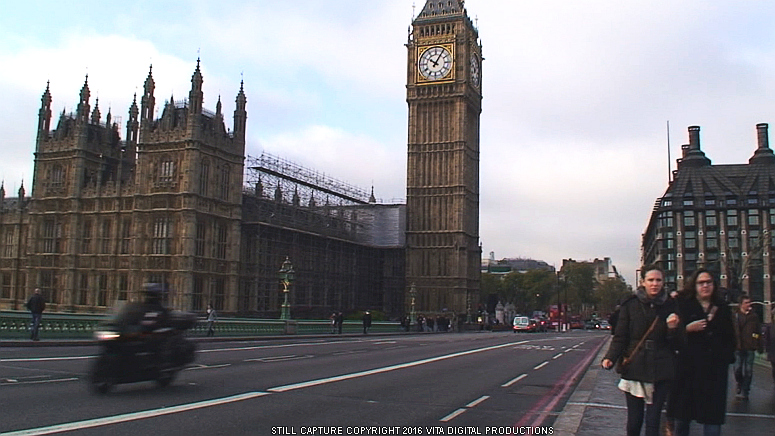 ...Sherlock and Mary, on a motorcycle, raced to rescue John before he is consumed in a Guy Fawkes Night bonfire.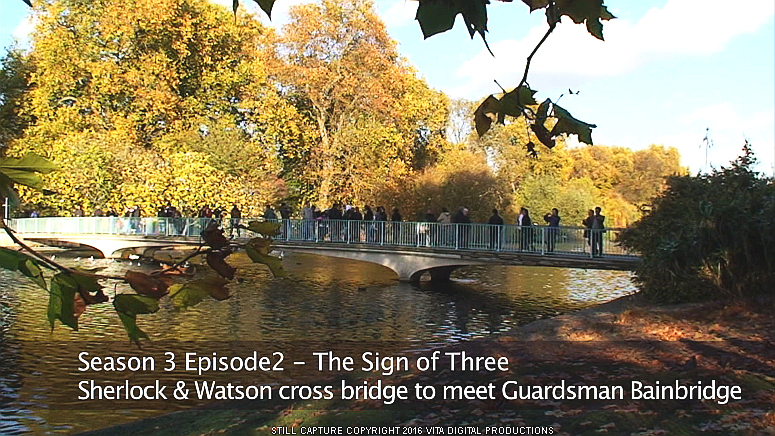 Next, from Season 3, Episode 2, we walk through St. James' Park where Sherlock and John
walk across the Blue Bridge on their way to meet Guardsman Bainbridge at his barracks.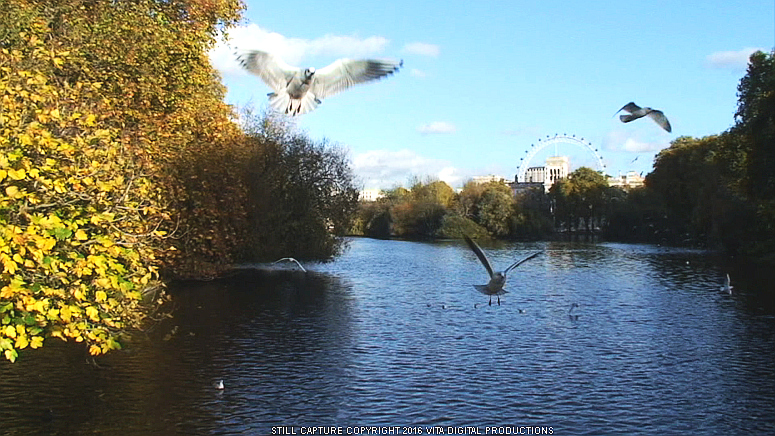 Once on the Blue Bridge, we pause to take in this stunning view of St James's Park Lake and the London Eye.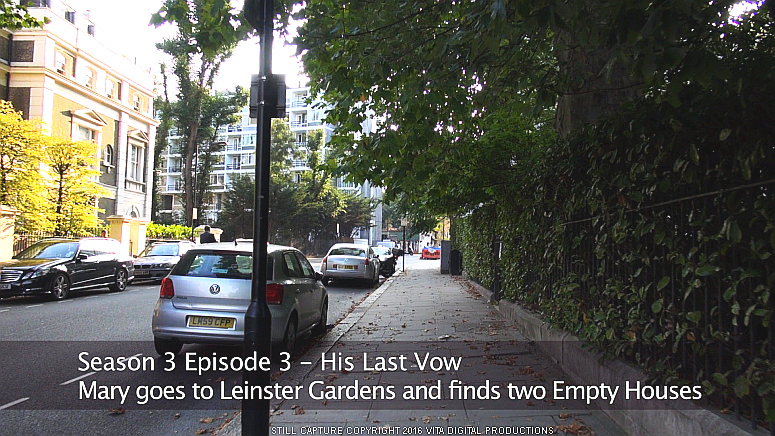 For Season 3, Episode 3, we travel to Bayswater in London for certainly one of the most unusual locations
used in the series.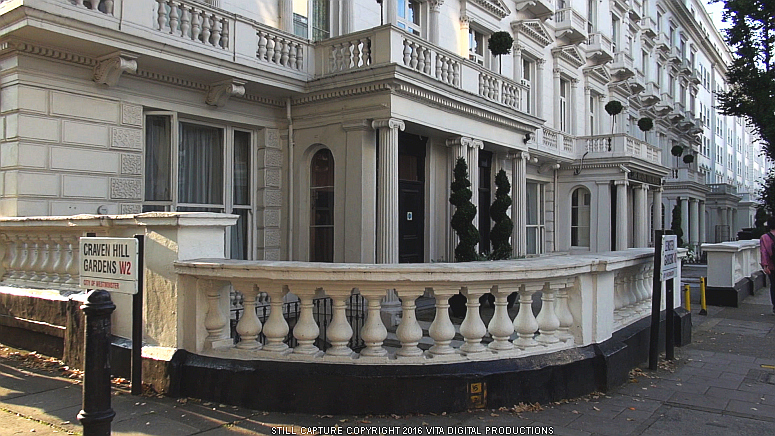 For this pivotal scene, Mary travels to Leinster Gardens to search for Sherlock and as she passes this corner,
a street beggar hands her a cell phone so she can speak with Sherlock.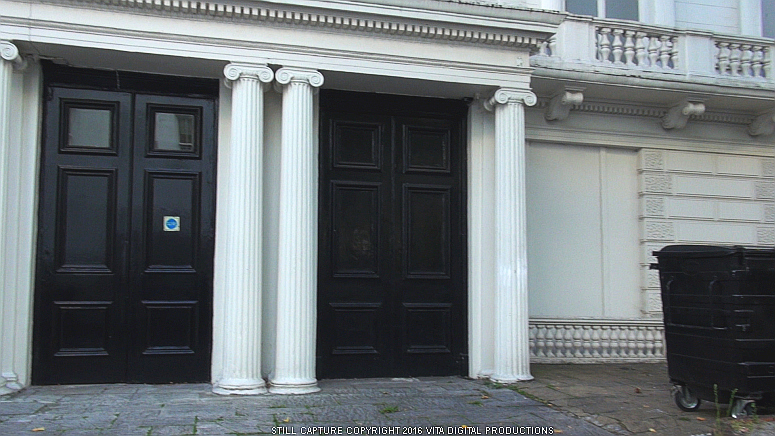 Sherlock directs Mary to one of the two false fašades (note the painted-over windows & no door knob) constructed in
the late 1860's to allow underground steam locomotives to "vent off" in the opening behind the fašades.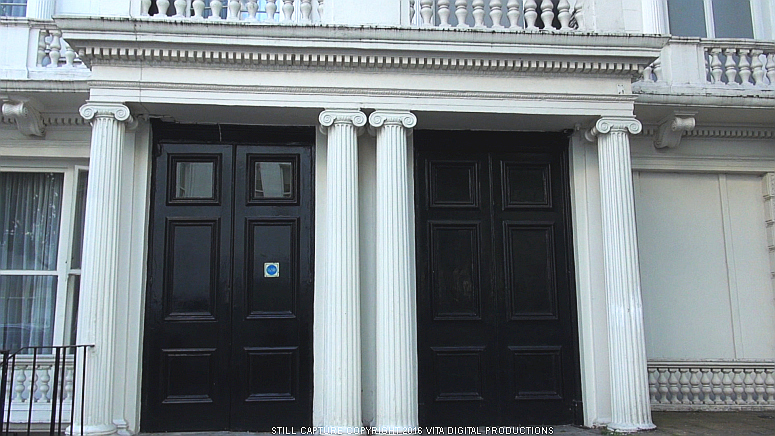 Your 60 minute Sherlock Holmes Virtual Walk ends at this brilliant London location.
---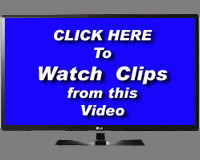 To Purchase this video as a DVD or as a 720p HD Download, please click here.
---
And remember, this DVD makes a unique gift for family and friends!
---
PRODUCTION NOTES:
This 60 minute virtual walk was filmed at an average speed of 3 mph and is accompanied
by the Natural Sounds in Dolby Stereo as they were recorded in London and Dartmoor.
All of the above photos are actual still frames from this video/DVD.
*While originally filmed in High Definition, the DVD you will receive
is in Standard Definition and 16x9 Widescreen and was
authored at the highest resolution possible.
The DVD was encoded for regions 1, 2, & 4, and is a "burned" DVD which was duplicated,
tested, and verified in our studio before being packaged and shipped to you.
The DVD contains an interactive menu and will play on DVD players and computers.
The Download version is in 720P HD and will play on iPads, Computers, Laptops,
and Netbooks using almost any media player. It will also play on Large Screen TVs using
certain devices such as WD Live Plus, X-Box, Roku, flash drives, etc.
Important: Sorry, but the Download version will not play if you burn it directly to a DVD.
---
COPYRIGHT NOTICE:

We are VITA Digital Productions and we are selling this Video Program.
We filmed all of the video footage used in this program, we edited it,
we have licensed the rights to any music used in this production,
and we own the copyright to this program and will aggressively defend it.

The program contained in this DVD and Download is licensed for HOME USE ONLY.
If you intend to use this program in connection with a business of any kind,
such as a gym, rehab facility, etc., you must contact us to obtain a business license
for a small additional fee.

Please click here to contact us.



Images, Text and Layout Images, Text and Layout Copyright 2017 VITA Digital Productions - All Rights Reserved