One of VITA Digital Productions' extensive
Virtual Walk Series
(All photos on this page are
actual still frames
from this video.)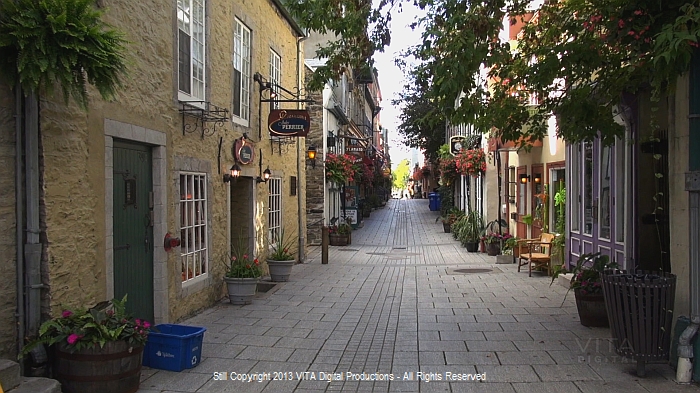 This new DVD or HD Download has a
61 minute widescreen virtual walk
in the French city of Quebec (Ville de Québec). This video is the perfect accessory for your
treadmill, Nordic Track, elliptical, or exercise bike. It is also the
perfect gift
for friends and family.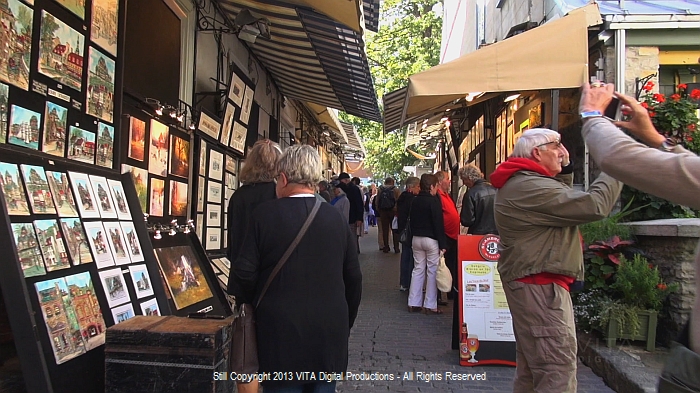 Just place it in a DVD player, step onto your treadmill, and instantly
you will be taking an unforgettable walk in this quaint French city.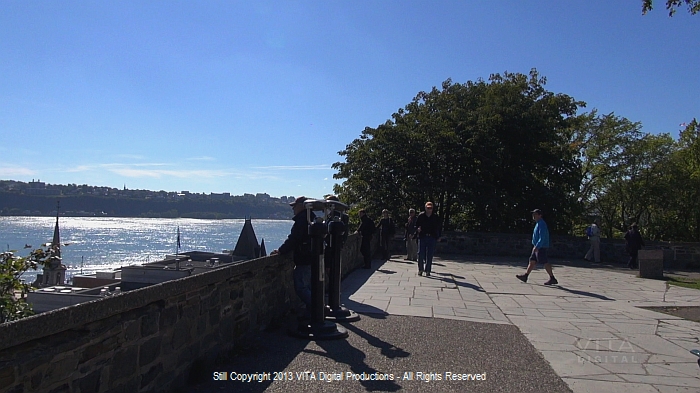 Quebec City, the capital of the Canadian province of Quebec, is perched high atop a hillside
overlooking the St. Lawrence River.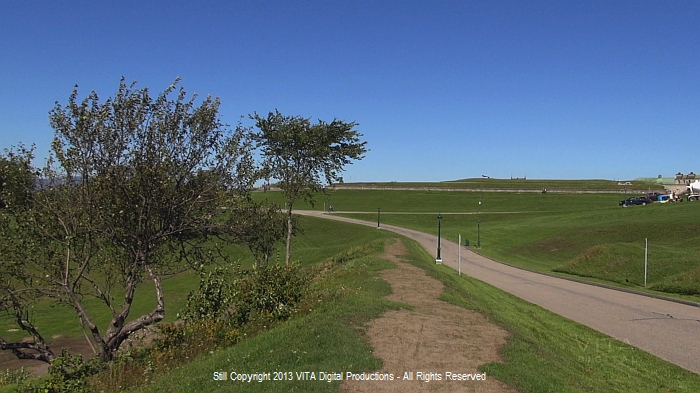 Quebec City is one of the oldest European settlements in North America
and, with many tranquil parks to discover,
is a perfect location for walkers.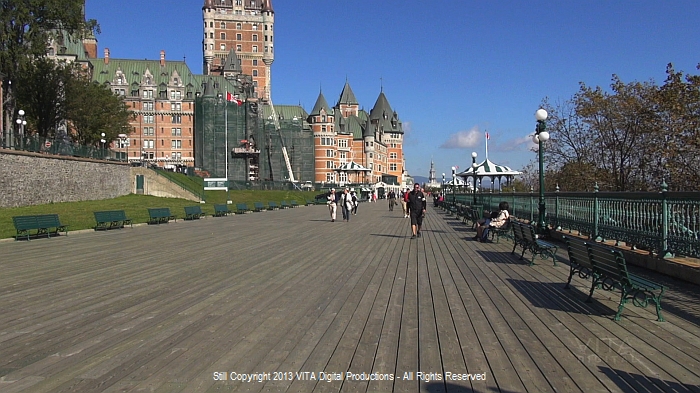 With a population of half a million, Quebec City's most famous
landmark is the Château Frontenac, a hotel which dominates the skyline.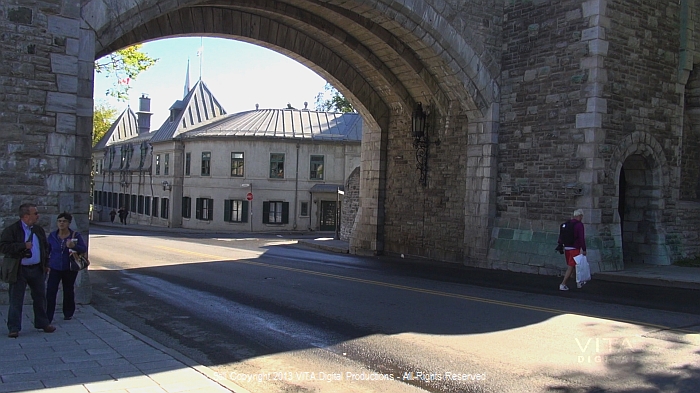 Upper Town lies on the top of Cap-Diamant promontory.
A high stone wall surrounds this portion of the city.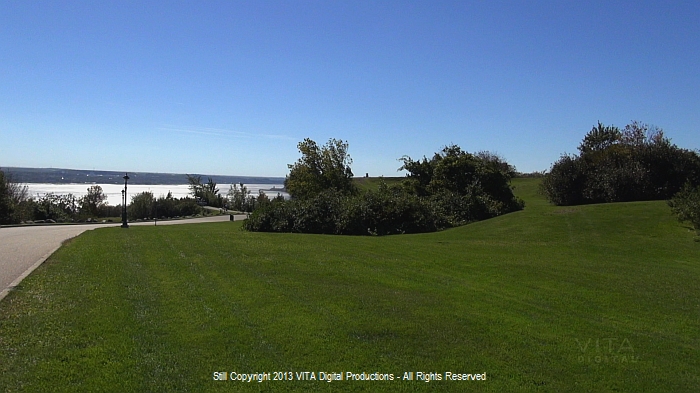 The Plains of Abraham are located near the edge of the promontory.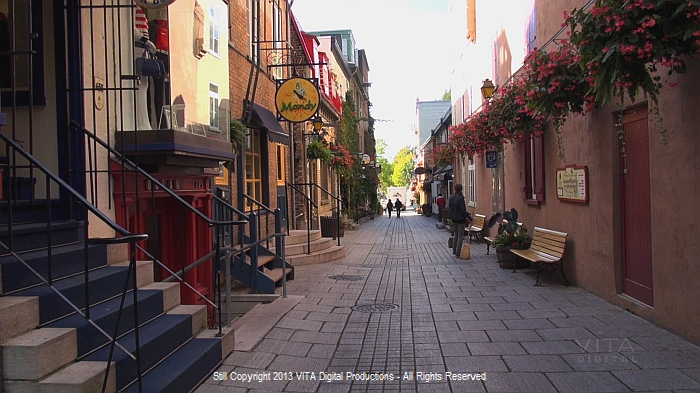 Lower Town is located at shore level, below Cap-Diamant.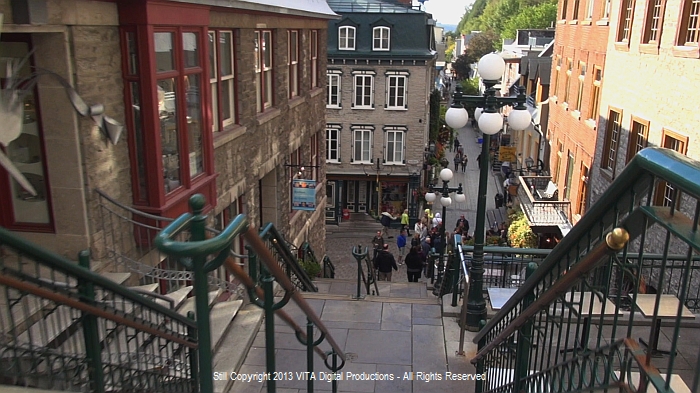 Filmed in Widescreen with High Definition* television cameras and camera stabilization equipment,
this is certainly
one of our most scenic virtual walks!
The camera seems to float as it transports
you through this quaint French city.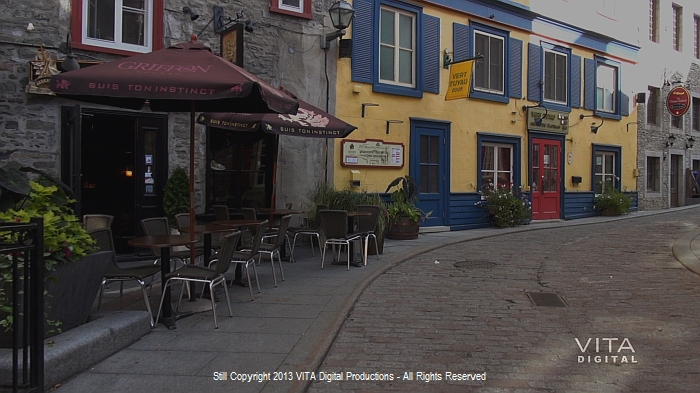 You are "experiencing" a walk in Old Quebec -
one of the oldest European settlements in North America.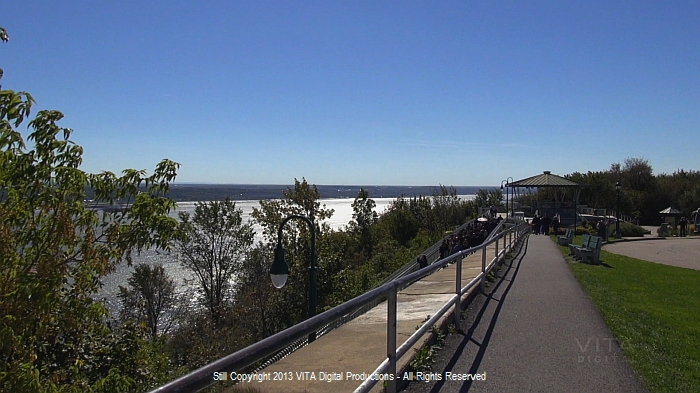 This is not a traditional travel video.
The television camera is constantly moving you forward, transporting the viewer
through different sections of this beautiful city.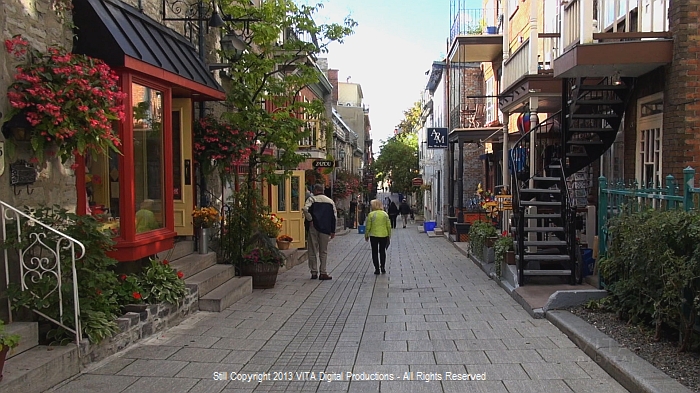 The 61 minute walk is accompanied by the natural sounds
just as they were recorded in stereo in Quebec.
---
Exercising has never been easier or more enjoyable!

And these videos are so rich in details
that you will notice something new every time you view them.

But you don't have to have an exercise bike or treadmill
to enjoy this DVD.

It also makes the perfect gift for people
who want to experience Quebec in a totally unique way:
a way not possible with traditional travel videos.

What a wonderful reminder this could be of your own trip to Quebec!
---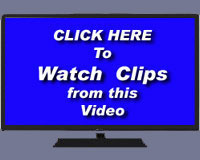 To Purchase this video as a DVD or as a 720p HD Download, please click here.
---

One of VITA Digital Productions' extensive
Virtual Walk Series
(All photos on this page are
actual still frames
from this Video.)
A Detailed Description of the Walk on this Video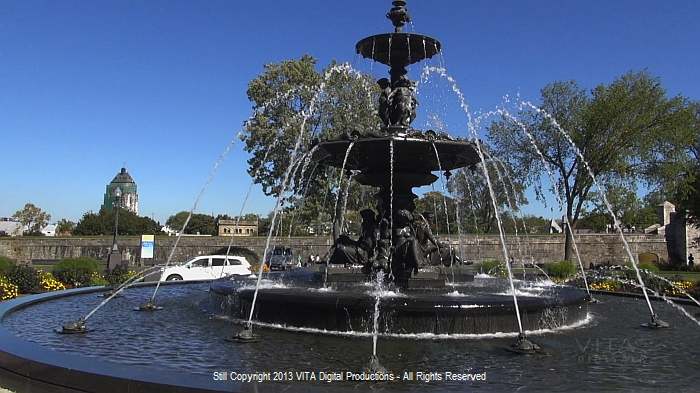 The first part of your 61 minute walk begins at the Fontaine de Tourny,
in front of Quebec's Parliament Building.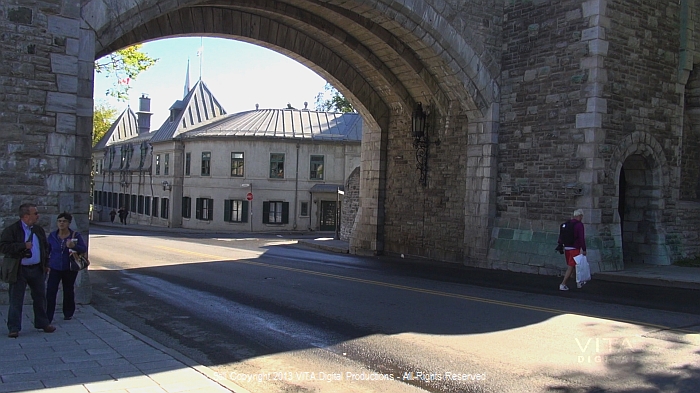 Soon you pass through the massive stone fortification wall and enter Vieux-Québec (Old Quebec).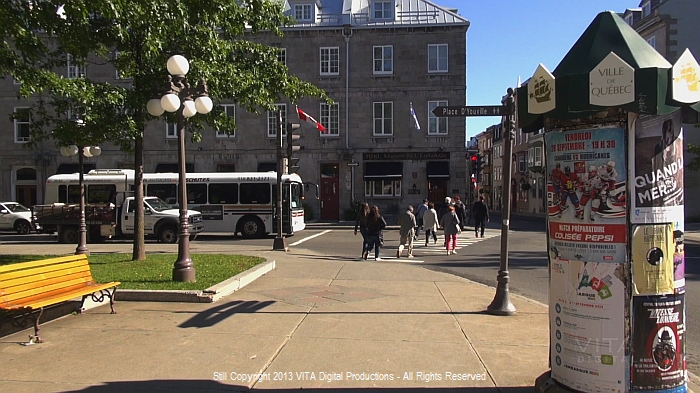 The buildings and other structures along the street are reminiscent of Paris.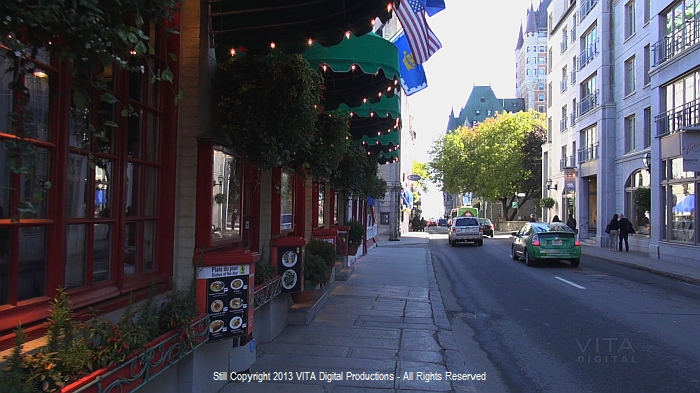 As you continue down Rue Saint Louis, you pass numerous restaurants.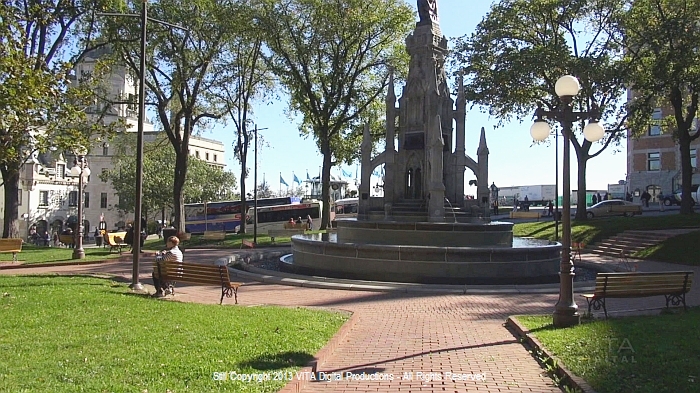 You turn down Tresor Street and enter a small park with an
ornate Gothic fountain.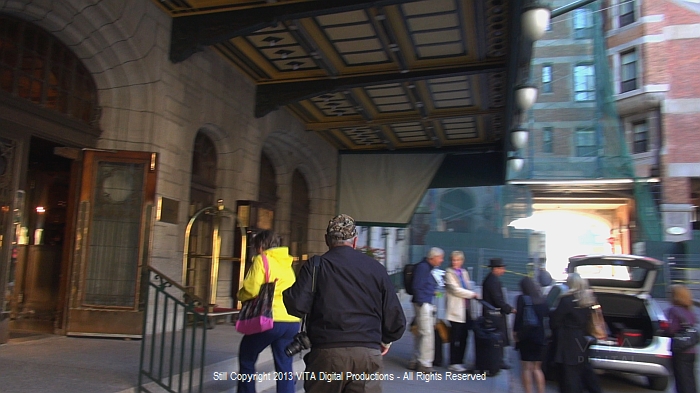 Crossing the Rue Saint Louis, you enter the grounds of the famous
Chateau Frontenac, bustling with activity.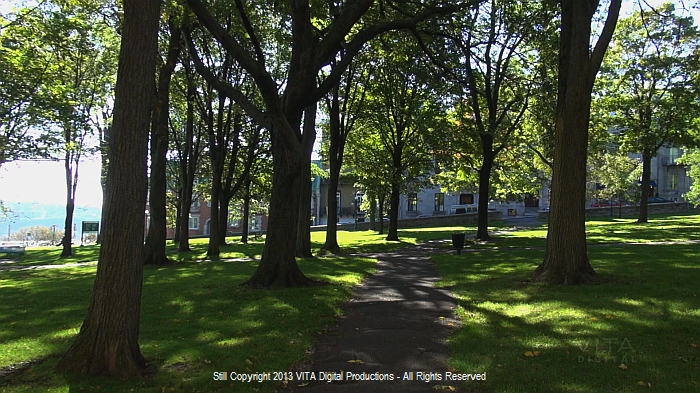 Then on through another small park, the Governor's Garden.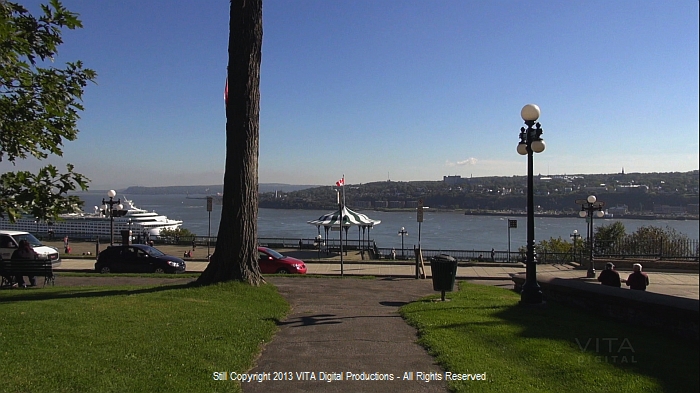 Next your walk heads downhill towards the St. Lawrence River.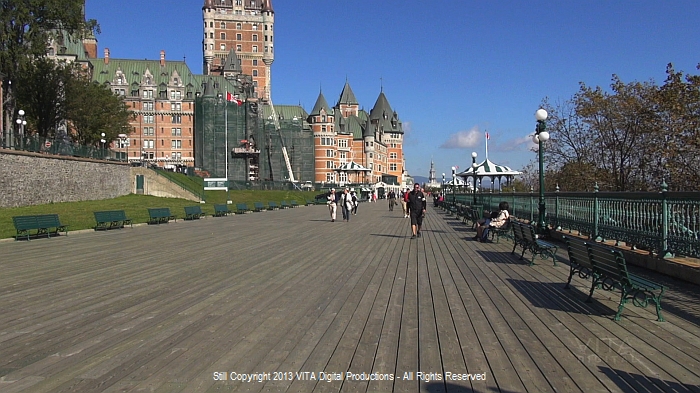 Then it's onto Quebec's famous Dufferin Terrace and Promenade des Gouverneurs boardwalk,
with its views of the St. Lawrence and Chateau Frontenac in the distance.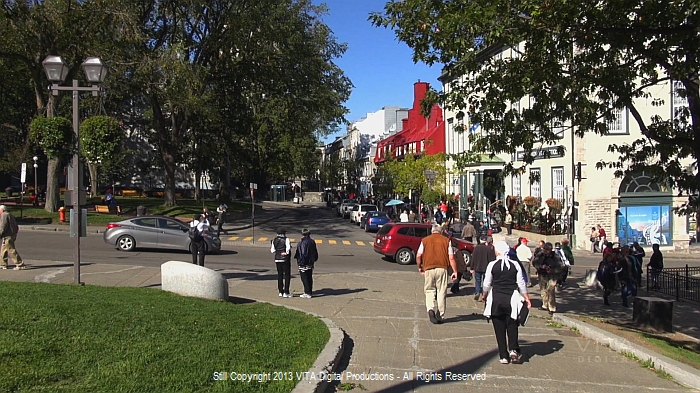 When the boardwalk ends, you turn and enter an area populated with outdoor cafes.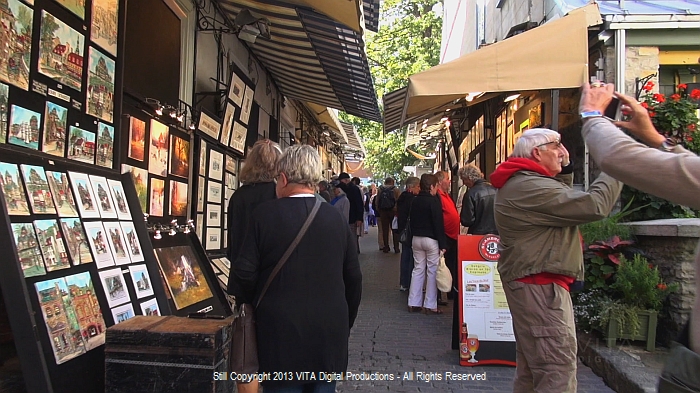 Proceeding onward, you pass through a side street with artwork displayed for sale.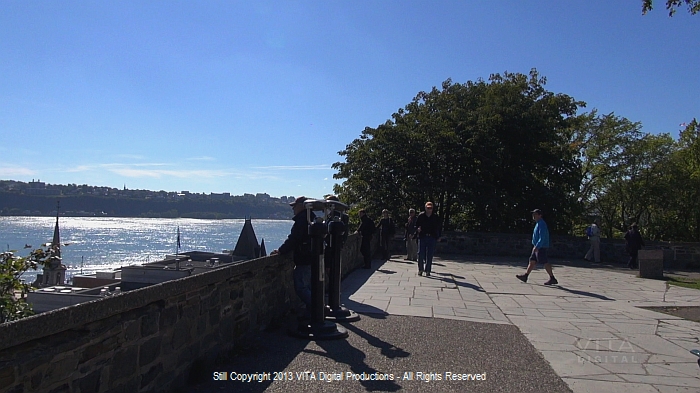 Next you enter Montmorency Park, with its commanding view of the St. Lawrence.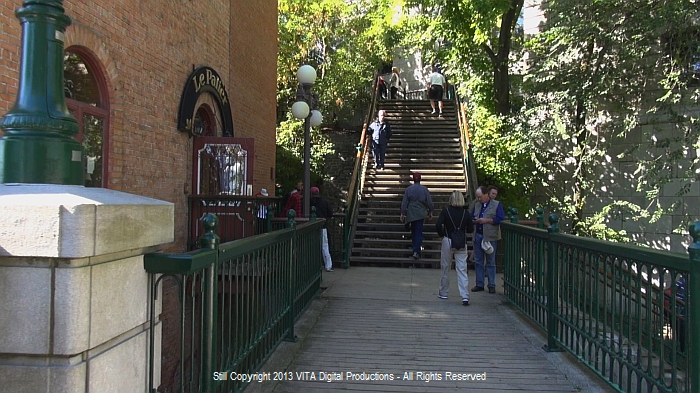 Then down some stairs before.....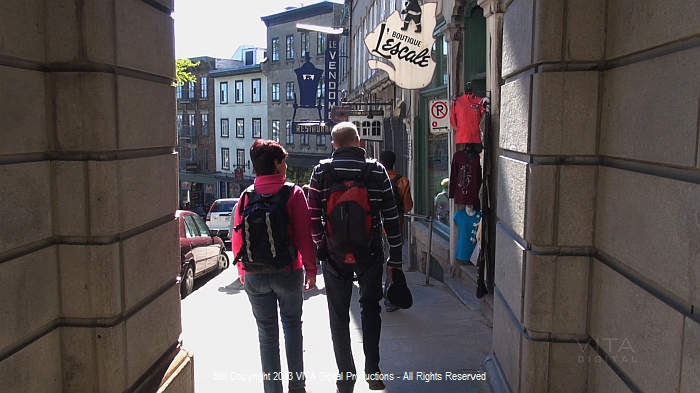 a brief walk past the shops on the Cote de la Montagne and then....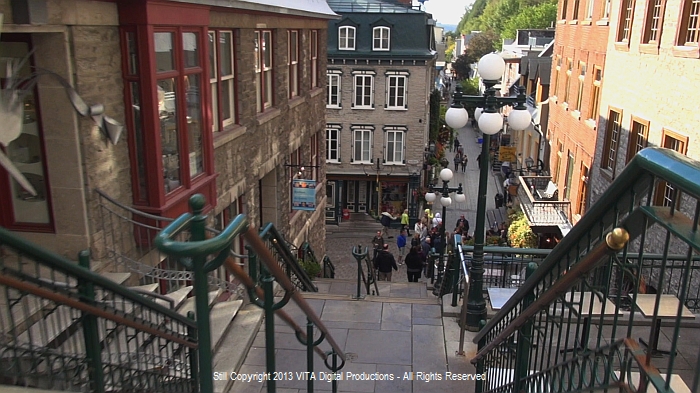 mais oui, even more stairs to descend!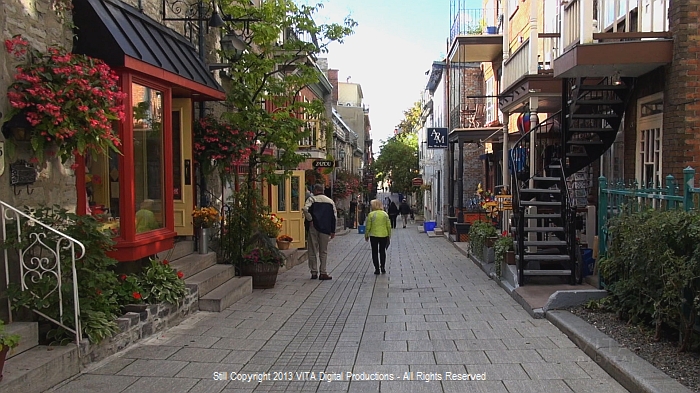 Finally you descend down to Lower Quebec, and the quaint Rue du Petit-Champlain.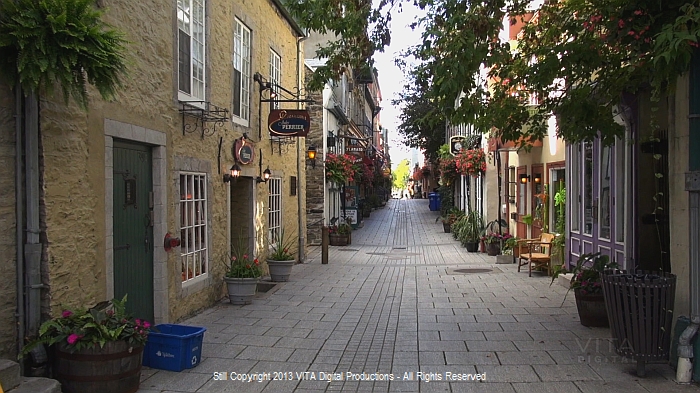 Without doubt, Rue du Petit-Champlain is one of the most charming
and colorful streets in the world.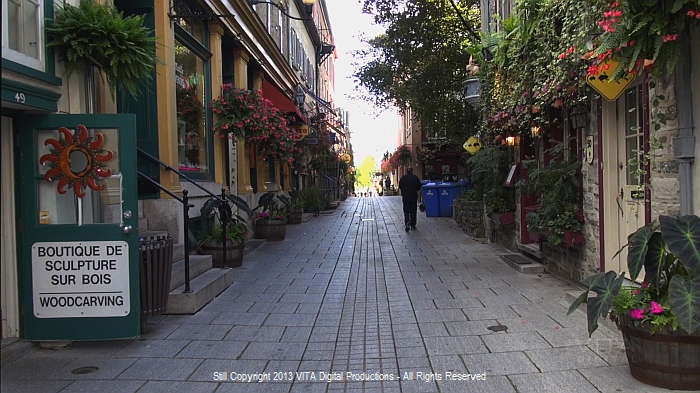 Lined with shops and boutiques, this little street is a gem!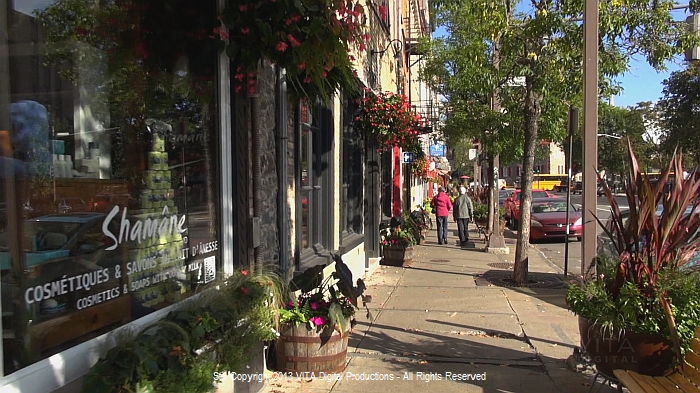 At the end of Rue du Petit-Champlain, you turn and head north
on Boulevard Champlain - also lined with one-of-a-kind shops and restaurants.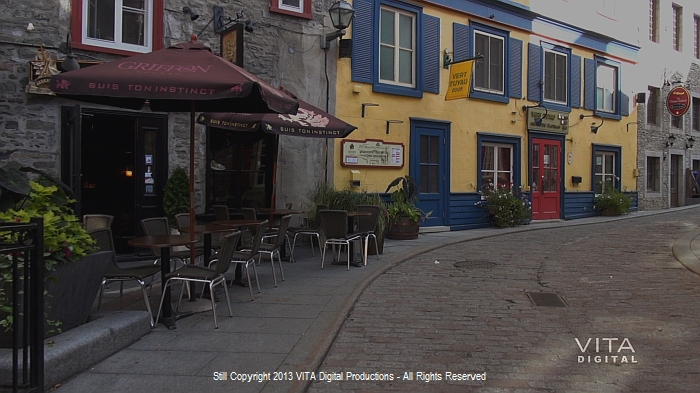 After a short walk you turn onto the appropriately named yet charming Rue du Cul de Sac.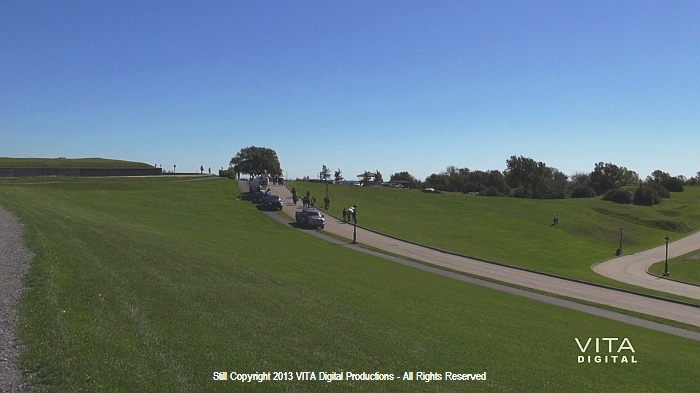 Leaving Lower Town, you move to the Plains of Abraham, where British troops under
General James Wolfe defeated the French General Louis-Joseph de Montcalm on September 13, 1759.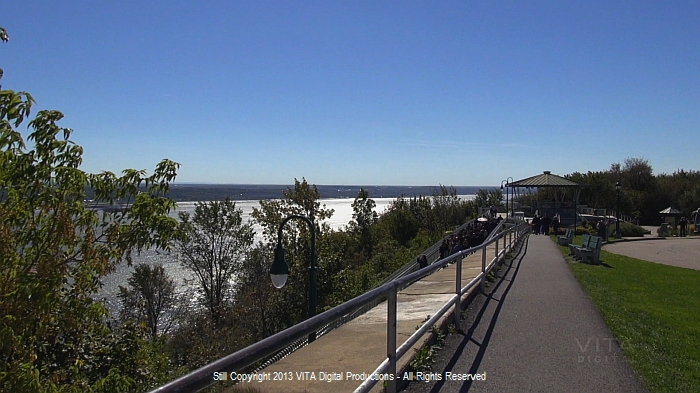 Today the historic battlefield is a quiet park with beautiful vistas and scenic views of the St. Lawrence....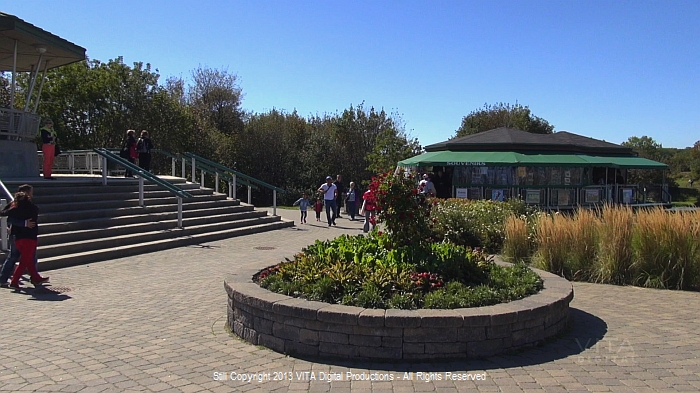 plus beautiful hardscaping ......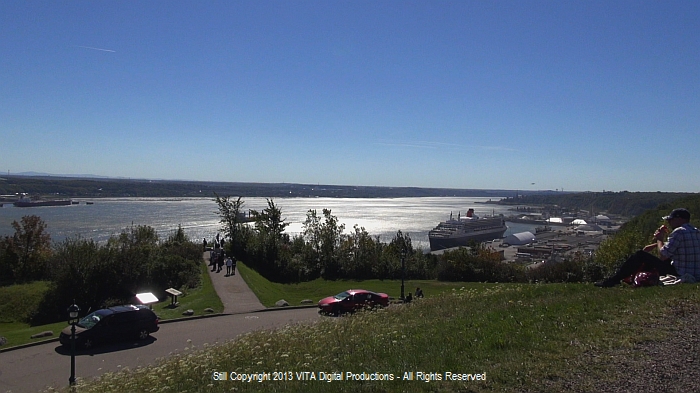 and hills with even more scenic views of the river.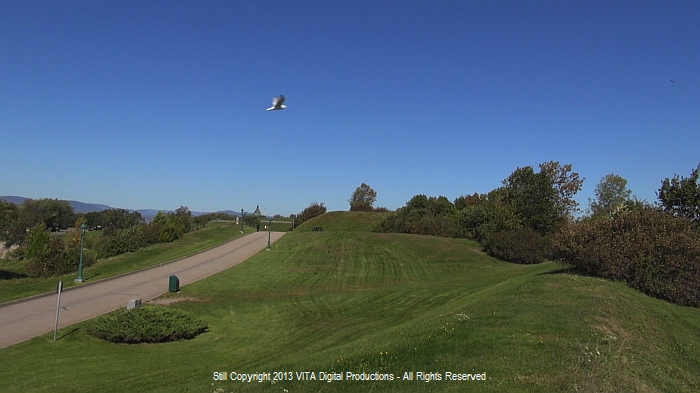 Turning back towards the city, your walk continues through a well manicured landscape.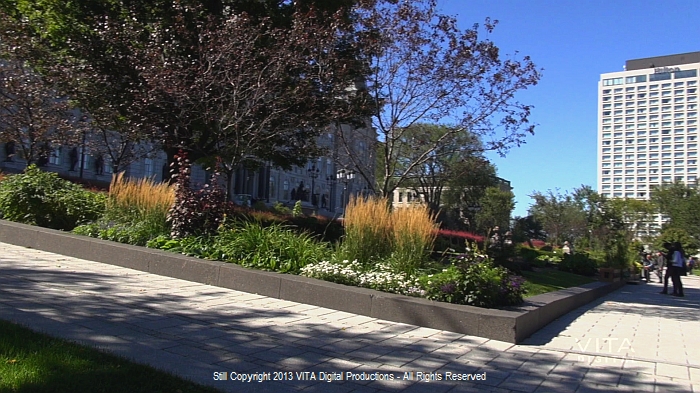 As you leave the peaceful Plains of Abraham, you cross a busy street
and approach another historic city landmark, Quebec's Parliament Building.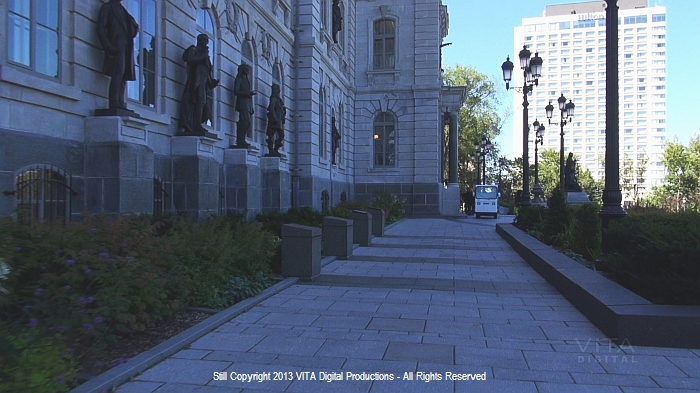 You pass by the front of Parliament Building, with its statues of famous Canadians,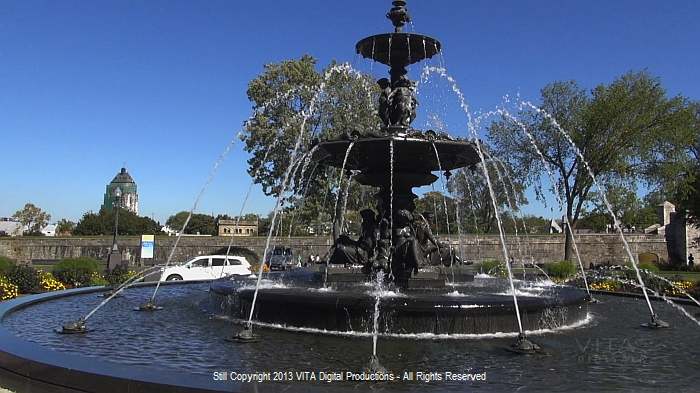 And, after crossing the square in front of Parliament Building,
your 61 minute walk ends at its starting point, the beautiful Fontaine de Tourny.
And remember, this DVD makes a unique gift for family and friends!
---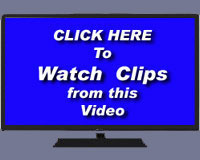 To Purchase this video as a DVD or as a 720p HD Download, please click here.
---
PRODUCTION NOTES:
The 61 minute virtual walk is accompanied by the natural sounds (in Dolby Stereo)
as they were recorded on site in Quebec.
All of the above photos are actual still frames from this video.
*While originally filmed in High Definition, the video you will receive
is in Standard Definition and 16x9 Widescreen and was
authored at the highest resolution possible.
The video was encoded for regions 1, 2, & 4, and is a "burned" video which was duplicated,
tested, and verified
in our studio before being packaged and shipped to you.
For the very best viewing, we recommend a DVD player that "upscales."
Sorry, but this video is only available as a DVD.
---
COPYRIGHT NOTICE:

We are VITA Digital Productions and we are selling this Video Program.
We filmed all of the video footage used in this program, we edited it,
we have licensed the rights to any music used in this production,
and we own the copyright to this program and will aggressively defend it.

The program contained in this DVD is licensed for HOME USE ONLY.
If you intend to use this program in connection with a business of any kind,
such as a gym, rehab facility, etc., you must contact us to obtain a business license
for a small additional fee.

Please click here to contact us.
Images, Text and Layout Copyright 2017 VITA Digital Productions - All Rights Reserved