One of VITA Digital Productions' unique
Virtual Experience Videos
(All photos on this page are
actual still frames
from this video.)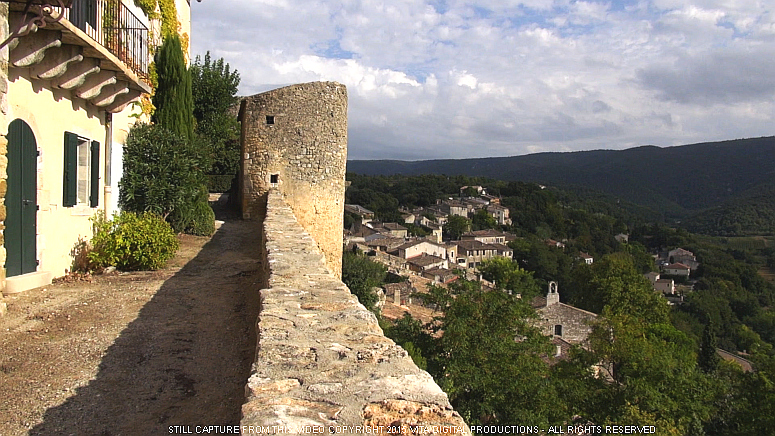 VITA Digital Productions is proud to present its 42nd Virtual Experience Video,
the Provence Villages Virtual Walk
a 60 minute widescreen virtual walk through six picturesque villages in southeastern France.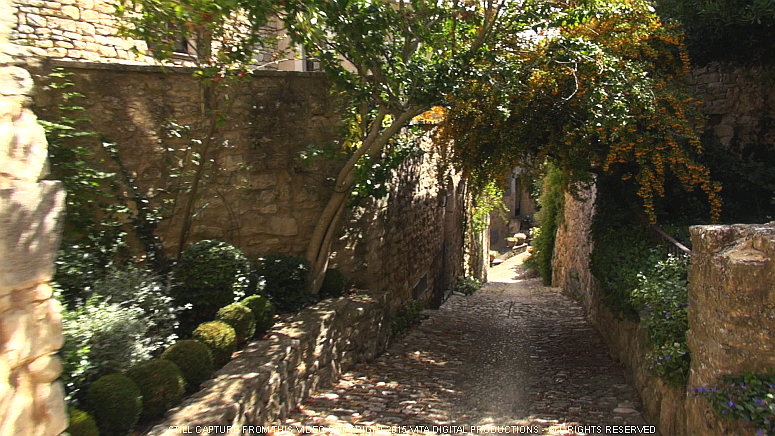 Using either the DVD version or the 720p HD Download you could be instantly "walking" in Viens, Lourmarin,
Saignon, Lacoste, Ansouis, and Menerbes, six of the quaint villages that make up Provence.
The time spent exercising on your treadmill will "fly by," you'll exercise longer, and enjoy every minute!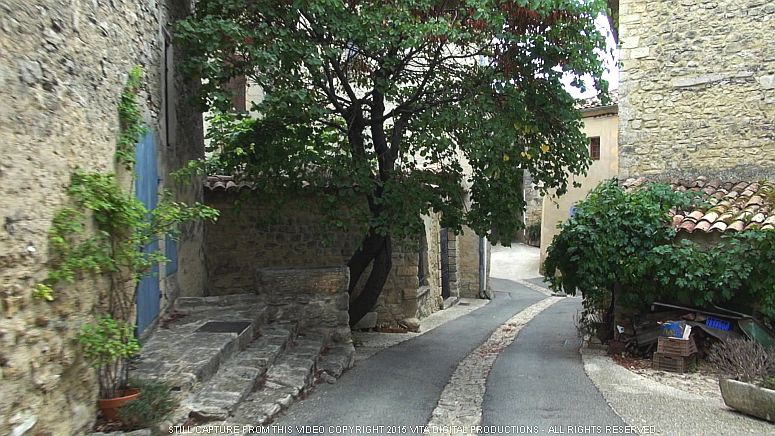 These six hilltop villages have a Mediterranean climate consisting of hot,
dry summers, mild winters, and abundant sunshine.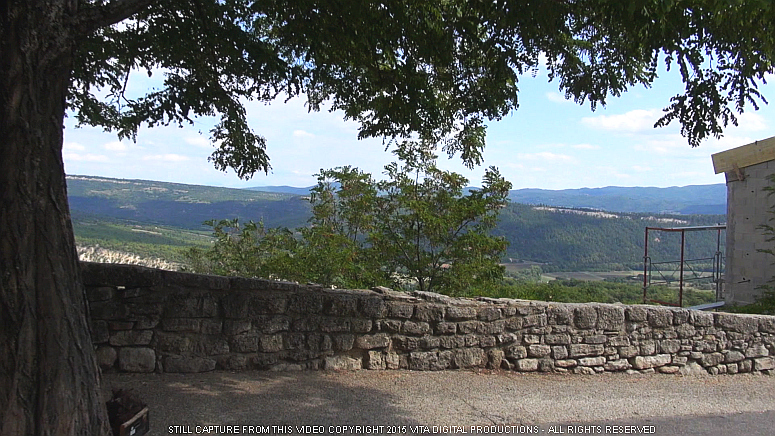 With this 60 minute Virtual Walk Video you'll experience all the charm, the beauty, and the history
of six French Villages far from the hoards of European tourists.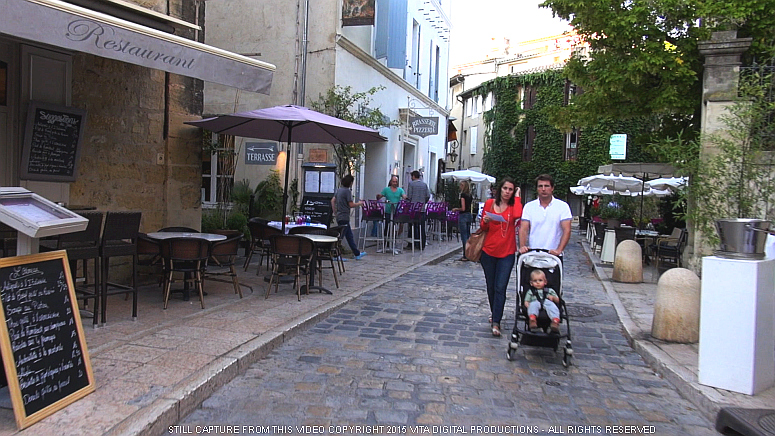 Filmed in Widescreen with a professional High Definition* television camera, you'll enjoy
every minute of your one-hour virtual walk through these six picturesque French villages.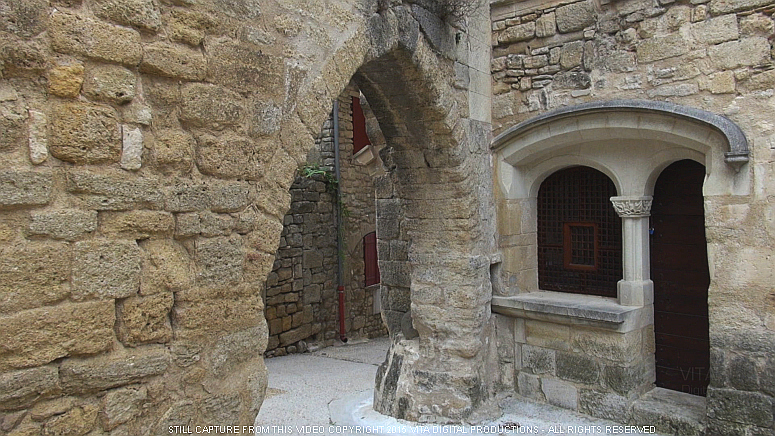 This is not a traditional travel video.
The television camera is constantly moving you forward, transporting you
through the streets and narrow alleyways of these six timeless villages.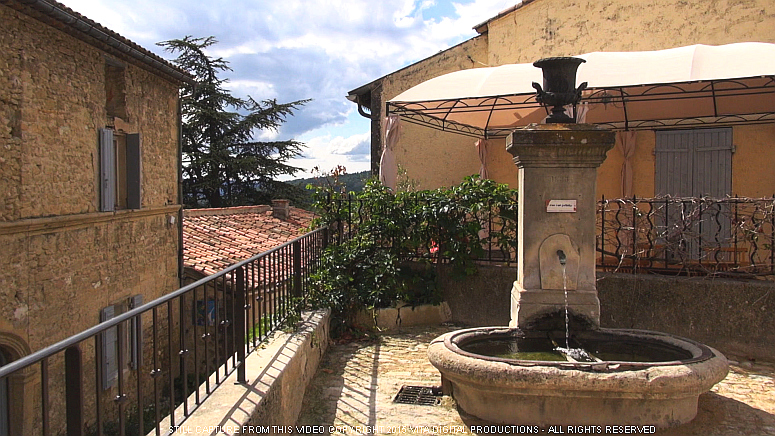 The 60 minute Virtual Walk Video is accompanied by the natural sounds
just as they were recorded in Dolby Stereo in Provence.
---
Exercising has never been easier or more enjoyable!

Your time spent exercising on a treadmill will "FLY BY!"

And this one hour video is so rich in details
that you will notice something new every time you view it.

But you don't have to own a treadmill
to enjoy this HD Download or DVD.

It also makes the perfect gift for people who want
to experience Provence in a totally unique way:
a way not possible with traditional travel videos.
---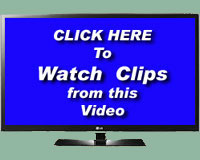 To Purchase this video as a DVD or as a 720p HD Download, please click here.
---

A Detailed Description of the Virtual Walk on this Video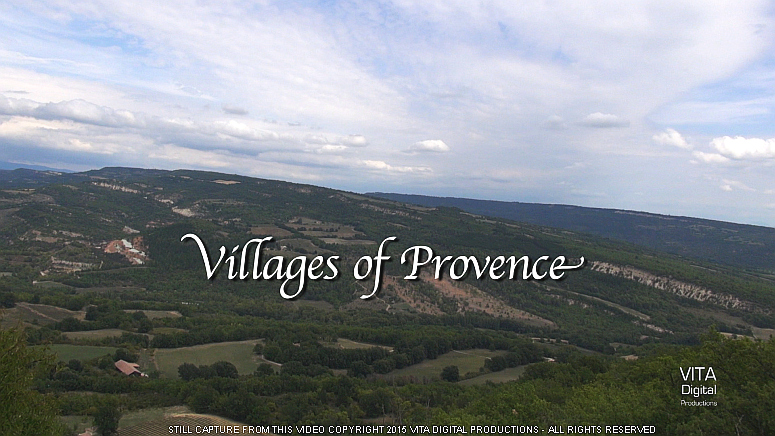 Your 60 minute Provence Villages Virtual Walk begins overlooking a valley outside the hilltop village of Viens.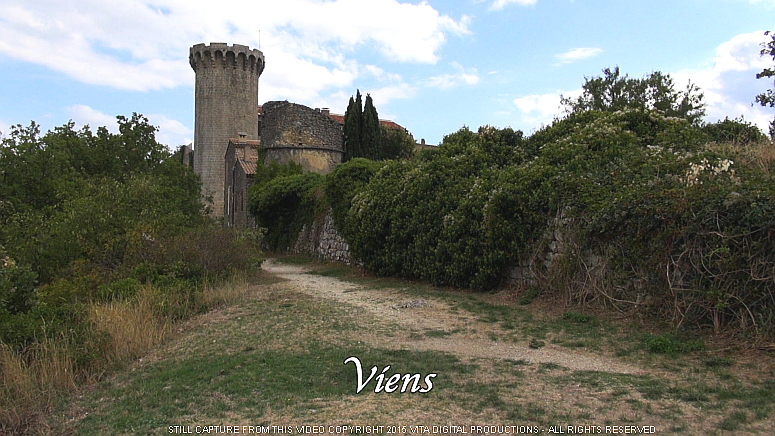 You turn and approach the village proper.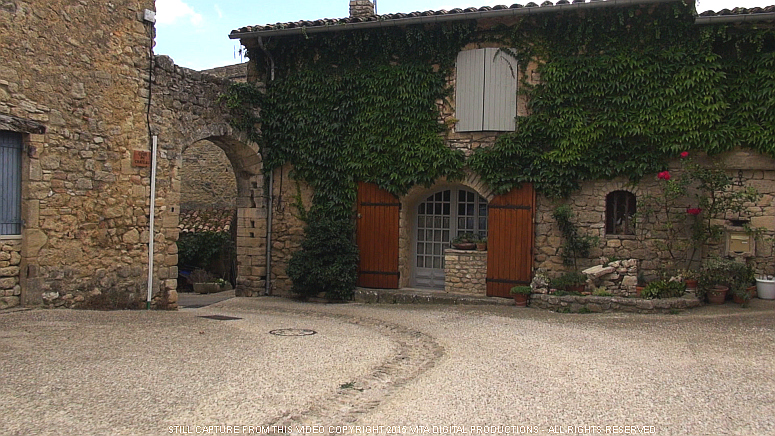 Entering Viens through a courtyard...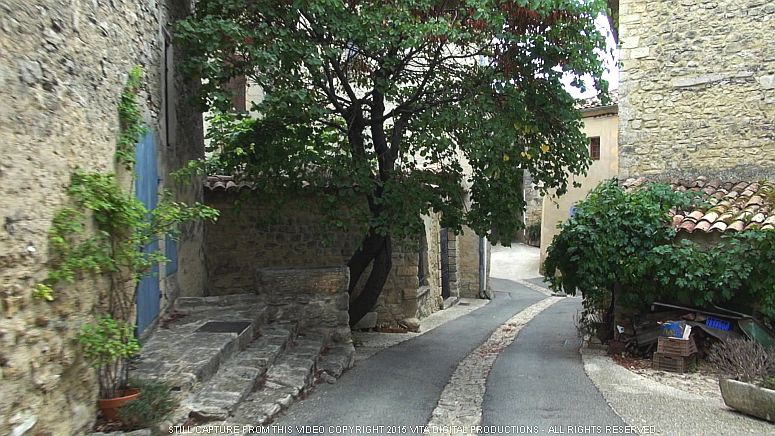 you find yourself walking in this beautiful narrow French street.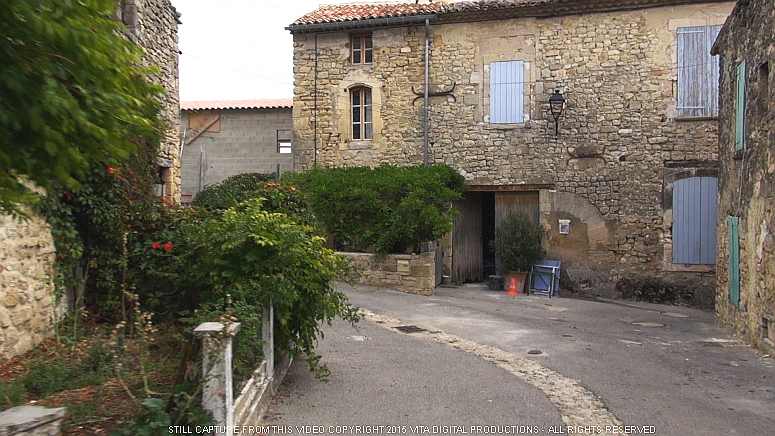 The street winds its way between timeless stone houses....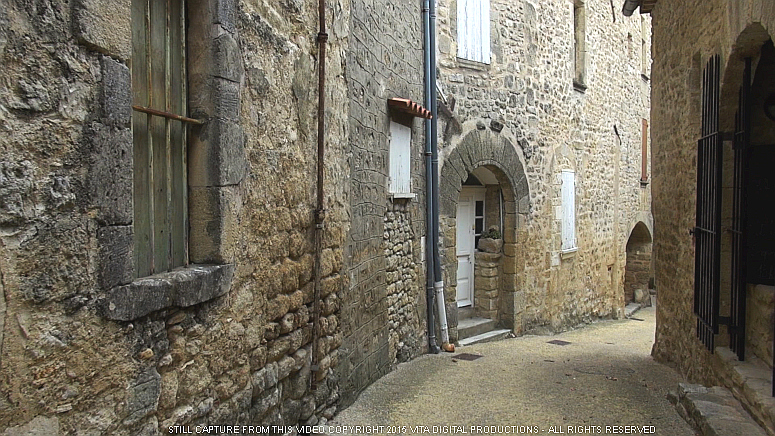 that have been homes to countless families through the centuries.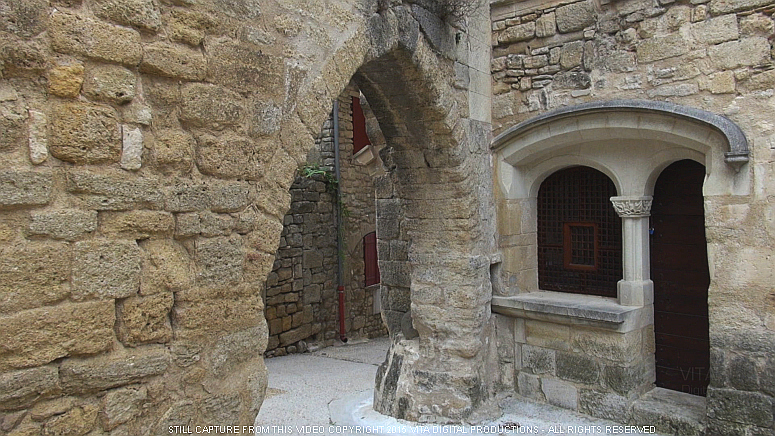 You turn and walk through a stone archway...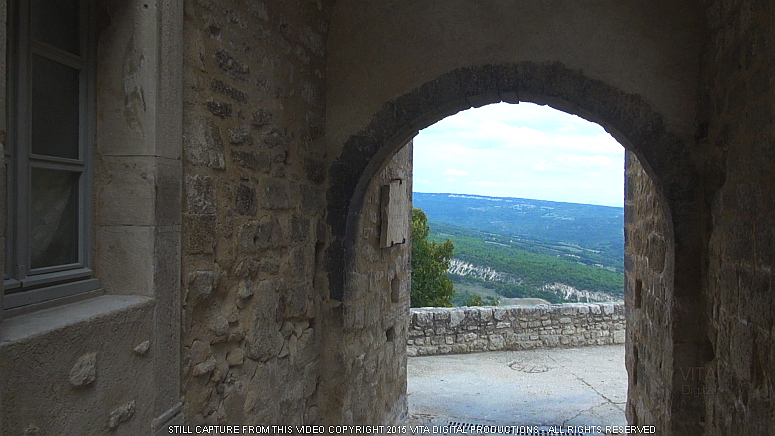 and, after walking through a second stone archway...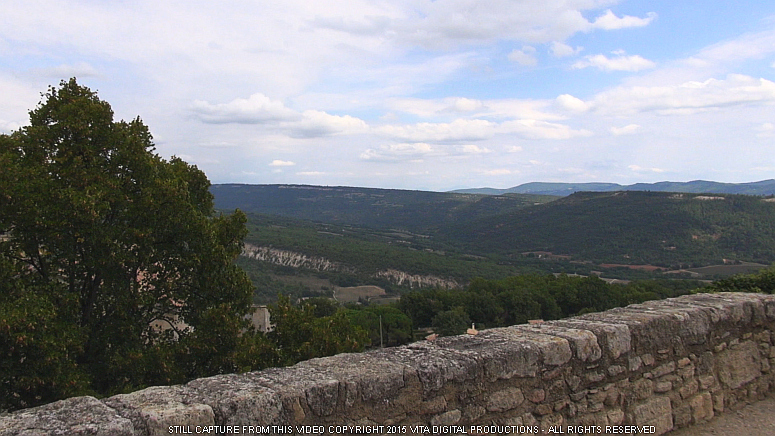 you pause to take in another stunning view of the landscape that is Provence.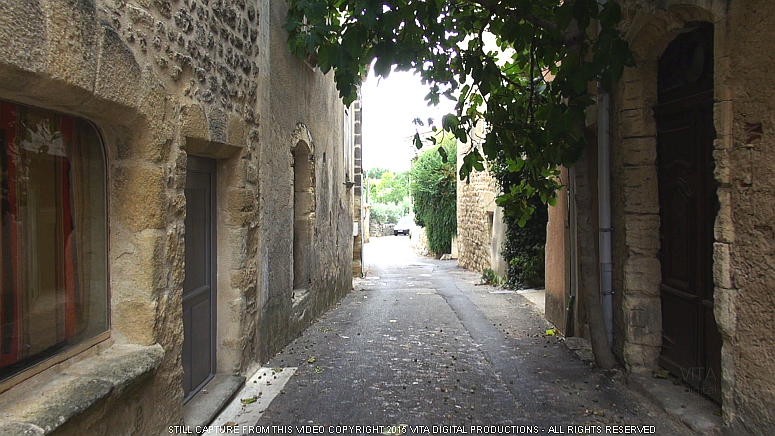 But Viens has even more memorable scenes to offer...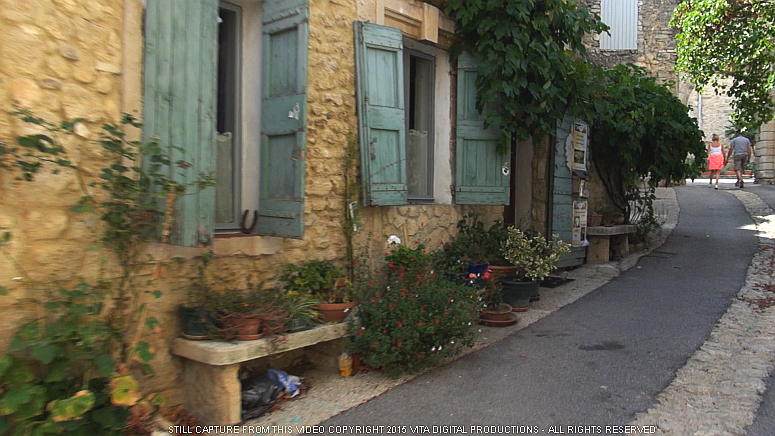 like this one, just waiting to be captured on canvas.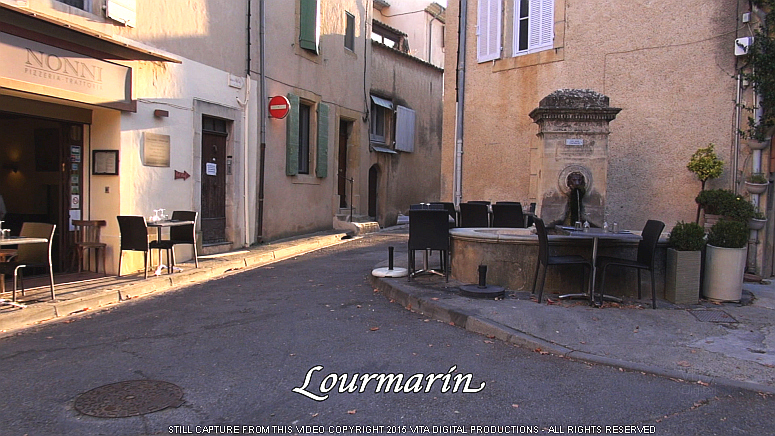 Next, you enter the village of Lourmarin, designated "L'un Des Plus Beaux Villages de France" by the French.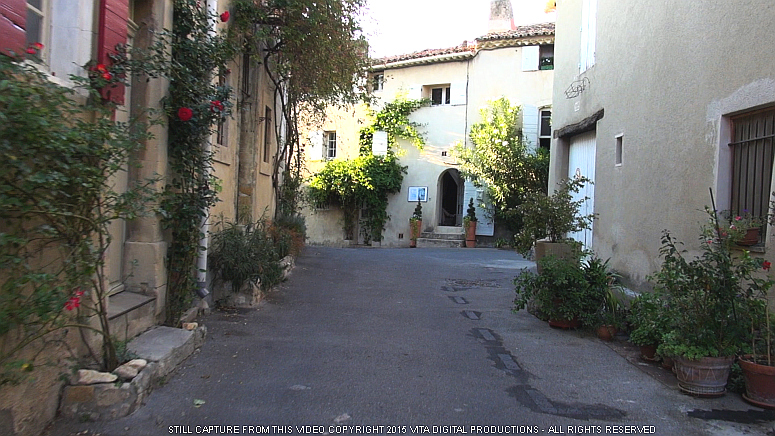 And you can see why the village was so honored.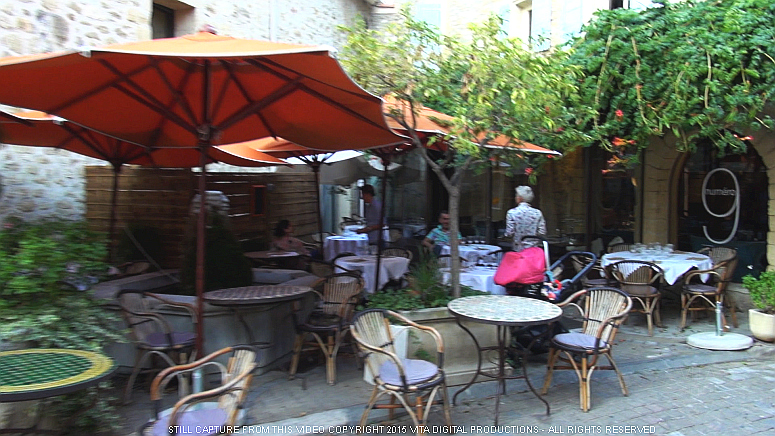 Lourmarin is a typical Provence village, with its...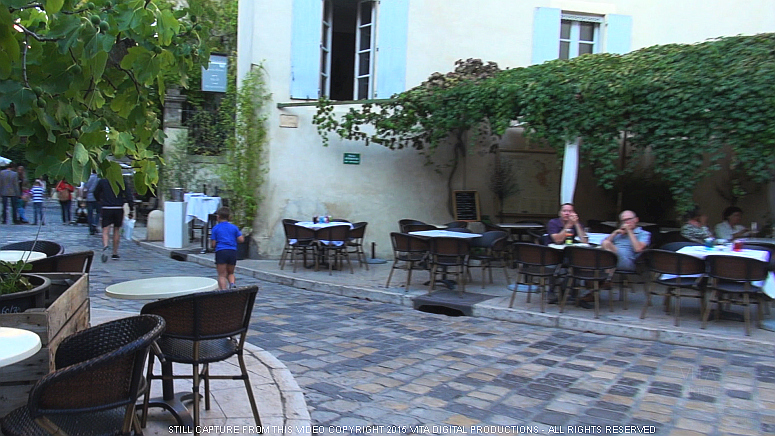 sidewalk cafes...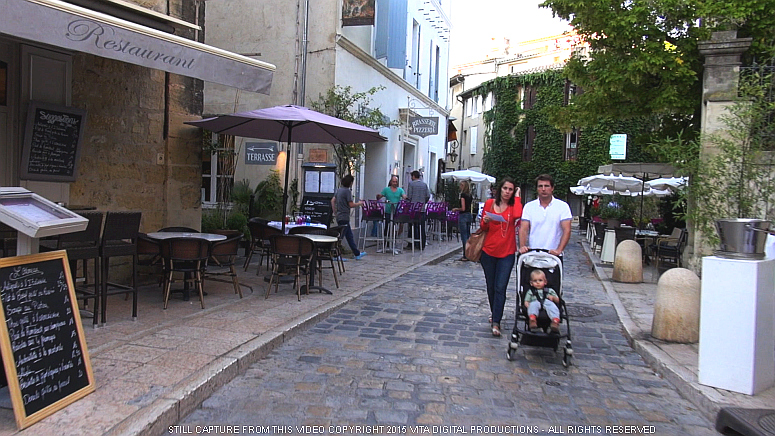 families enjoying the warm September afternoon...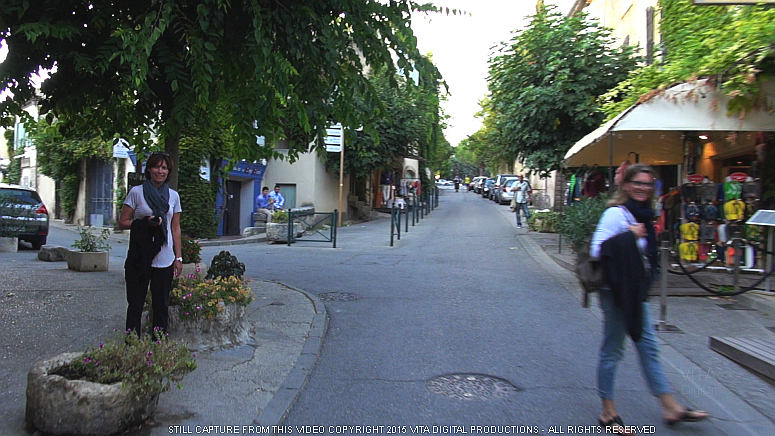 and friendly, welcoming faces.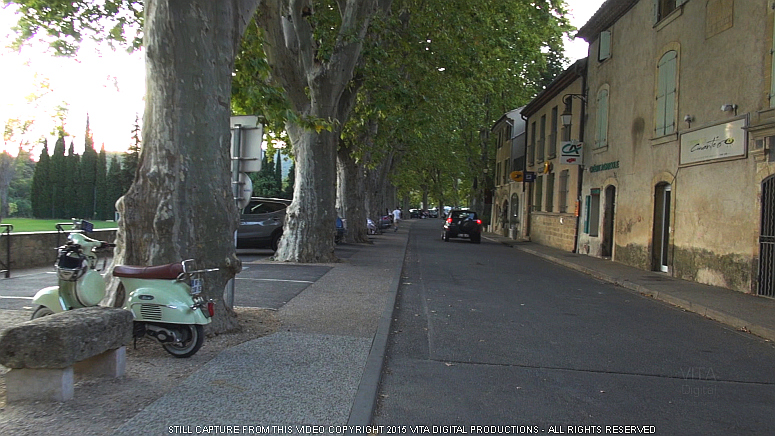 Lourmarin has wide, tree lined streets...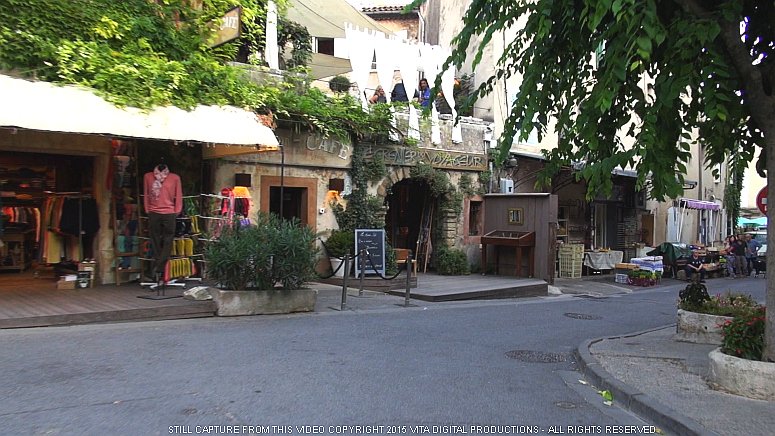 and narrow streets with shops and cafes just waiting to be explored.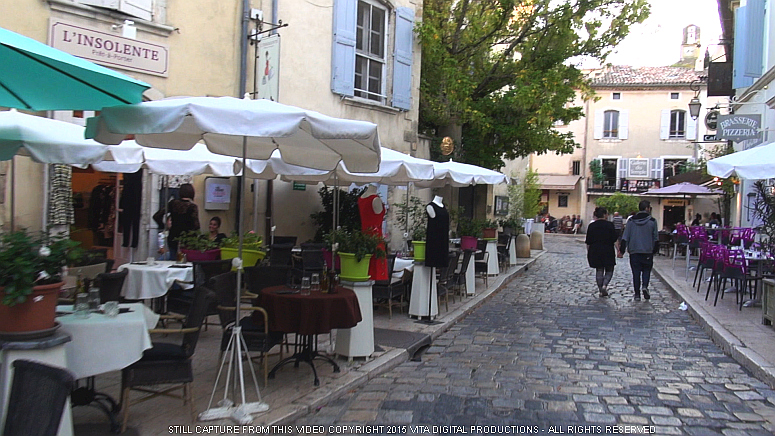 Loumarin typifies the relaxed, romantic, Mediterranean style of life with hand-in-hand strolls or sitting leisurely at an
outdoor cafe with a glass of wine, lemonade, or favorite aperitif.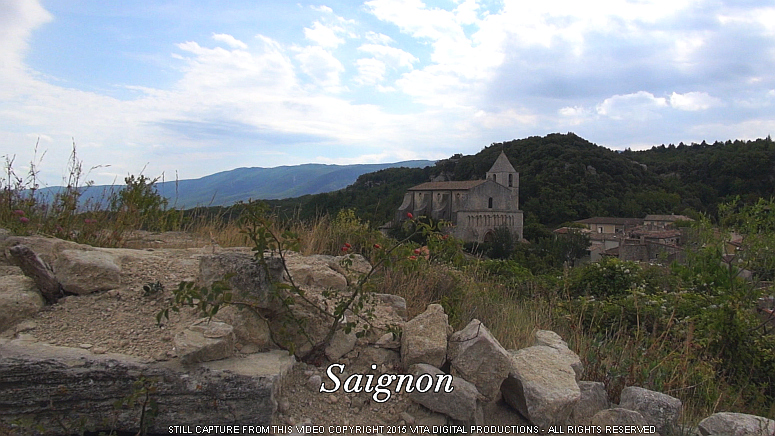 Your Provence Villages Walk next takes you to the hilltop village of Saignon. The church you see in the distance,
the 12th century Saint Mary of Saignon, has been a stopping point for religious pilgrims since the Middle Ages.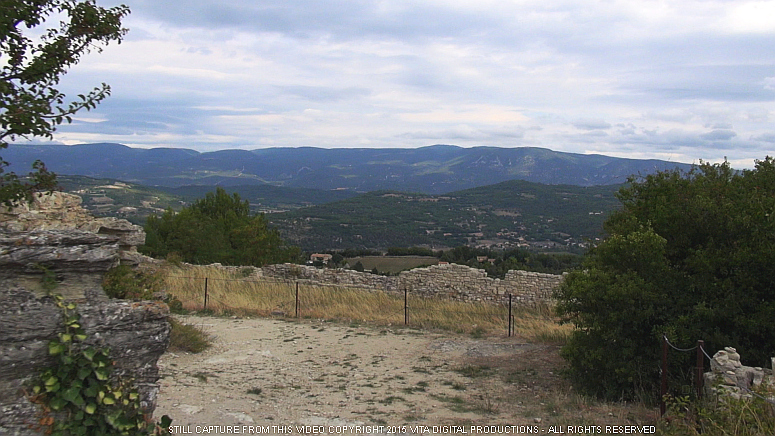 Once again beginning your walk from a hilltop outside the village proper, as you turn and begin your descent,
you pause to admire the magnificent view.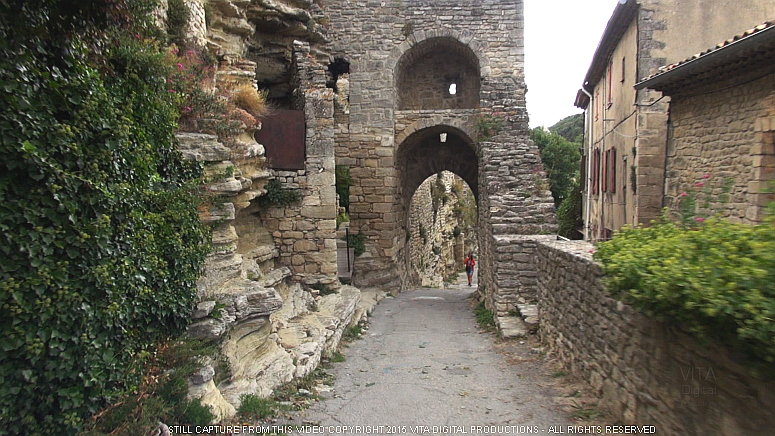 Then you proceed through an archway....
and over more winding, narrow walkways....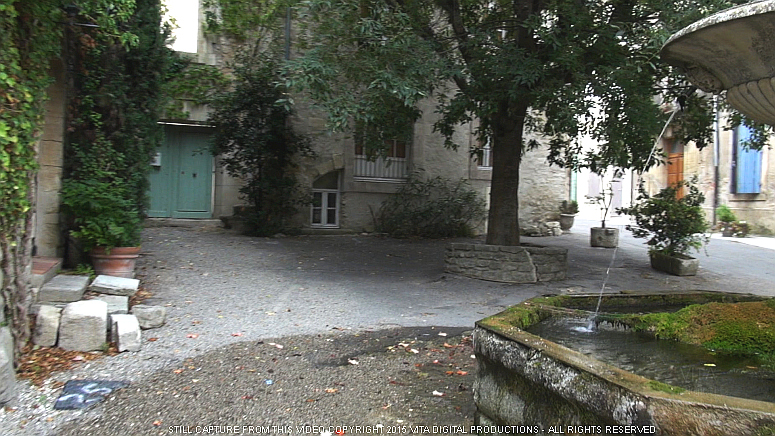 and through a small courtyard with a centuries old fountain...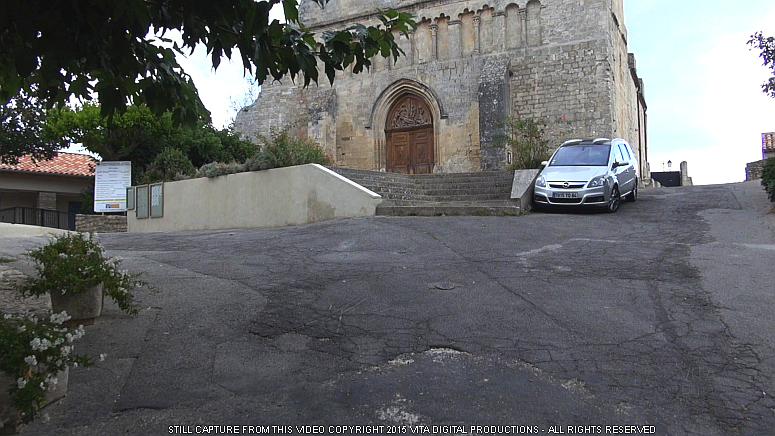 to the outside of the 12th century village church where Marriage Banns are still posted in the green box to the left.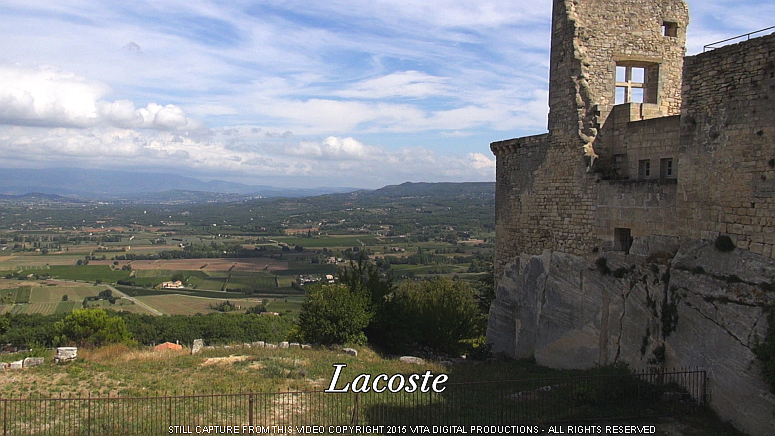 Then on to the village of Lacoste, a village where time appears to be standing still.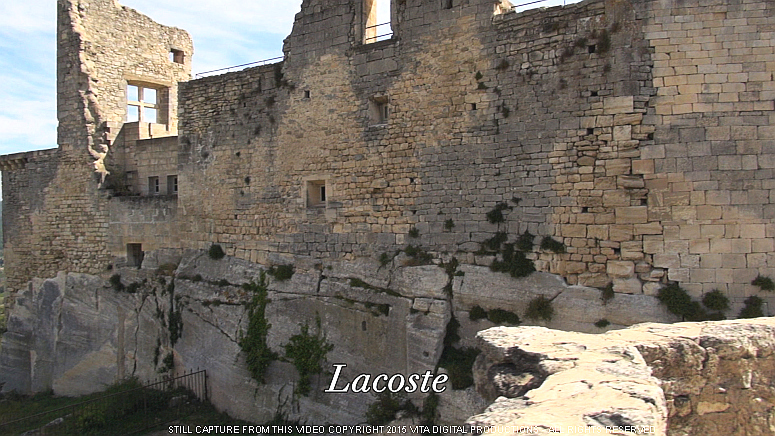 Lacoste is best known for its most notorious resident, the Marquis de Sade, who in the 18th century lived in this castle,
Château de Lacoste. Today, fashion designer Pierre Cardin has purchased the Château and built a new residence within its walls.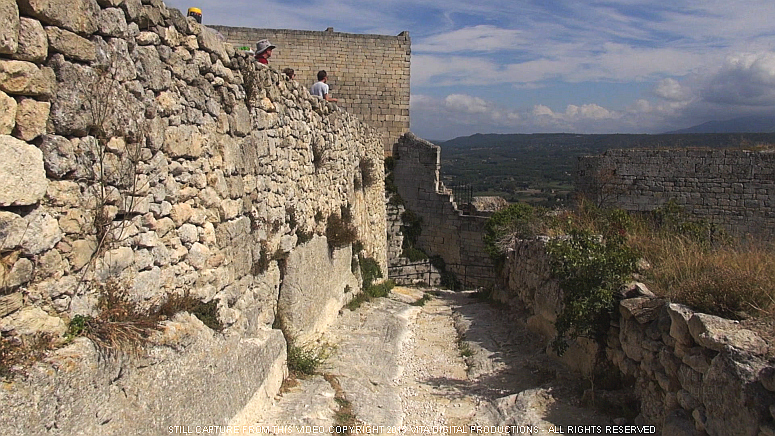 You descend from the Château walking around the perimeter...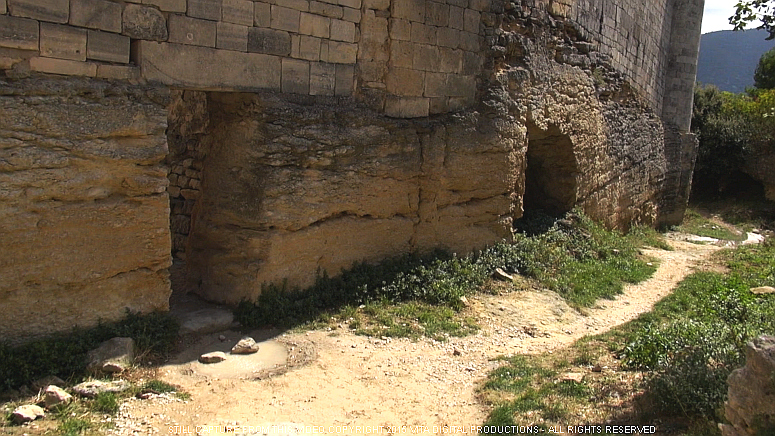 and cross the bottom of the dry moat...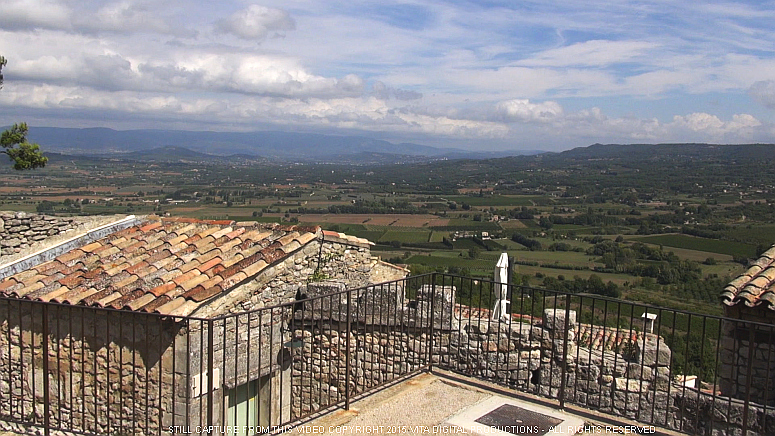 and once again, pause for a view of the valley and the incredible Provencal landscape.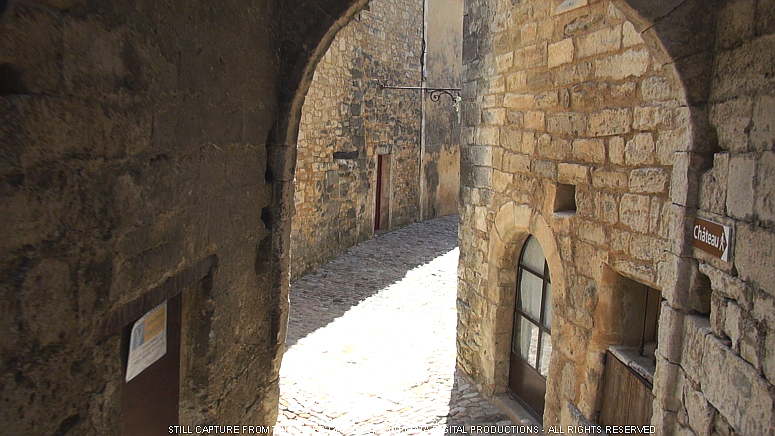 Then you continue down through the nearly empty stone streets of Lacoste.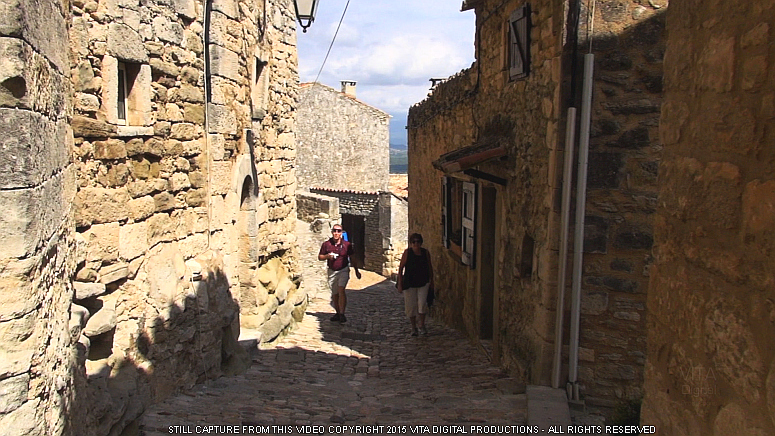 Today the Savannah College of Art and Design has classes here for art students and professors from all corners of the globe...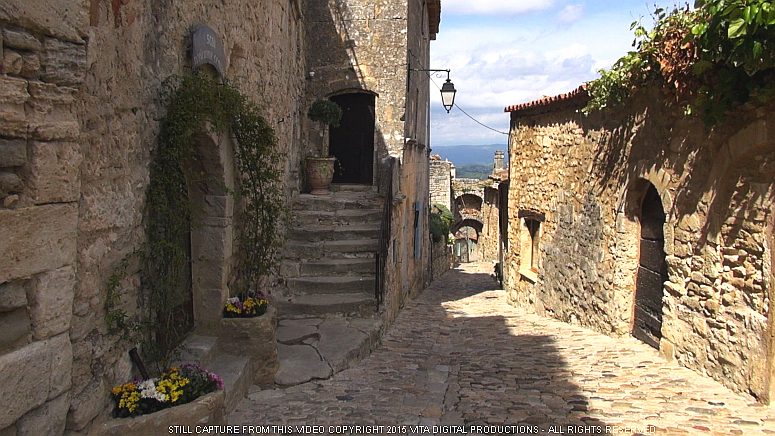 studying fine arts, writing, architecture, design, fashion, film, photography, sculpture, and theater.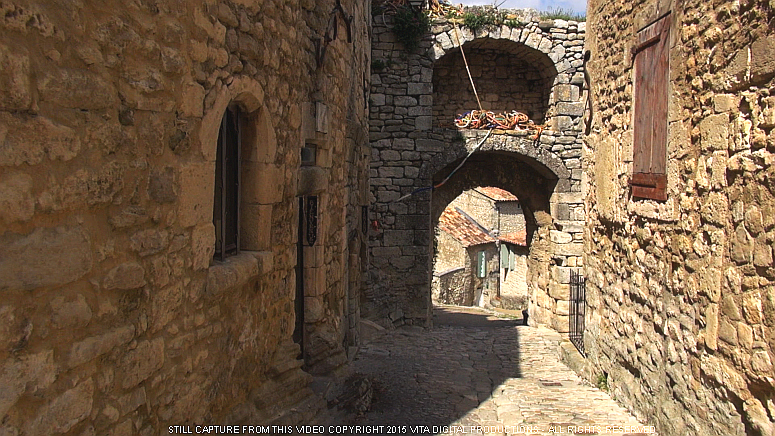 During World War II, the French Resistance took their foothold in the steep Luberon Mountains around Lacoste...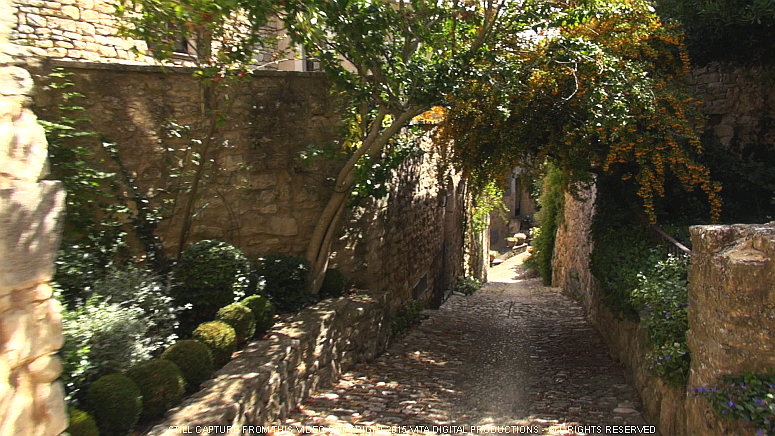 and trenches and barbed wire still can be found in the forested area in the valley.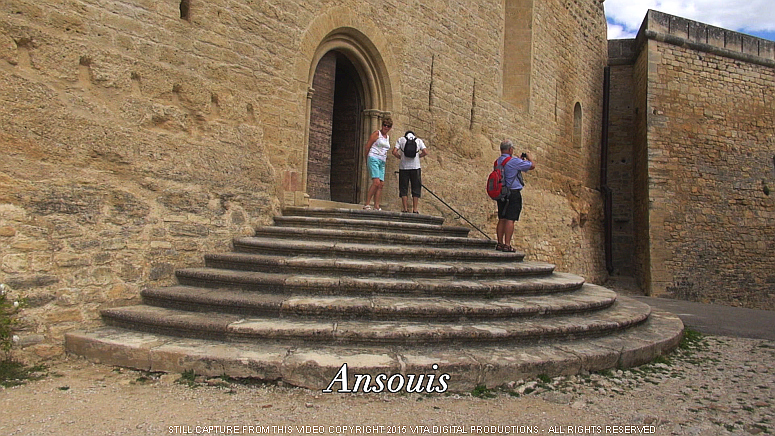 Next you visit Ansouis, also designated "L'un Des Plus Beaux Villages de France" by the French.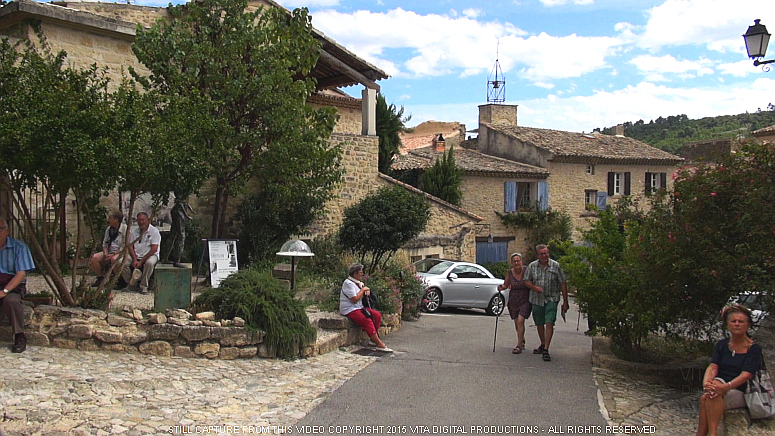 Ansouis, often described as a 'mini version' of nearby Gordes, is a quaint medieval village dating to the 10th century.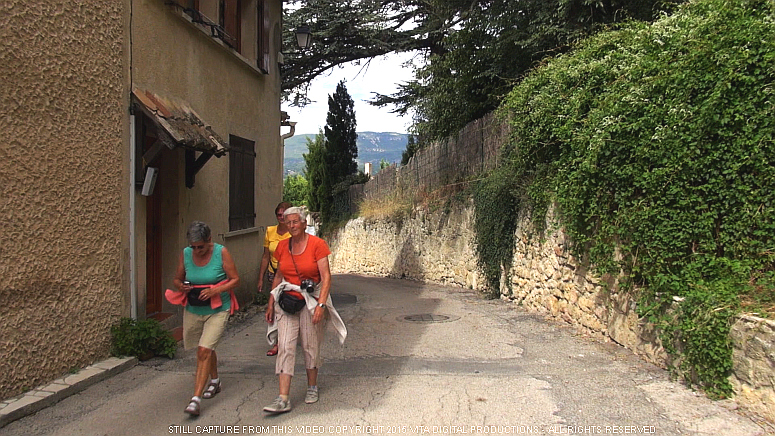 Ansouis is one of the less well known of the Provence villages, but the day we filmed, it had a few tourists...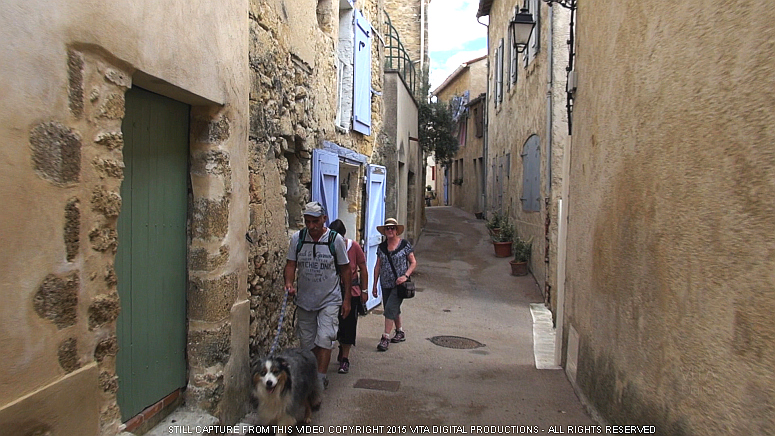 and a dog or two...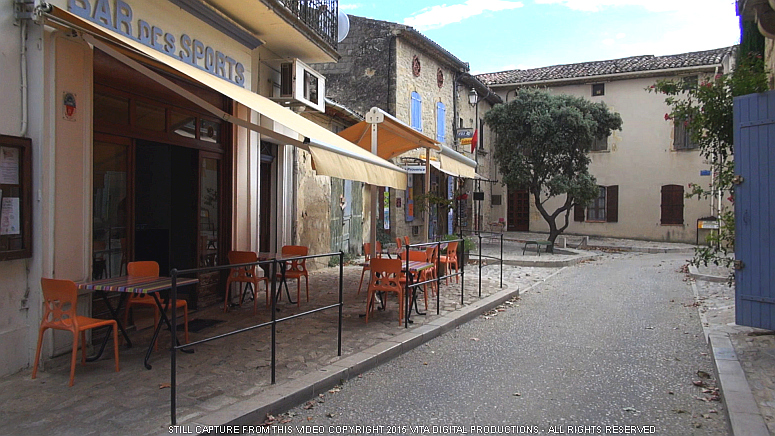 while other sections of Ansouis were compeletely empty.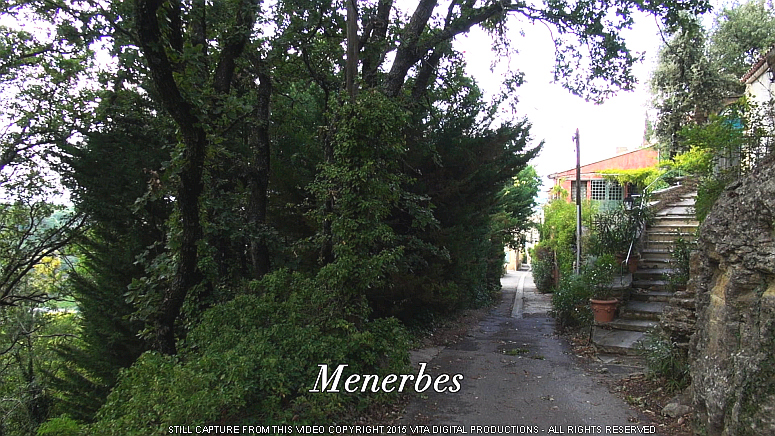 The last village you will visit on the one hour video is Menerbes, also
designated "L'un Des Plus Beaux Villages de France."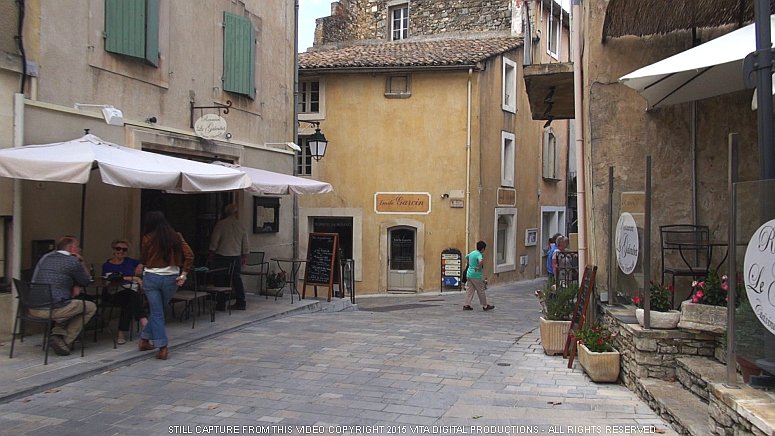 Ménerbes became known in the English-speaking world through the books of British author Peter Mayle...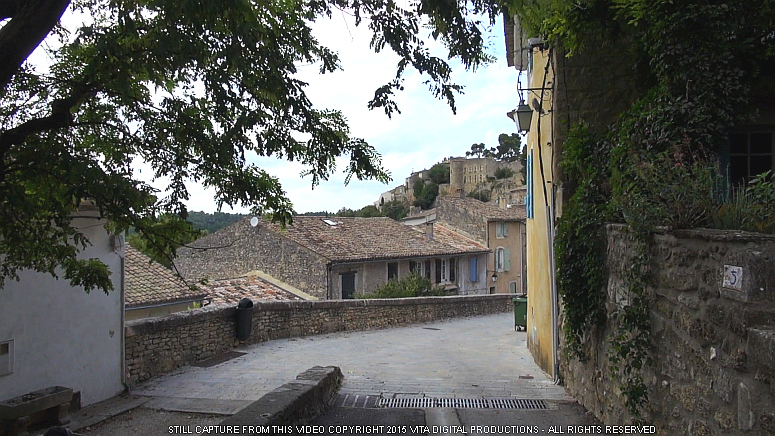 who related his experiences as a British expatriate who settled in this village.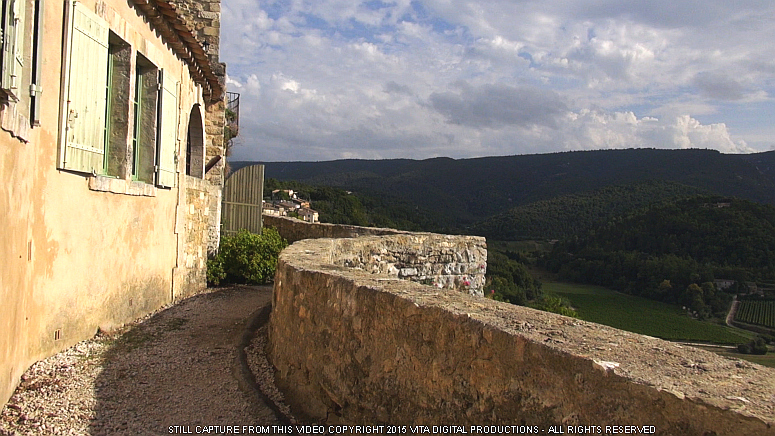 You will walk through the village and up to its summit ...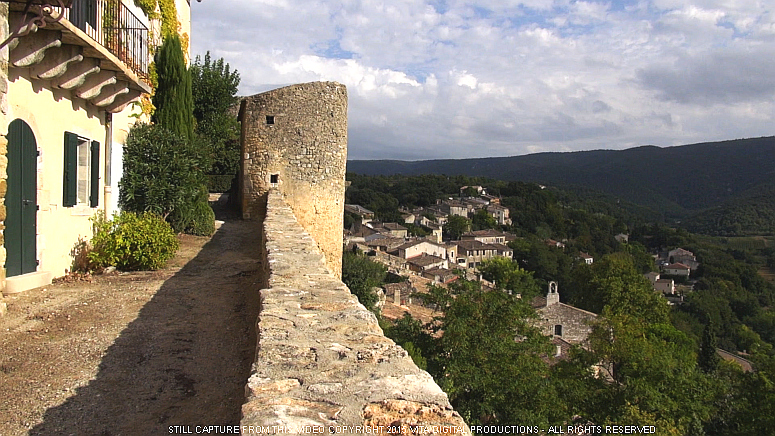 to take in a spectacular view of the hilltop village and surrounding countryside...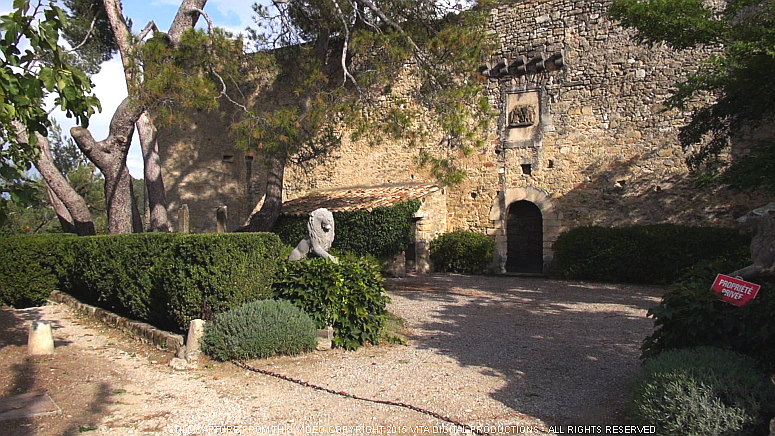 before continuing on through Menerbes.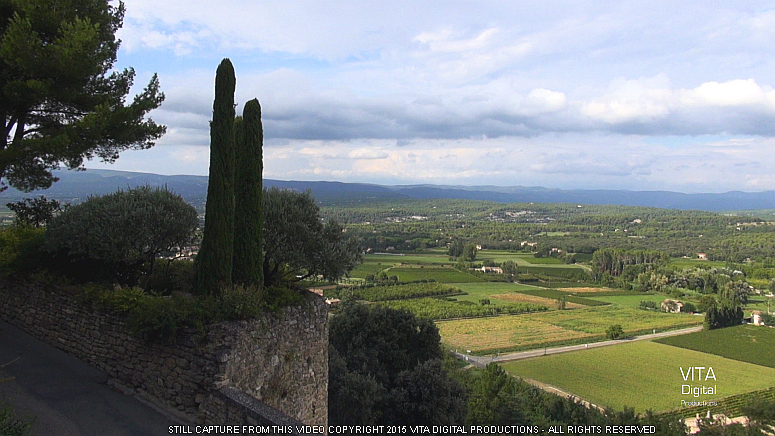 Your 60 minute walk continues through the village and ends with this view of the Provence countryside.
---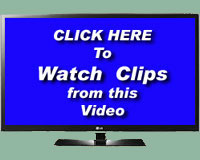 To Purchase this video as a DVD or as a 720p HD Download, please click here.
---
And remember, this DVD makes a unique gift for family and friends!
---
PRODUCTION NOTES:
As you can see from the above stills, many villages had almost no other people
in the streets while we filmed this video.
This 60 minute virtual walk was filmed at an average speed of 3 mph and is accompanied
by the Natural Sounds in Dolby Stereo as they were recorded in the six villages of Provence.
All of the above photos are actual still frames from this video/DVD.
*While originally filmed in High Definition, the DVD you will receive
is in Standard Definition and 16x9 Widescreen and was
authored at the highest resolution possible.
The DVD was encoded for regions 1, 2, & 4, and is a "burned" DVD which was duplicated,
tested, and verified in our studio before being packaged and shipped to you.
The DVD contains an interactive menu and will play on DVD players and computers.
The Download version is in 720P HD and will play on iPads, Computers, Laptops,
and Netbooks using almost any media player. It will also play on Large Screen TVs using
certain devices such as WD Live Plus, X-Box, Roku, flash drives, etc.
Important: Sorry, but the Download version will not play if you burn it directly to a DVD.
---
COPYRIGHT NOTICE:

We are VITA Digital Productions and we are selling this Video Program.
We filmed all of the video footage used in this program, we edited it,
we have licensed the rights to any music used in this production,
and we own the copyright to this program and will aggressively defend it.

The program contained in this DVD and Download is licensed for HOME USE ONLY.
If you intend to use this program in connection with a business of any kind,
such as a gym, rehab facility, etc., you must contact us to obtain a business license
for a small additional fee.

Please click here to contact us.



Images, Text and Layout Images, Text and Layout Copyright 2017 VITA Digital Productions - All Rights Reserved