Below is a Detailed Description of the Virtual Walk on this Video
(All photos below are
actual still frames
from this video.)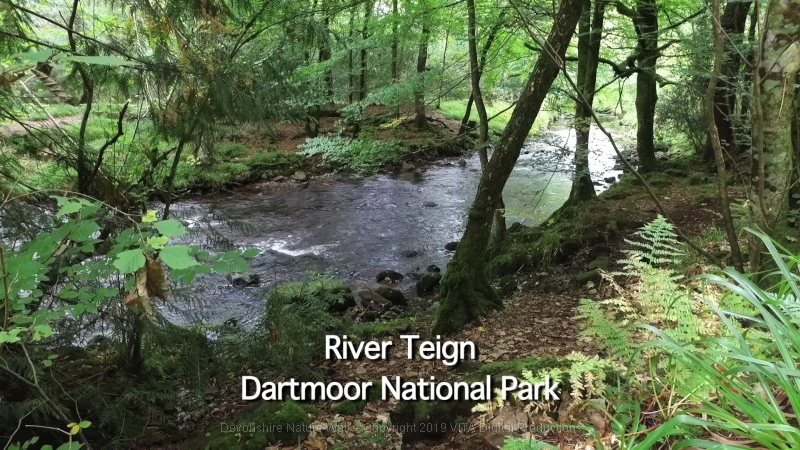 Your 60 minute Devonshire Nature Walk begins here,
beside the River Teign in the Dartmoor National Park.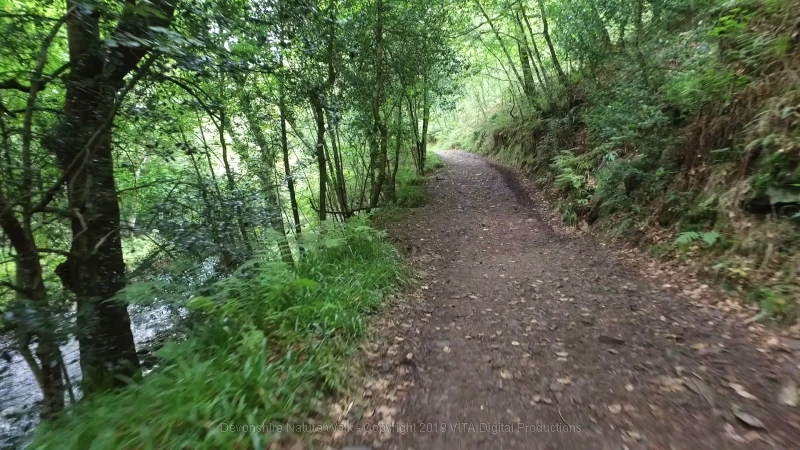 You turn and follow a path that parallels the stream...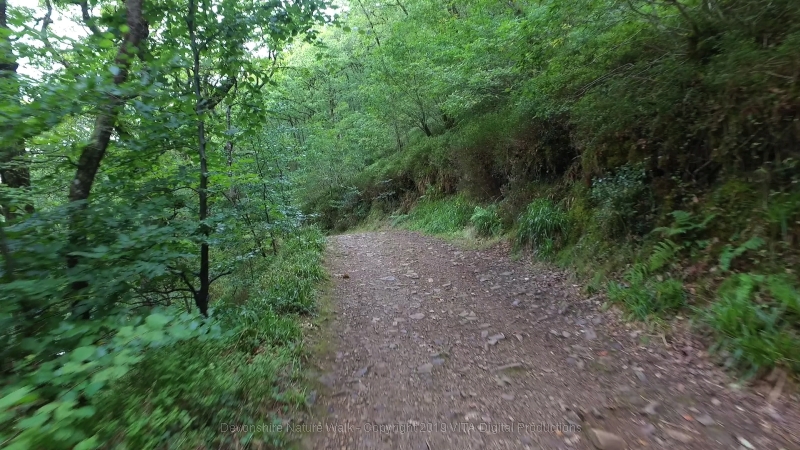 and climb a small hill.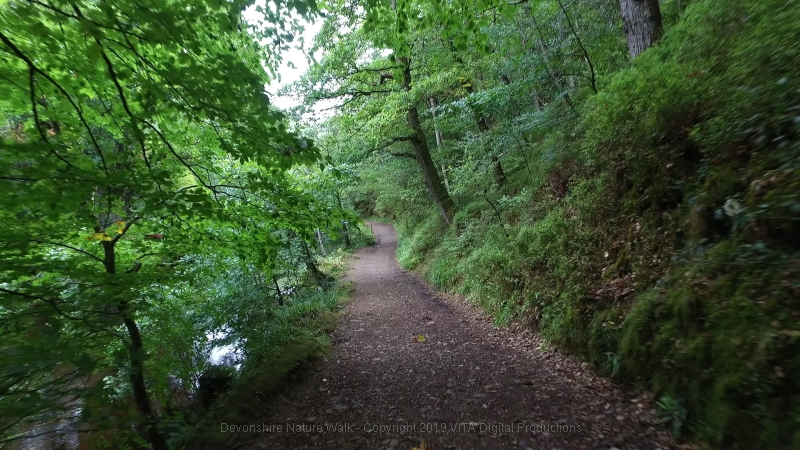 Ahead your path begins to wind....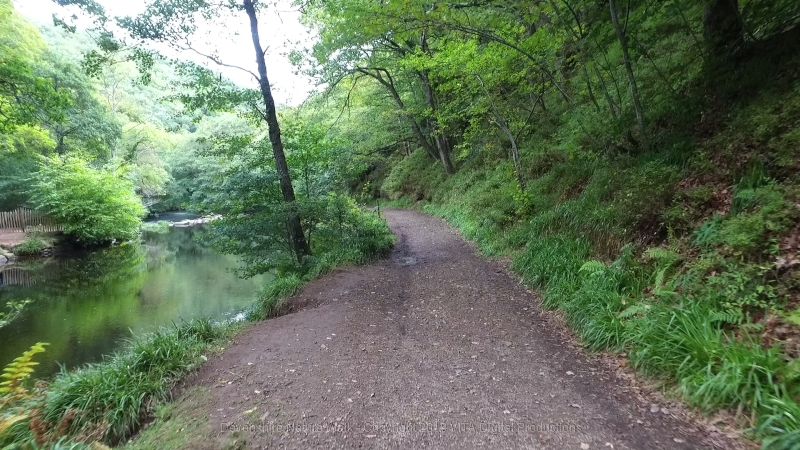 and once again you find yourself beside the River Teign.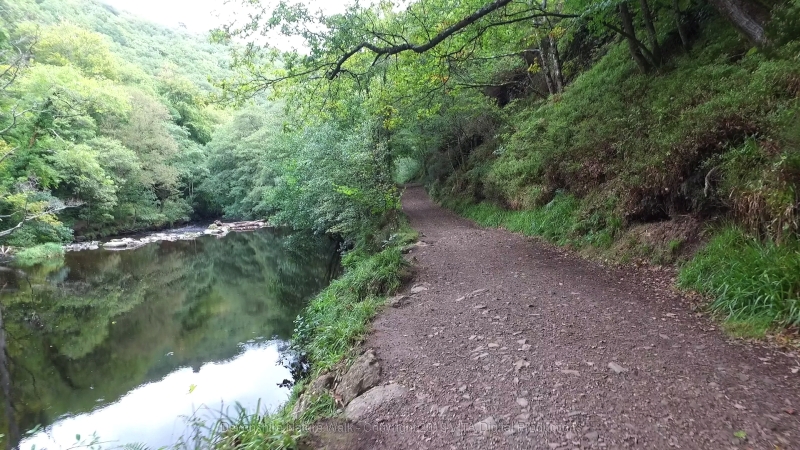 Devonshire and especially the Dartmoor National Park has
unique ecosystems due to strong winds and acidic soils.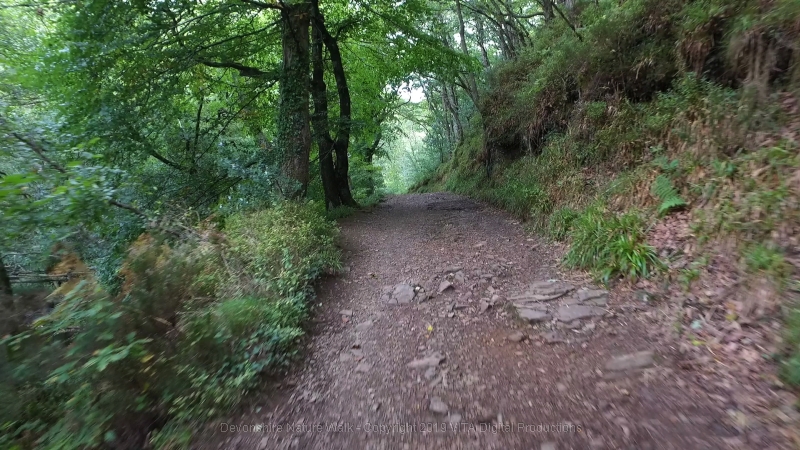 Over half of Dartmoor National Park is private land,
with the major part of this owned by the Duke of Cornwall.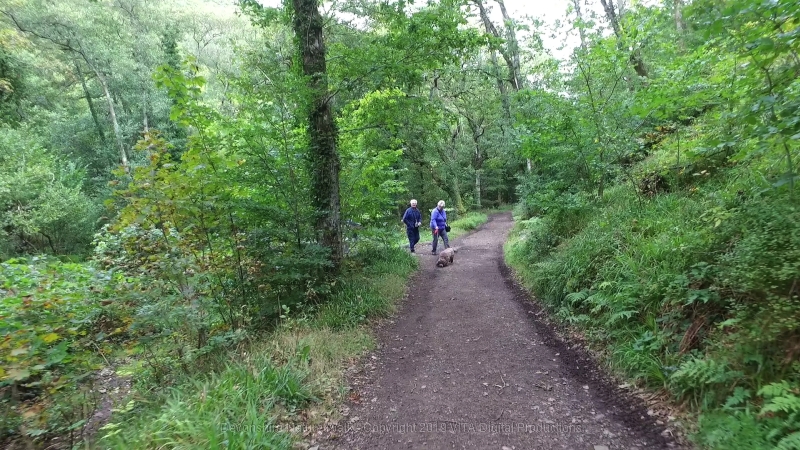 Three times during your one hour walk you meet other walkers on the trail.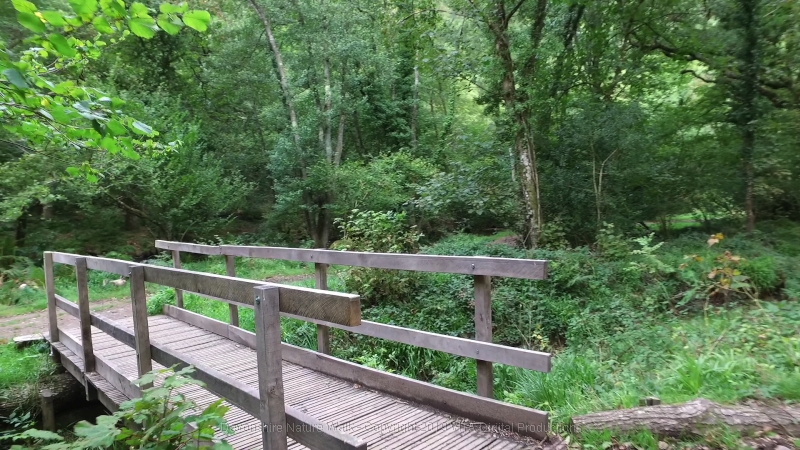 You cross a footbridge over a small tributary and continue on.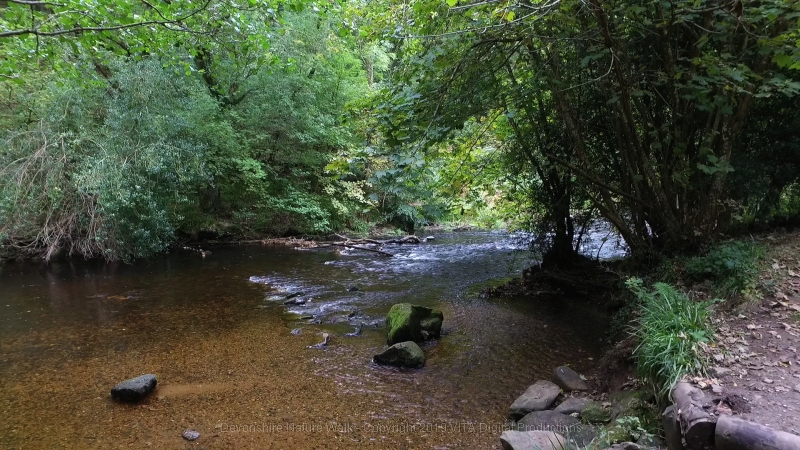 From time to time, you pause briefly to take in the view.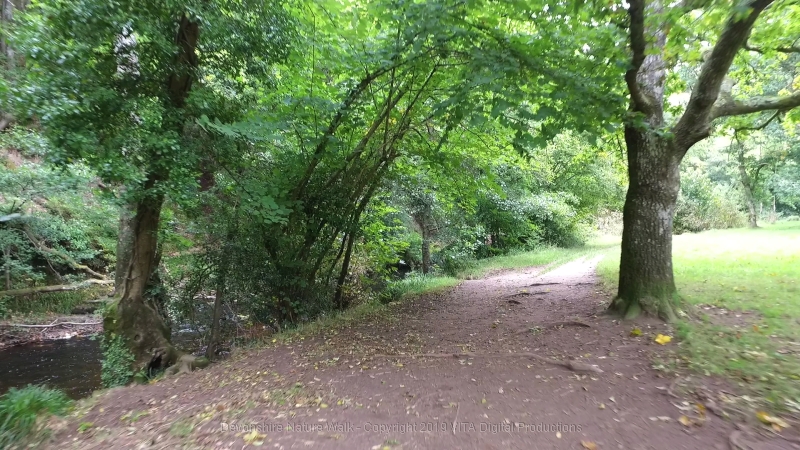 Then it's back on the trail to continue your 60 minute nature walk.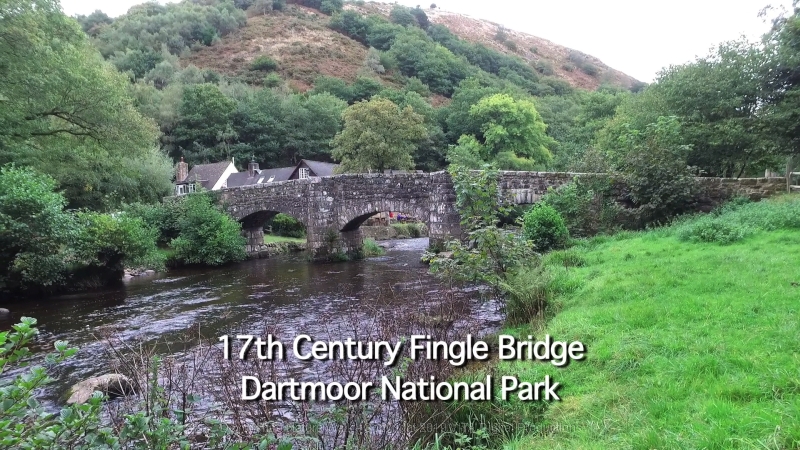 You pause for a moment to admire the Fingle Bridge, a 17th century stone arch bridge over the River Teign.
The packhorse bridge has three arches and two central piers.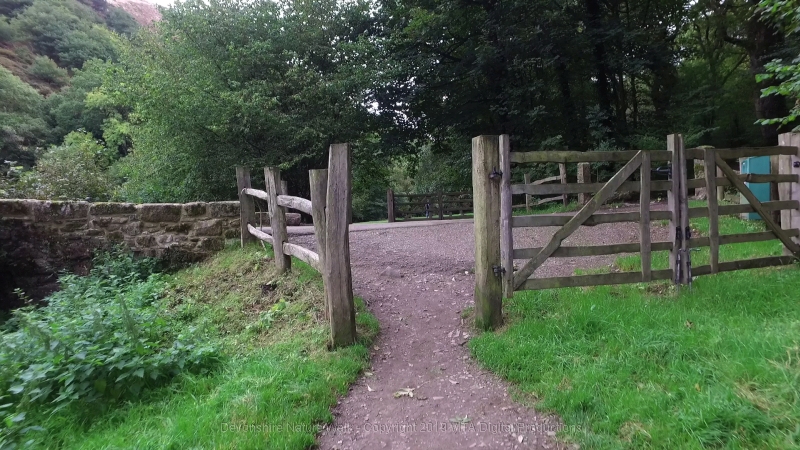 Then on through a gate and a hundred paces ahead you come to...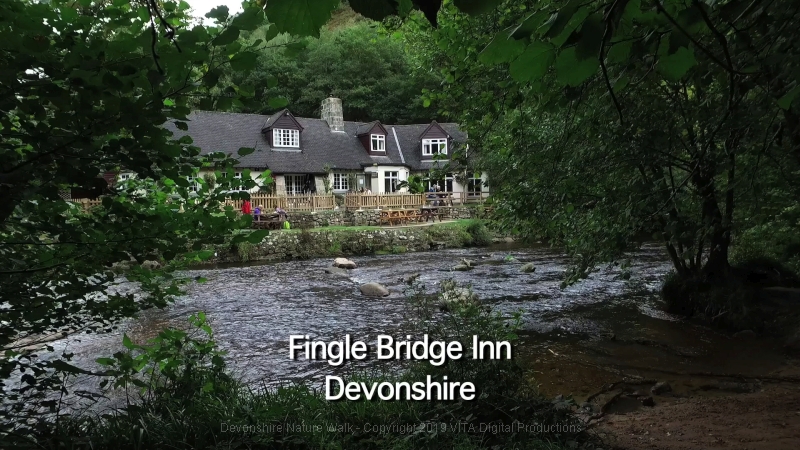 the Fingle Bridge Inn, situated in an amazing setting, it's the perfect spot
to enjoy a really good pub meal and a warm fire. Your dog is even welcome in the Pub.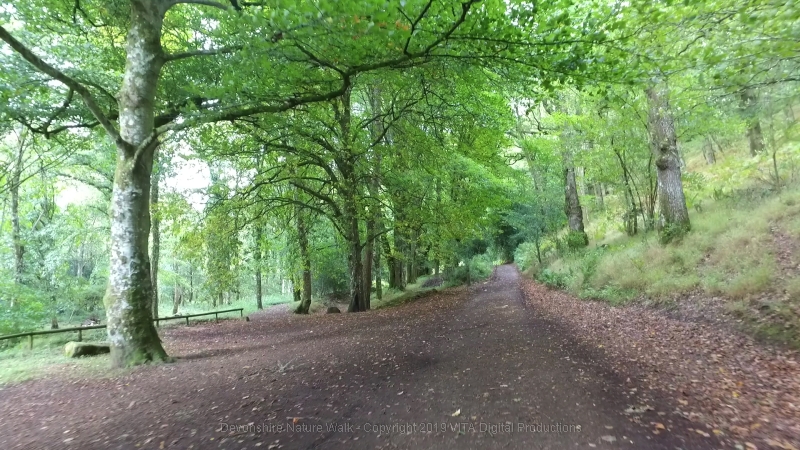 Continuing on, your path widens briefly...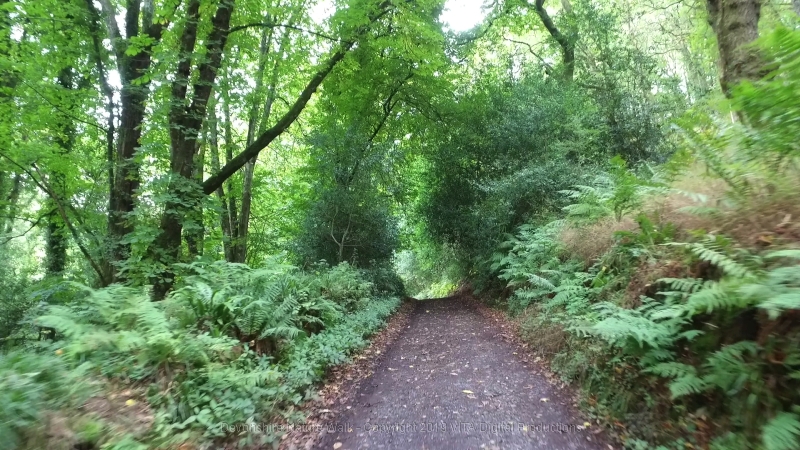 before returning to its more typical form.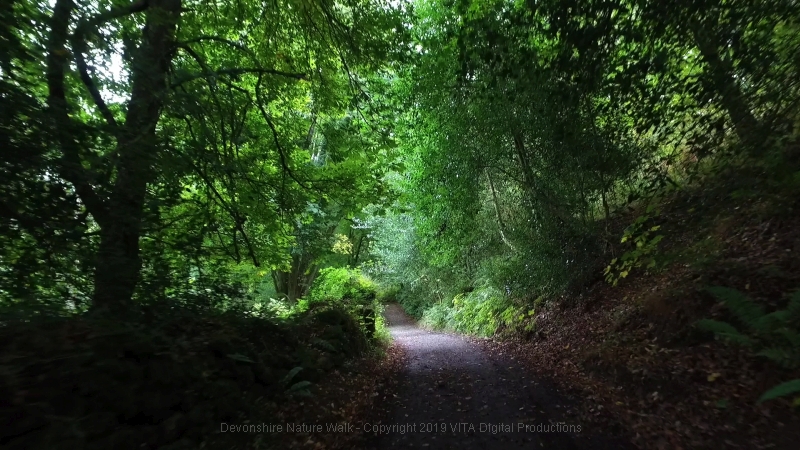 This is where you encounter sections with the deepest shade.
Your path becomes almost ethereal in this section.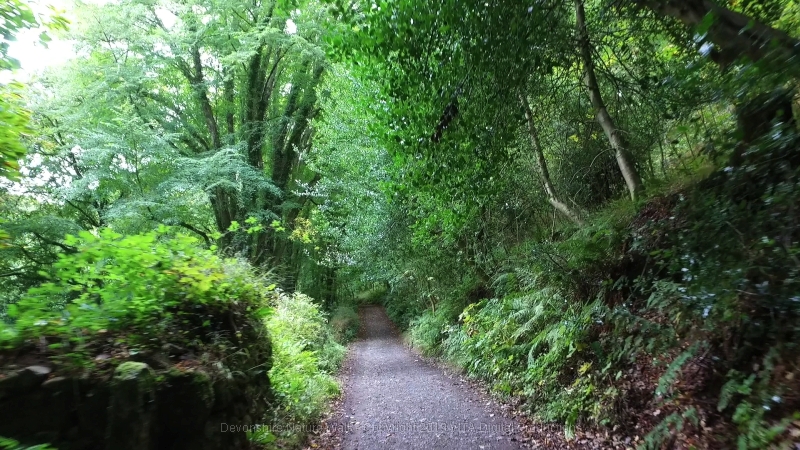 The path continues on and you pass by some ancient stone walls.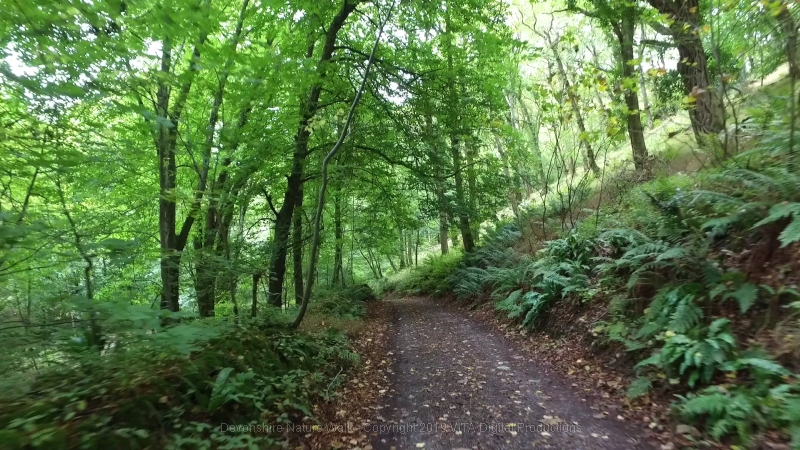 Although the walk was filmed in September, the trees appear to be in Springtime.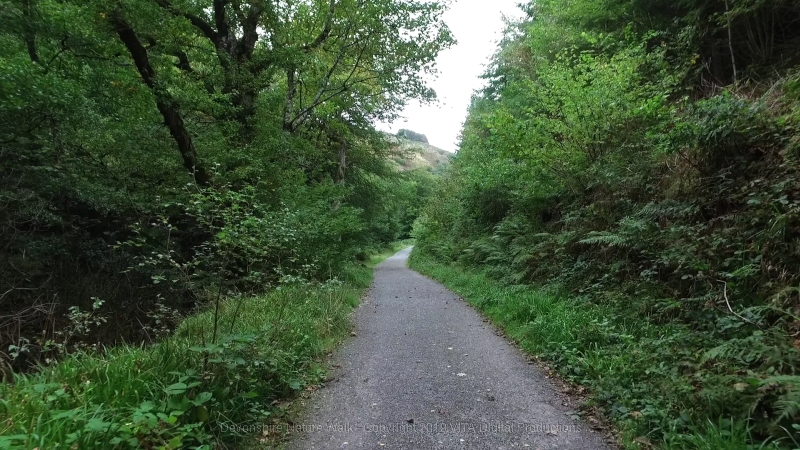 Devonshire is certainly one of England's most beautiful counties.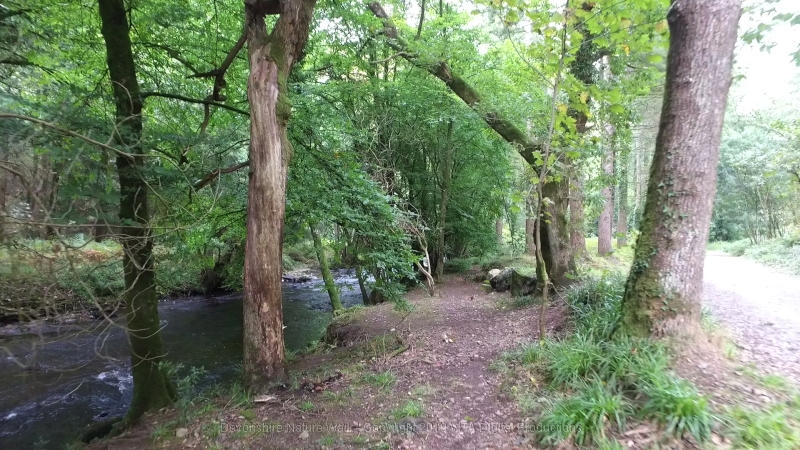 It's time to get off the main trail and explore the small pathway that is next to the river.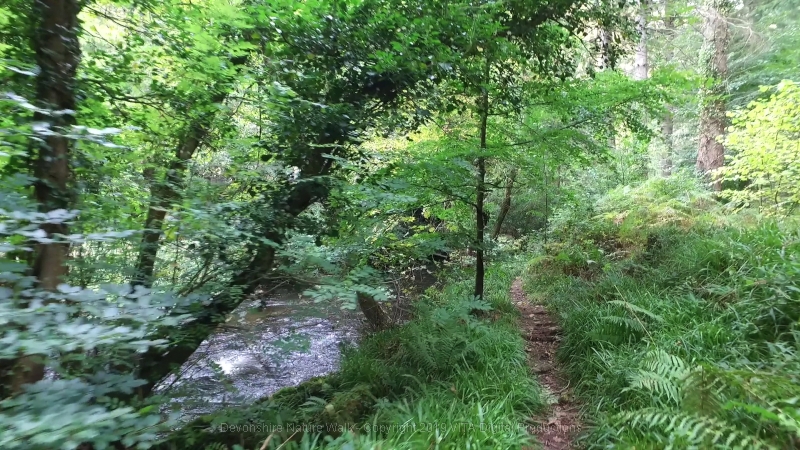 Although the pathway is extremely narrow in places...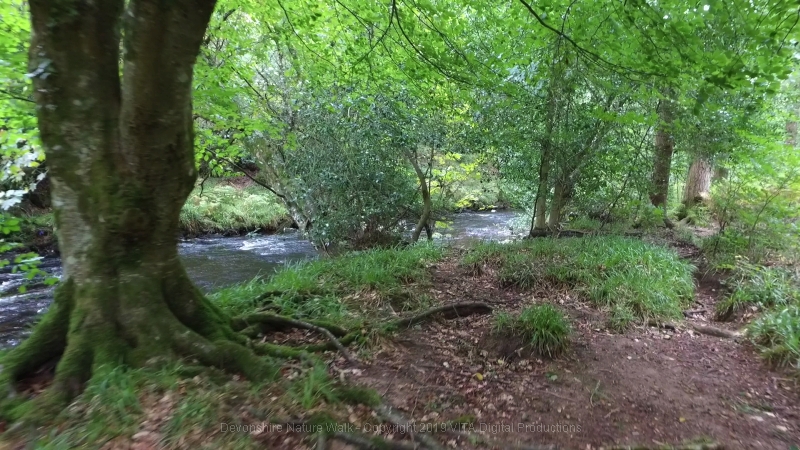 the views are worth the trouble.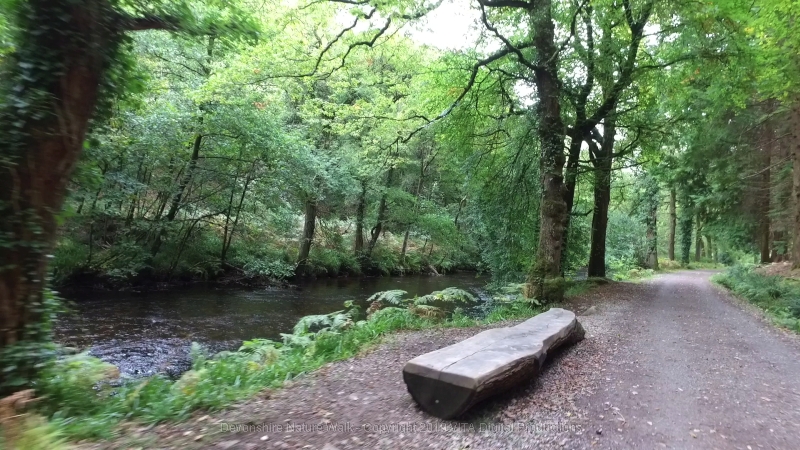 Back on the main trail, you see one of the massive logs sawed in half to provide natural rest benches for hikers.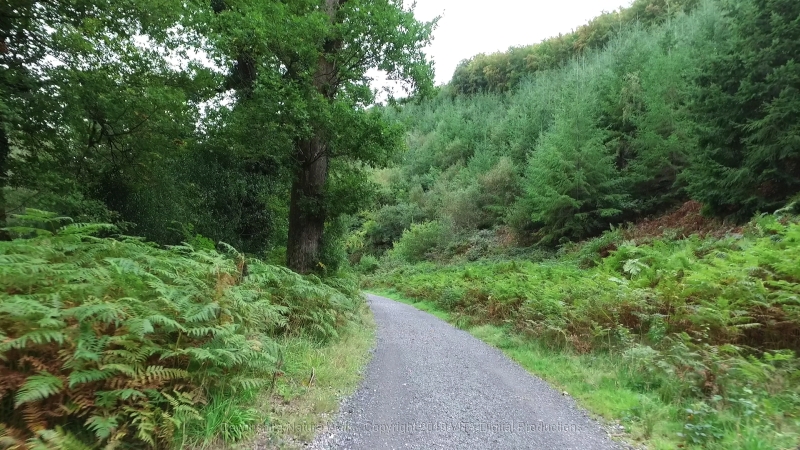 The plants obviously love the Devon climate.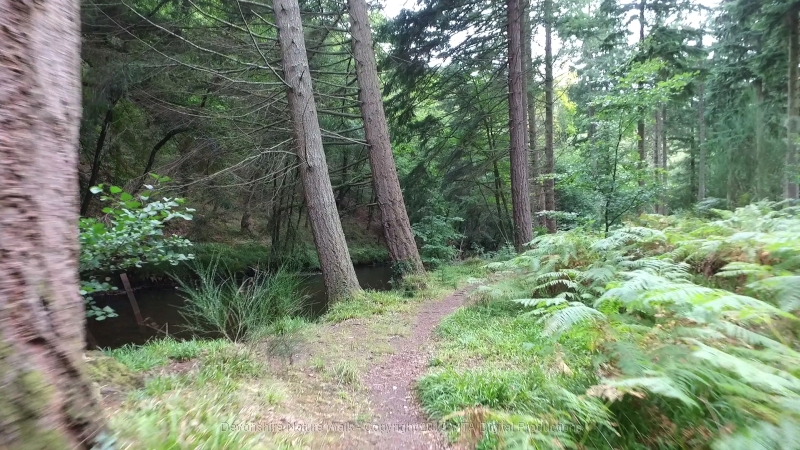 Once again you take a narrow pathway which runs right beside the river.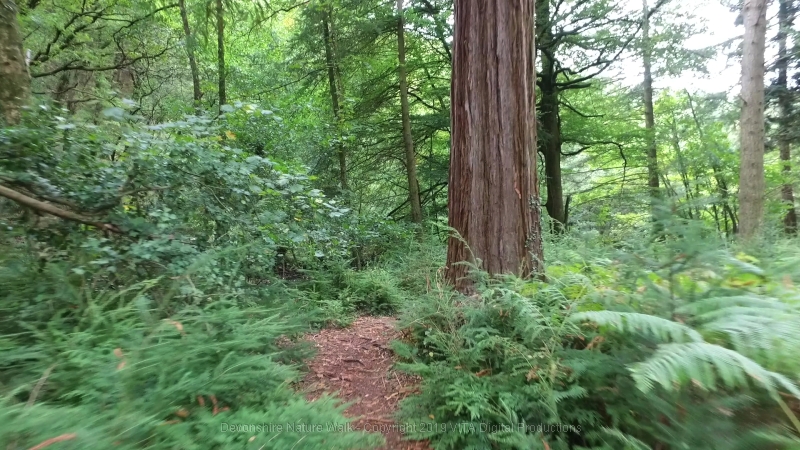 The weather in Devon is unpredictable but fortunately, today's weather is perfect.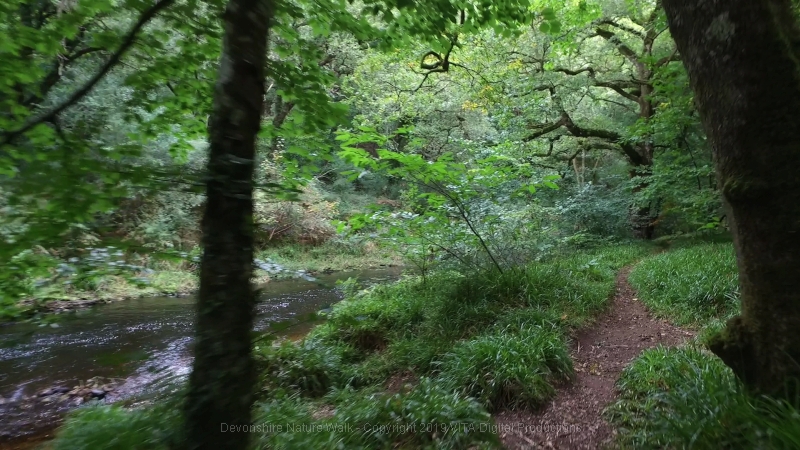 Most of the tourists visit the coastal areas of Devon leaving the interior area such as
Dartmoor National Park quite empty.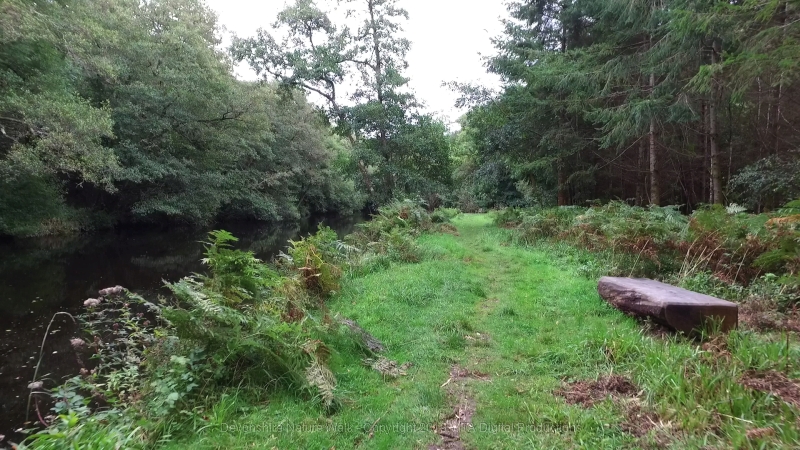 A perfect place to rest and enjoy the view.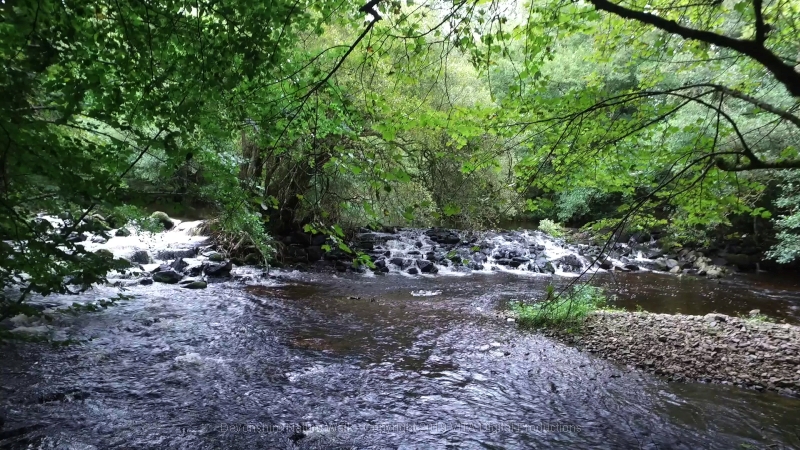 Your one hour Devonshire Nature Walk ends here
beside the Apperton Weir.
---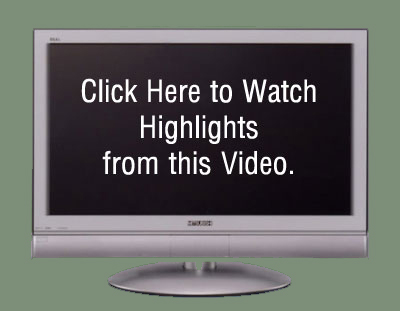 To Purchase this video as a DVD or a 720p HD Download, please click here.
---
And remember, this DVD makes a unique gift for family and friends!
---
PRODUCTION NOTES:
This 60 minute virtual walk was filmed at an average speed of 3 mph and is accompanied
by the Natural Sounds in Dolby Stereo as they were recorded in Devonshire.
All 50 of the above photos are actual still frames from this download and DVD.
*While originally filmed in High Definition, the DVD you will receive
is in Standard Definition and 16x9 Widescreen and was
authored at the highest resolution possible.
The DVD was encoded for regions 1, 2, & 4, and is a "burned" DVD which was duplicated,
tested, and verified
in our studio before being packaged and shipped to you.
The Download version is in 720P HD and will play on iPads, Computers, Laptops,
and Netbooks using almost any media player. It will also play on Large Screen TVs using
certain devices such as WD Live Plus, X-Box, Roku, flash drives, etc.
Important: Sorry, but the Download version will not play if you burn it directly to a DVD.
---
COPYRIGHT NOTICE:

We are VITA Digital Productions and we are selling this Video Program.
We filmed all of the video footage used in this program, we edited it,
we have licensed the rights to any music used in this production,
and we own the copyright to this program and will aggressively defend it.

The program contained in this DVD and Download is licensed for HOME USE ONLY.
If you intend to use this program in connection with a business of any kind,
such as a gym, rehab facility, etc., you must contact us to obtain a business license
for a small additional fee.

Please click here to contact us.


---
Images, Text and Layout - Copyright 20209 VITA Digital Productions - All Rights Reserved