Below is a Detailed Description of the Virtual Walk on this Video
(All photos below are
actual still frames
from this video.)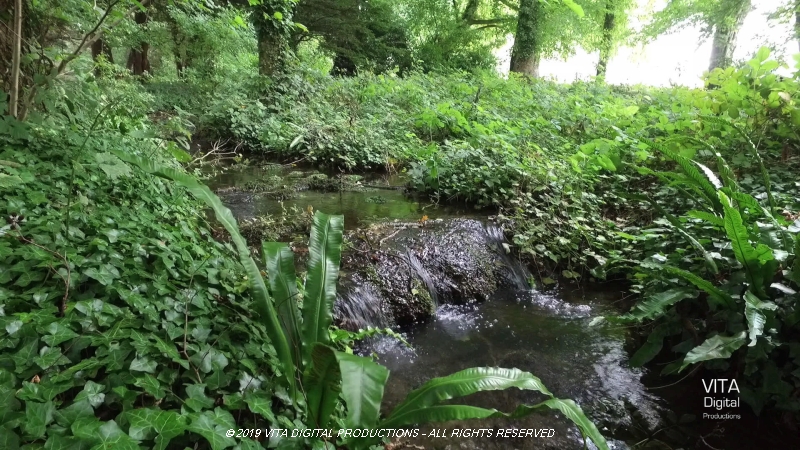 Your 60 minute Cotswold Villages Virtual Walk - Volume 3 begins here,
beside a small stream just outside the historic village of Adlestrop, in Gloucestershire, England.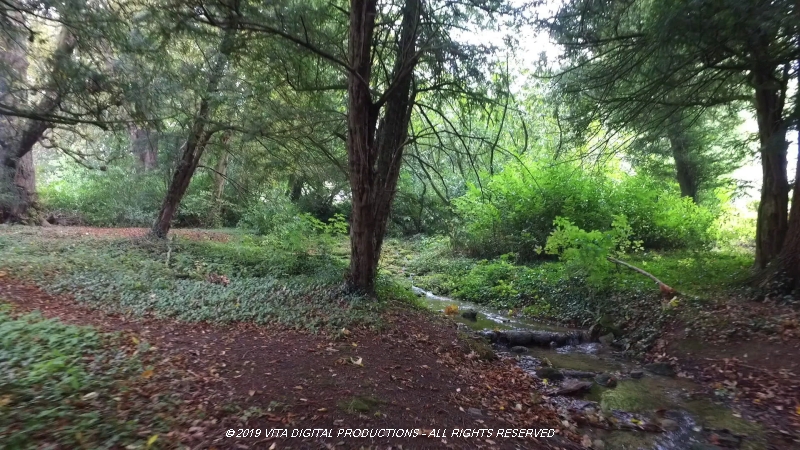 You turn and follow the stream...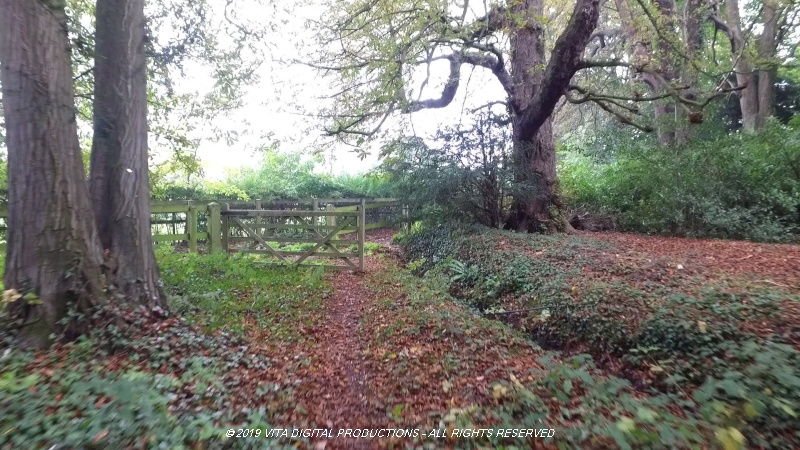 and pass through the first of two gates.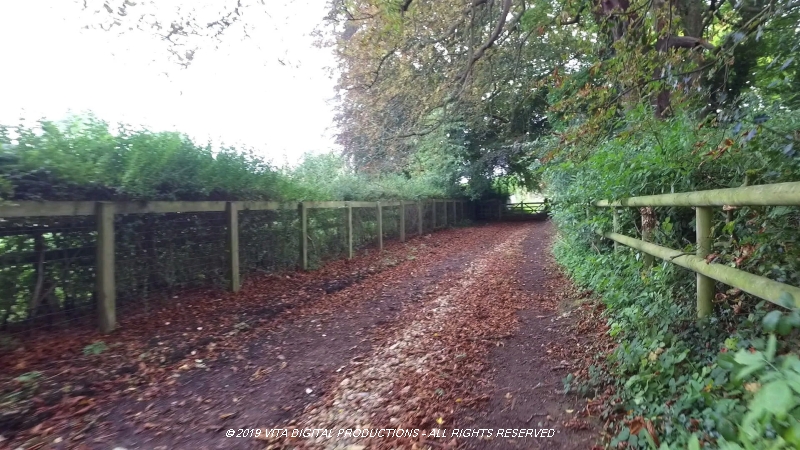 Turning onto a lane...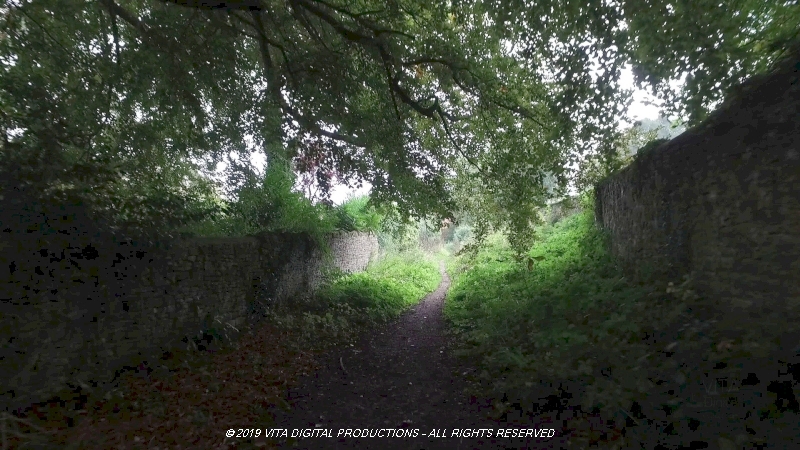 you walk through a shaded area and follow the narrow path ahead until...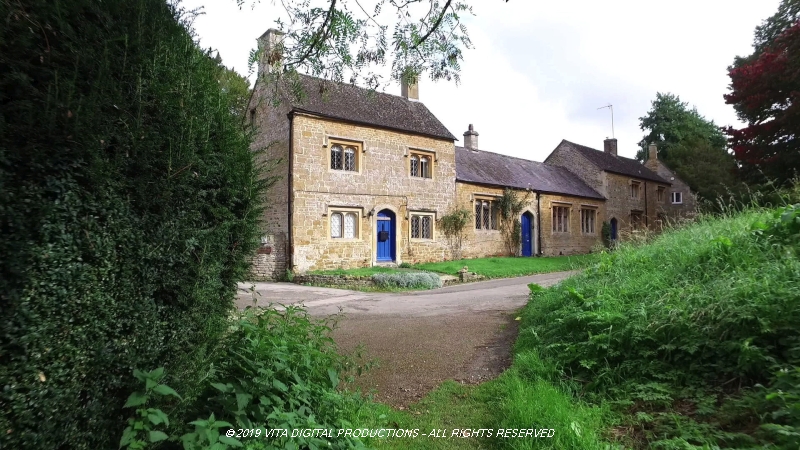 you come upon the idyllic village of Adlestrop.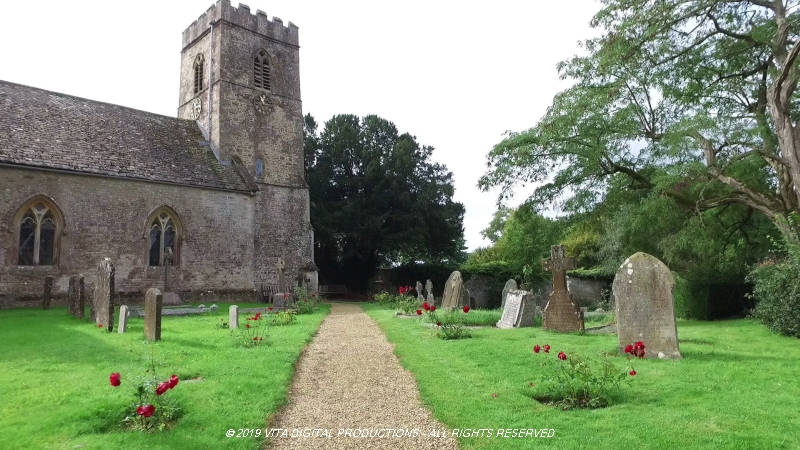 You then turn onto a gravel path to Adlestrop's historic church.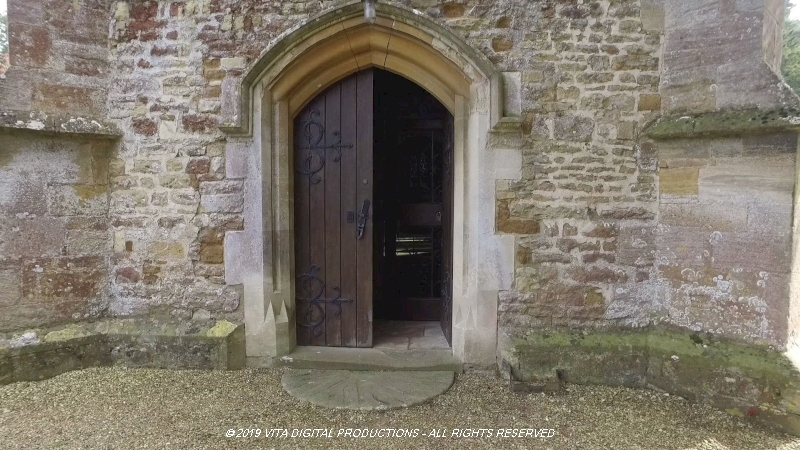 Both the church and the village itself have a direct link to Jane Austen and her book,
Mansfield Park
.
Jane Austen stayed with her Leigh cousins in Adlestrop several times and kept in constant touch with them by letters.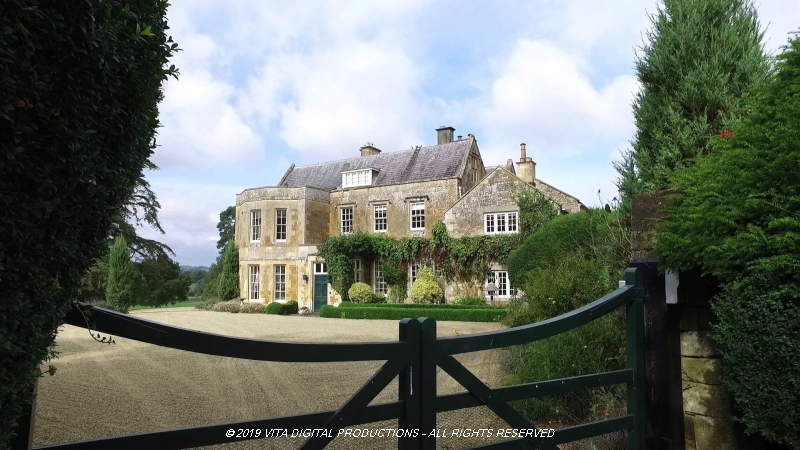 It is said that not only many of the fictional places in
Mansfield Park
were based on
actual manor houses in Adlestrop, but many of the plot lines paralleled the lives of its villagers.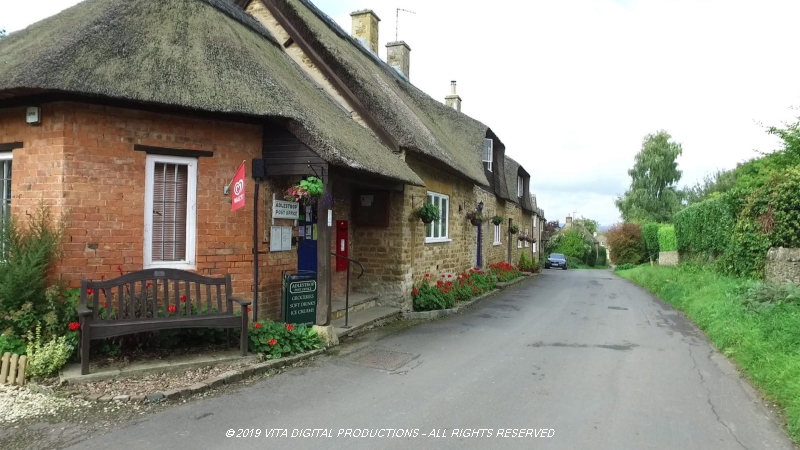 Walking on, you encounter Adlestrop's small brick post office attached to a larger stone house.
From the sign out front, not only can you mail letters here, you can also purchase Groceries, Soft Drinks and Ice Creams.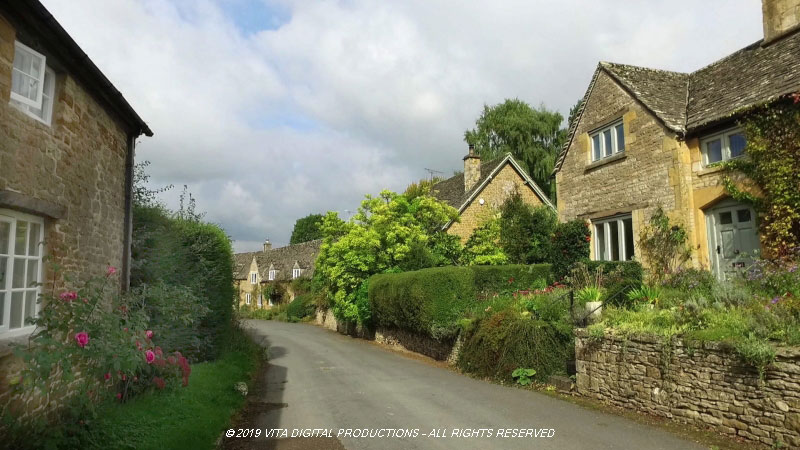 Adlestrop is a very small village which harkens back to the early 19th century. Austen could have been referring to
Adlestrop when she said, "...three or four families in a Country Village [is] the little bit of Ivory on which I work"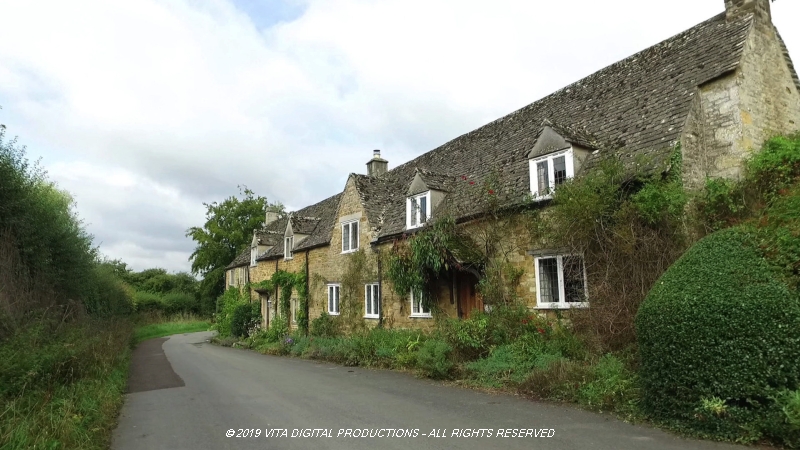 But Adlestrop is best remembered because of Edward Thomas, one of England's most important poets.
One day in June of 1914, Thomas' train stopped unexpectedly at the now-closed station outside Adlestrop and he wrote...
"Yes. I remember Adlestrop

The name, because one afternoon

Of heat, the express-train drew up there

Unwontedly. It was late June.


The steam hissed. Someone cleared his throat.

No one left and no one came

On the bare platform. What I saw

Was Adlestrop - only the name


And willows, willow-herb, and grass,

And meadowsweet, and haycocks dry,

No whit less still and lonely fair

Than the high cloudlets in the sky.


And for that minute a blackbird sang

Close by, and round him, mistier,

Farther and farther, all the birds

Of Oxfordshire and Gloucestershire."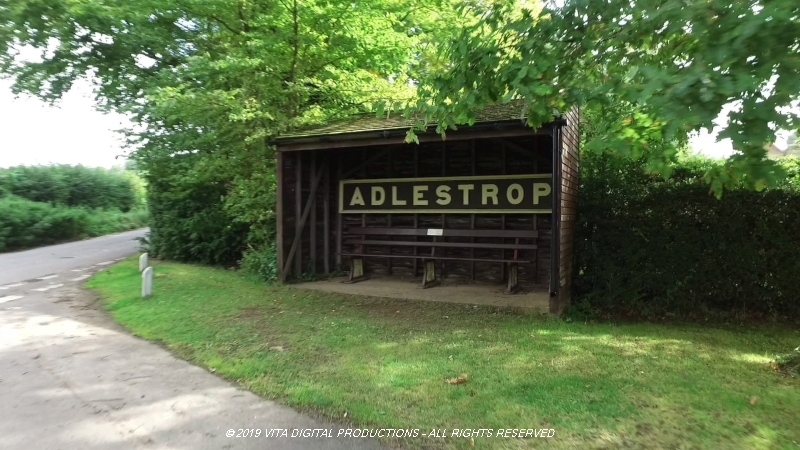 Today, every English schoolchild knows that famous poem and Adlestrop has moved the sign described in the
poem from the now closed train station and placed it here, for everyone to see as they enter the village.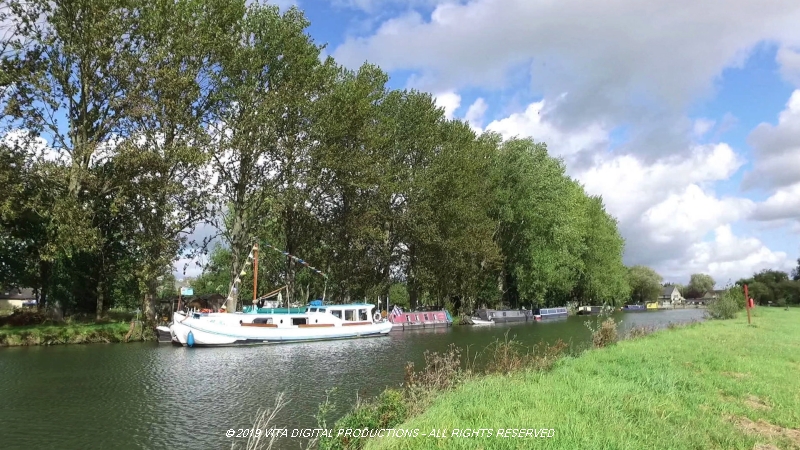 Next, your one hour Cotswold Villages Virtual Walk continues just outside of Lechlade-on-Thames.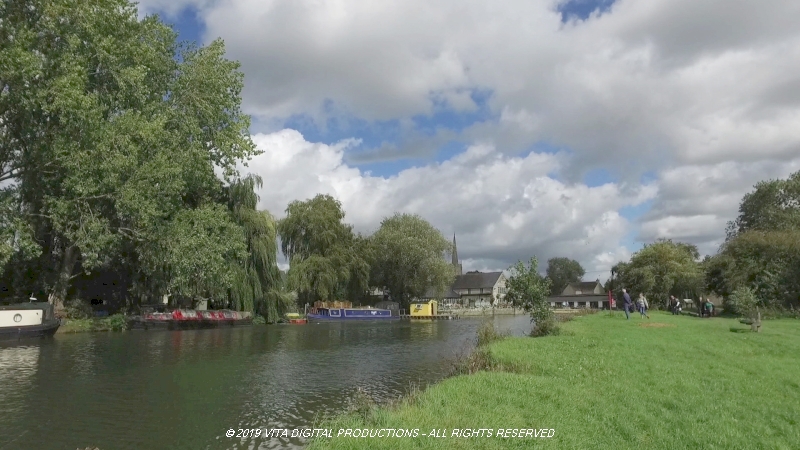 As your walk takes you beside the River Thames, typical English narrowboats can be seen tied to the opposite bank.
Lechlade is the highest town to which the River Thames is navigable by relatively large craft.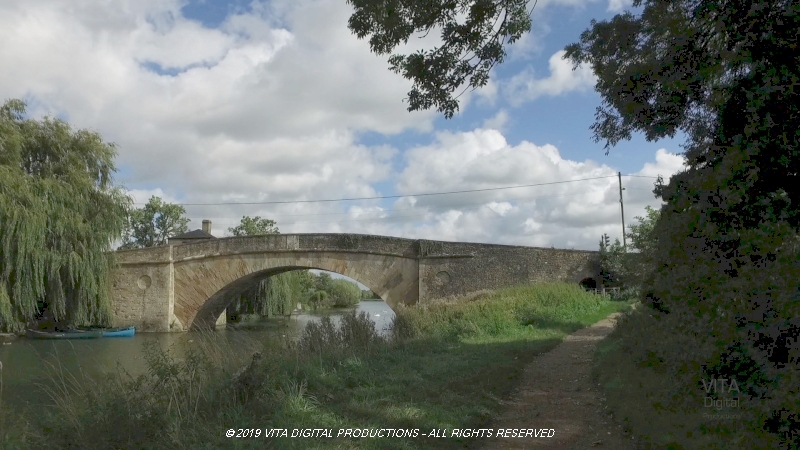 Ahead is the Halfpenny Bridge, so named because that was the toll charged to pedestrians to cross it until 1839.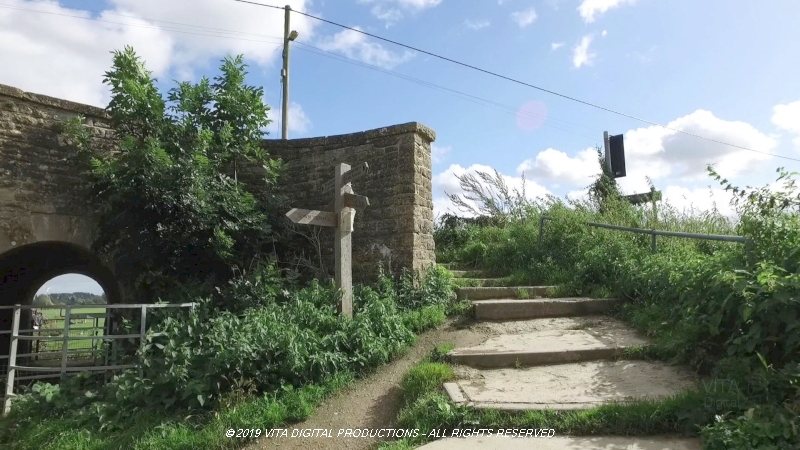 Climbing the steps...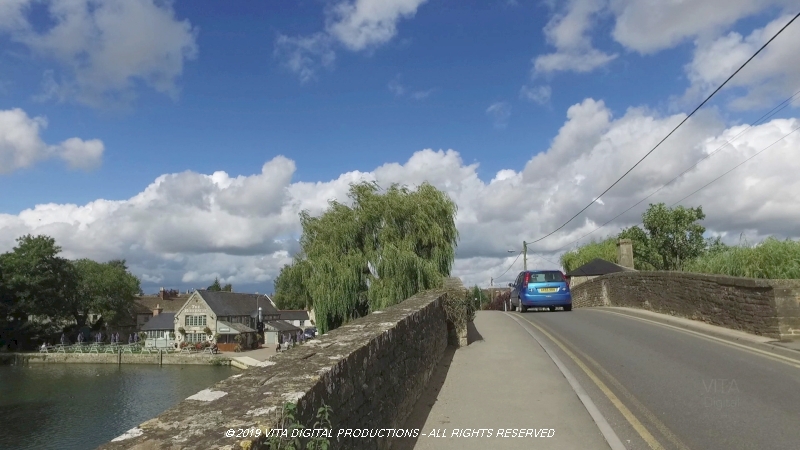 you cross Halfpenny Bridge, which was opened in 1792, into Lechlade-on-Thames.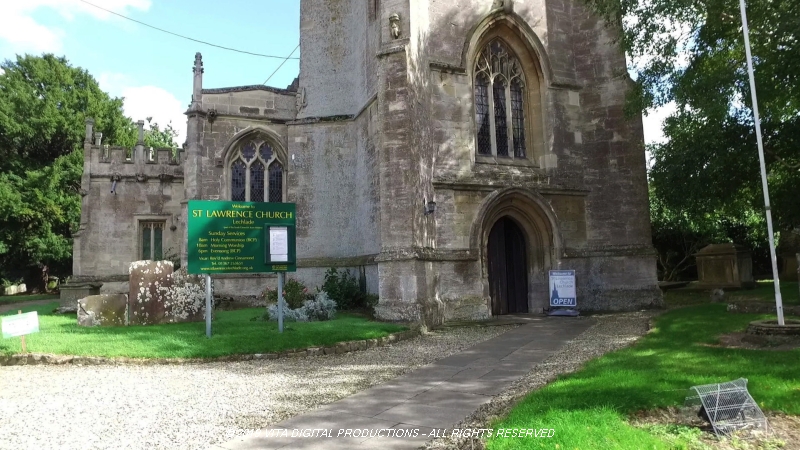 Once in the village, you come to St. Lawrence Church, a Grade 1 listed building which dates from the 15th century.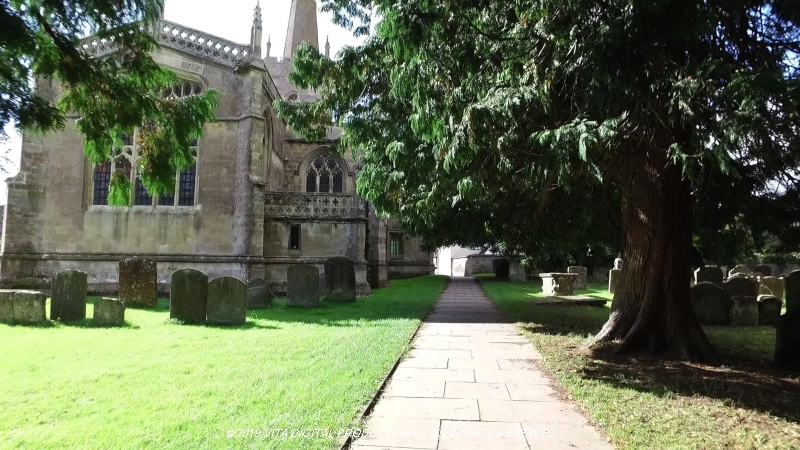 This churchyard inspired the poet Percy Shelley to compose "A Summer Evening Churchyard" during a visit
to Lechlade in 1815. The path through the churchyard is now named after him - "Shelley's Walk."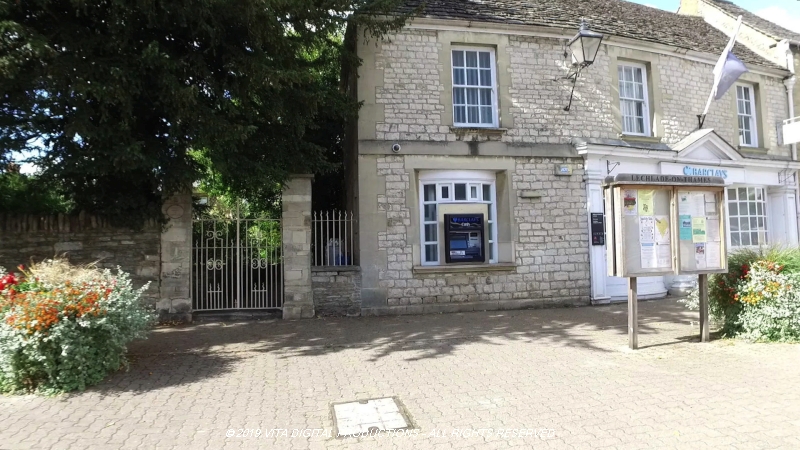 Crossing the street, you turn right and walk past antique and other shops and...
then you turn left onto a quiet residential street.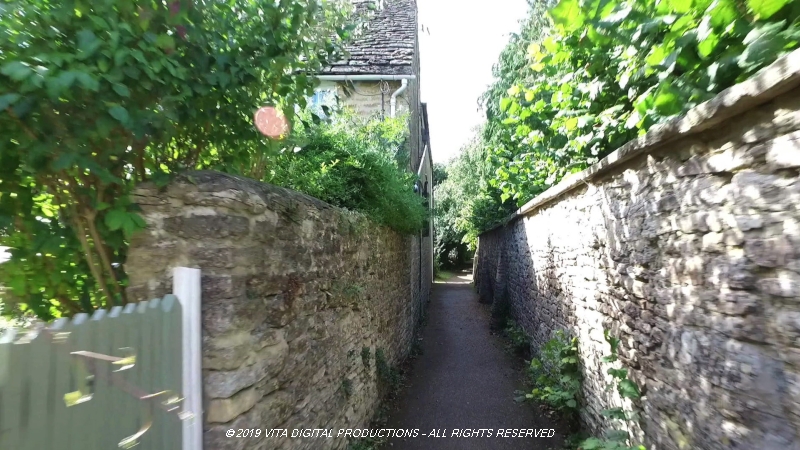 Then you walk down a walled pathway until...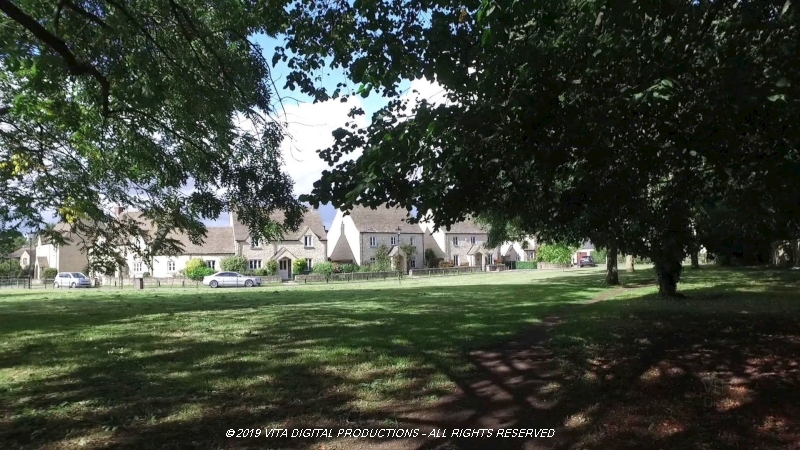 you discover a quiet green square surrounded by typical English homes.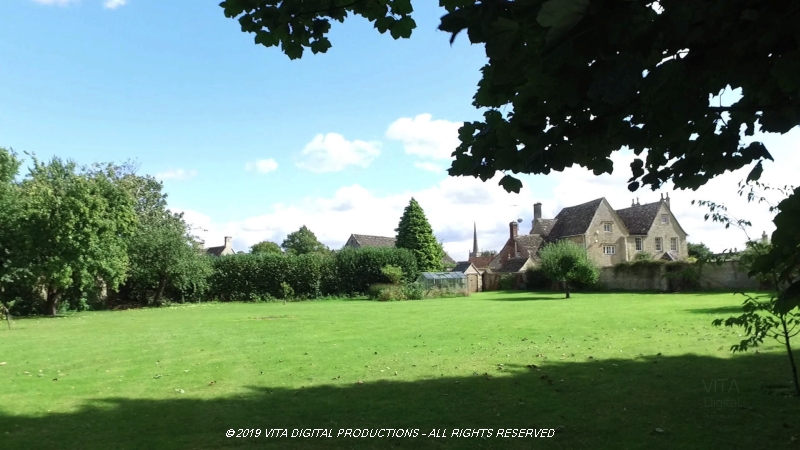 Your virtual visit to Lechlade-on-Thames ends here with this tranquil view.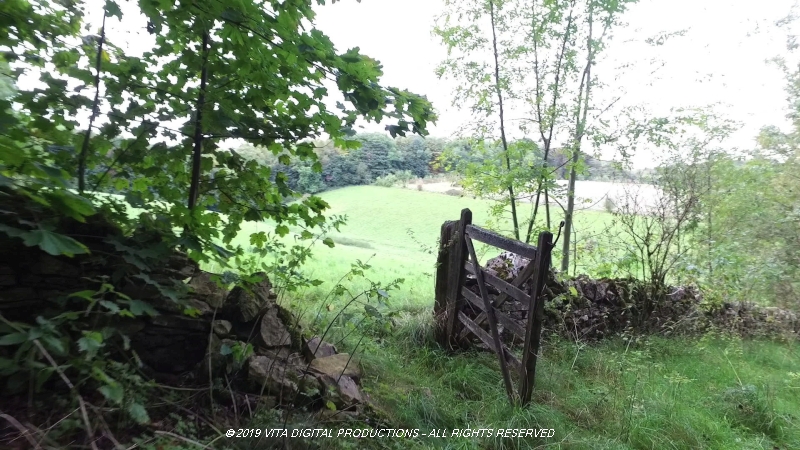 Next, beginning outside of another Cotswold village...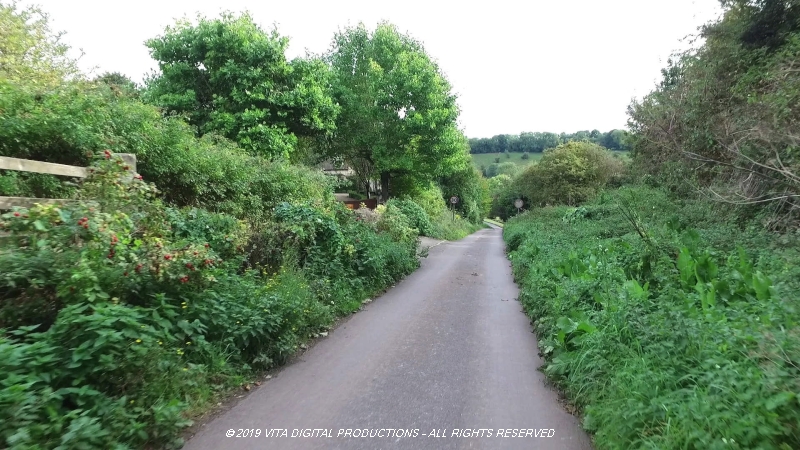 you follow the typically narrow road down the hill...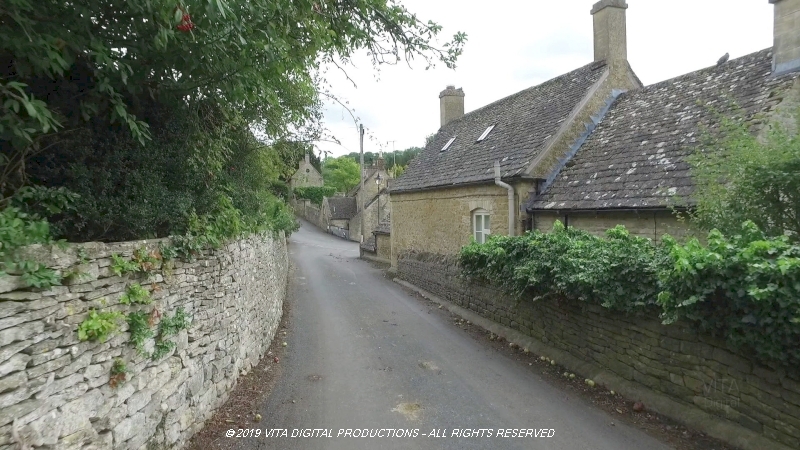 and into the village proper. Naunton is referred to in the Doomsday Book of 1086 as "Niwetone."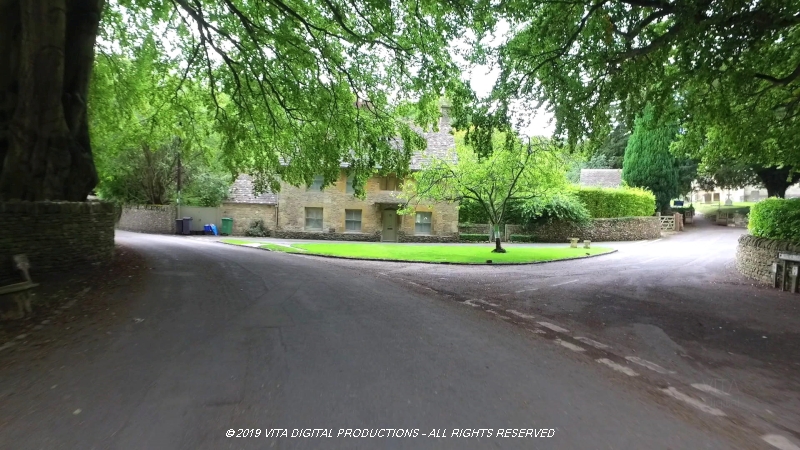 After crossing the bridge over the River Windrush, you enter a shaded street and...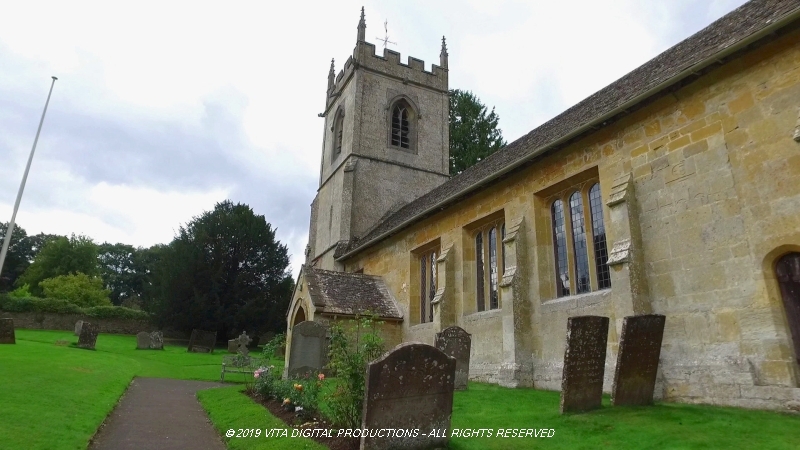 after walking up a hill, you enter the grounds of St. Andrew's Church.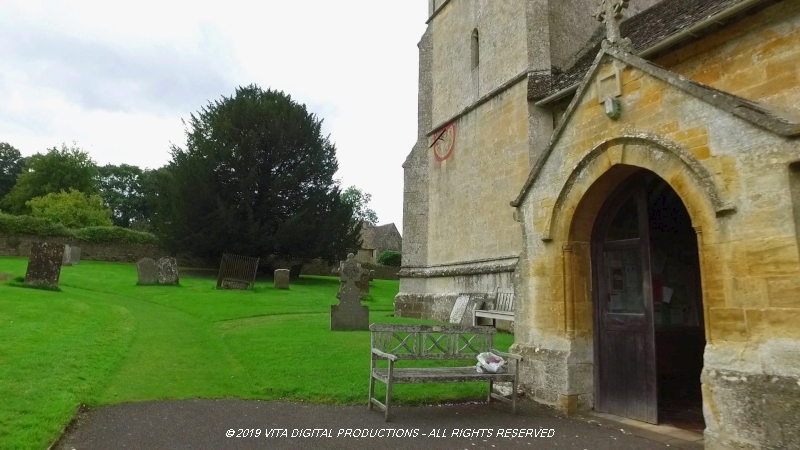 Walking closer, the white bag on the wooden bench contains the note,
"Help Yourselves - Apples - Churchyard windfalls."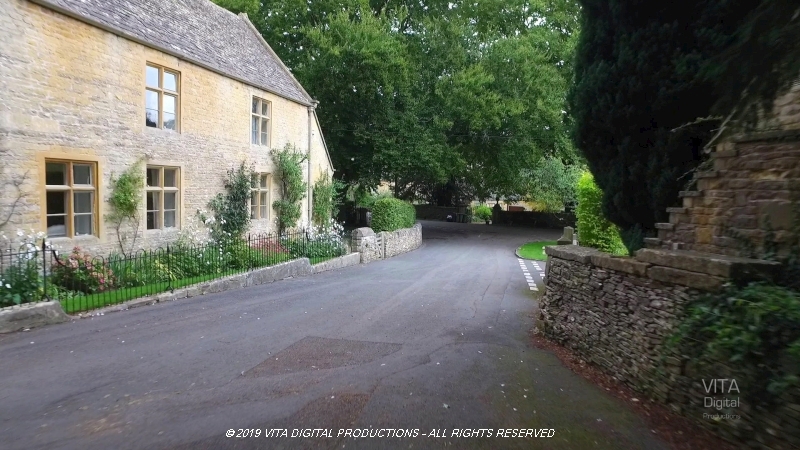 After touring the grounds of the church, you walk down the hill and ...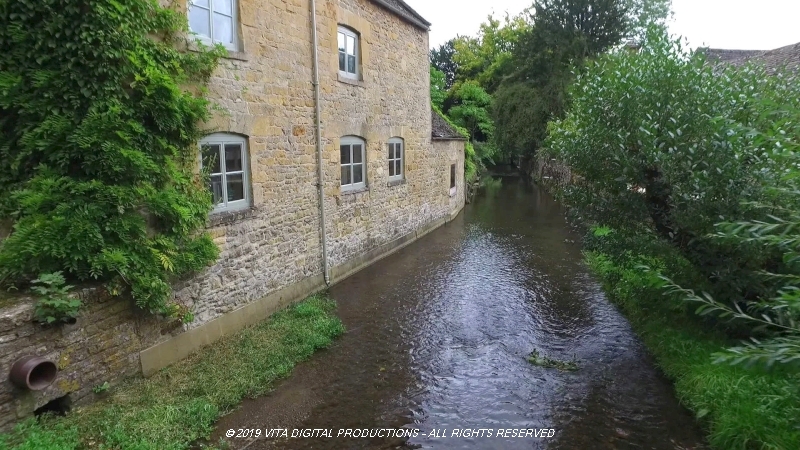 your virtual walk in Naunton ends overlooking the River Windrush.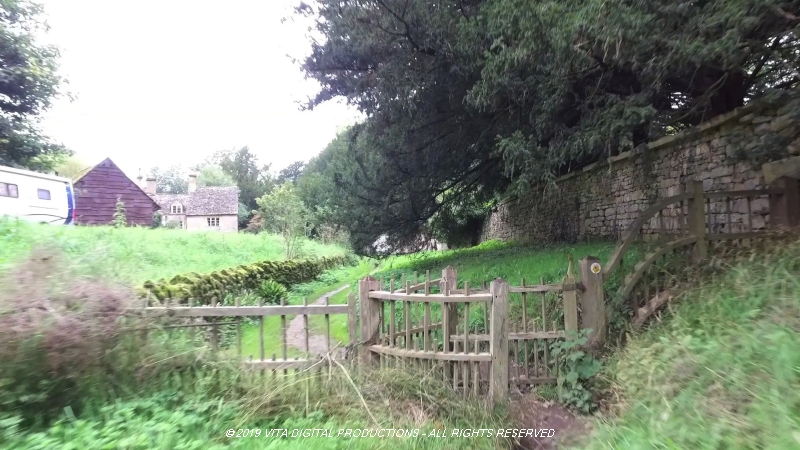 The next section of your one hour virtual walk begins outside the small village of Stanway on the Cotswold Way,
a 102 mile long footpath that runs through the heart of the Cotswolds, both its countryside and villages.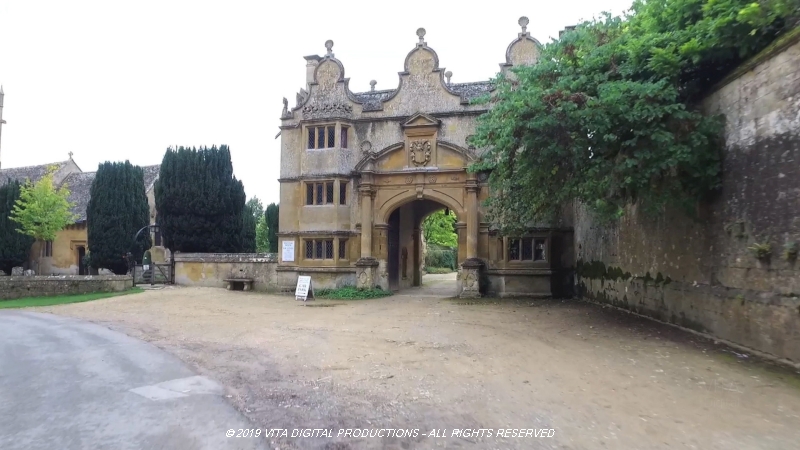 Still following the Cotswold Way, the impressive Gatehouse to Stanway House appears, a Grade 1 listed
Jacobean manor house constructed in the late 16th and early 17th century.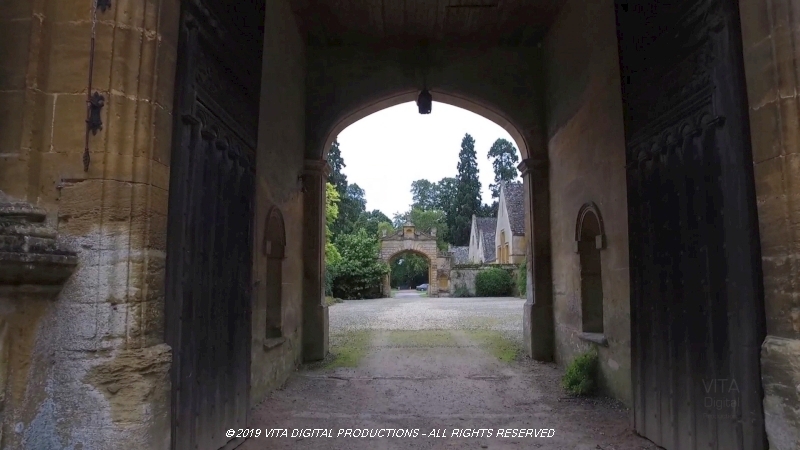 Stanway House itself is only partly visible through the Gatehouse passageway. The motion picture
"Vanity Fair," along with TV episodes of "Jeeves and Wooster" and "Father Brown" have been filmed here.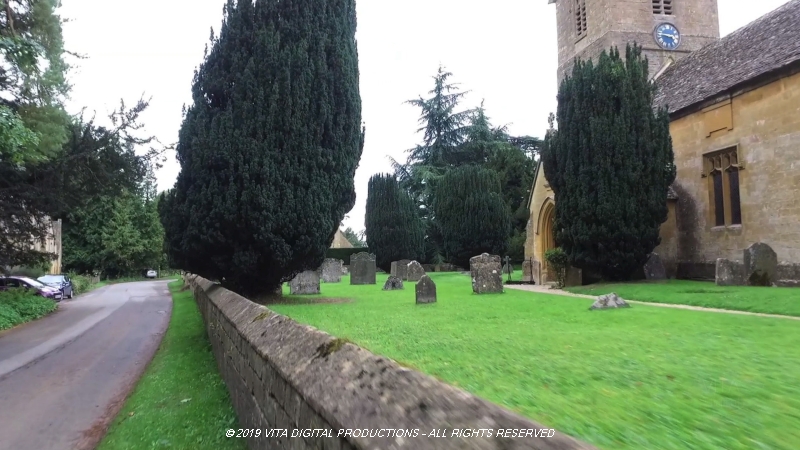 Continuing on through Stanway and past the village church....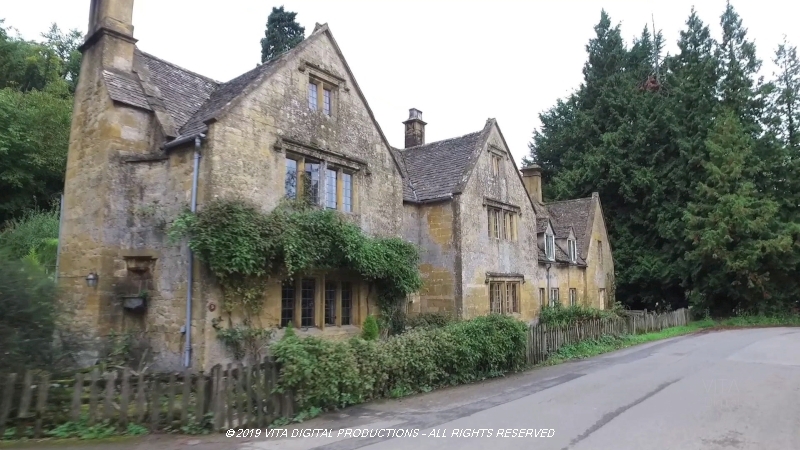 and past typical Cotswold houses made of the honey-colored stone, you suddenly hear...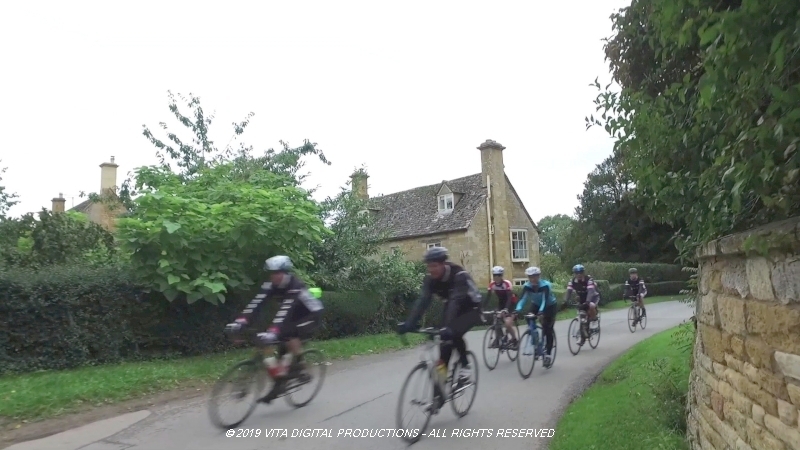 "ON THE LEFT!" as a group of cyclists speed past you.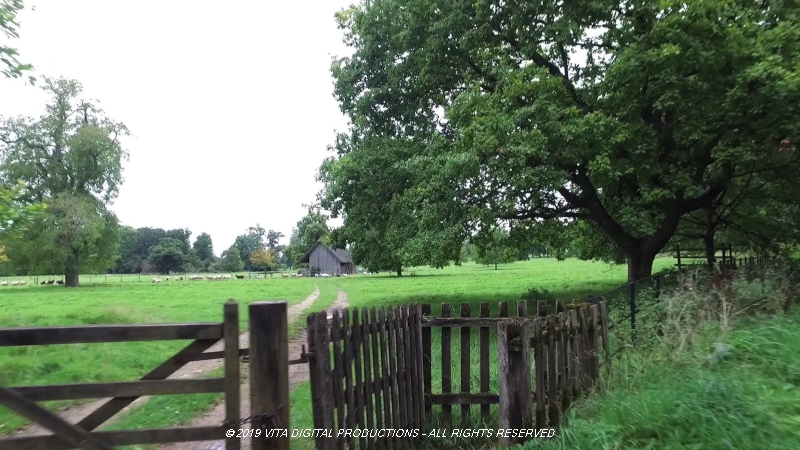 Later on, you briefly leave the Cotswold Way and through a gate and enter a field to ...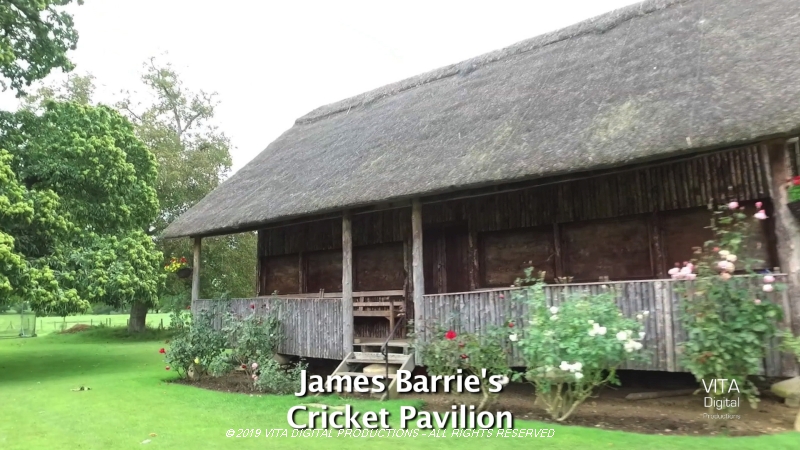 view a cricket pavilion which Peter Pan's James Barrie, after staying in the nearby Stanway House,
gave as a gift to the village. It, too, has been used in the British TV series "Father Brown."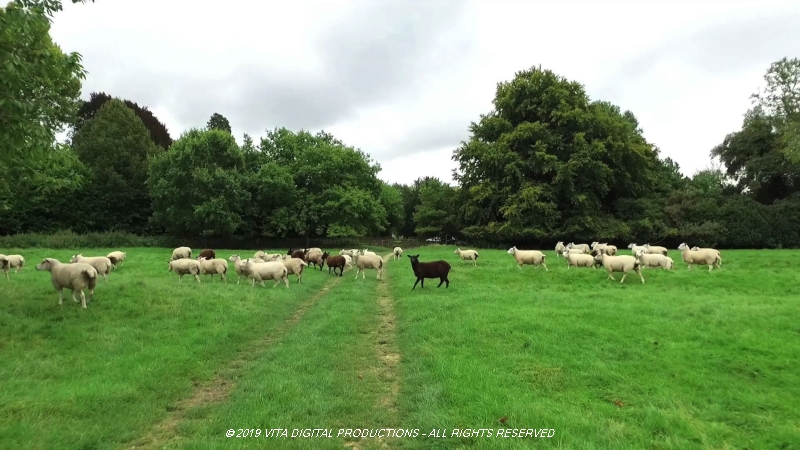 Returning through the flock of sheep and again onto...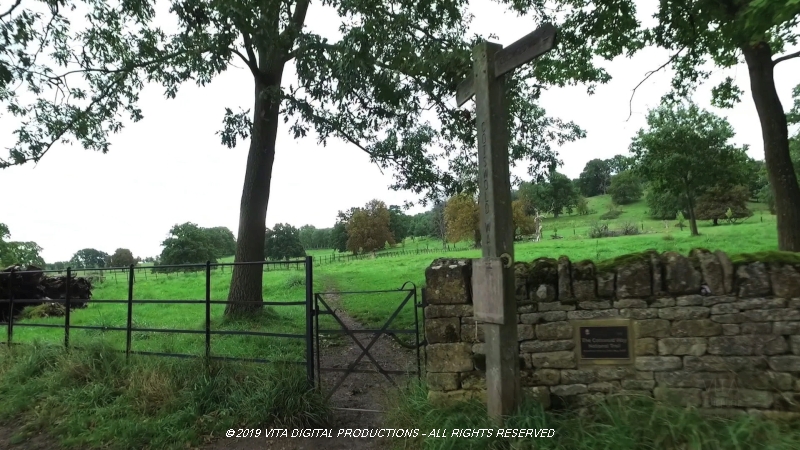 the Cotswold Way to the last of your five Cotswold Villages...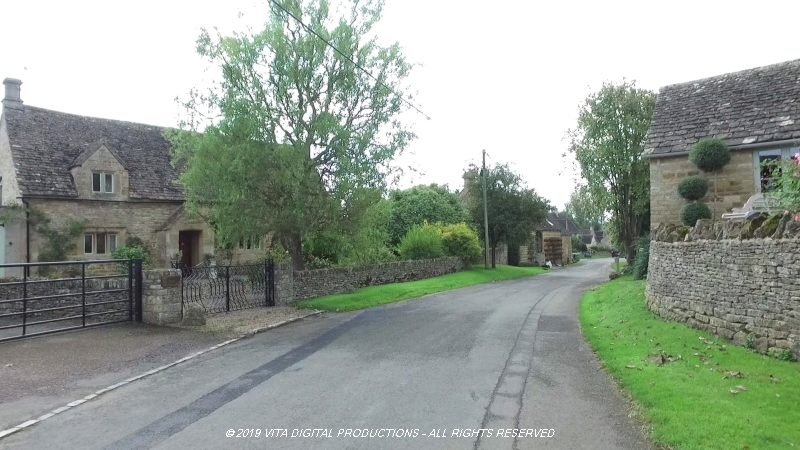 Icomb. This tiny village is famous as the haunt of the original "Tom, Dick, and Harry,"
three 18th century brothers who took to robbing stagecoaches.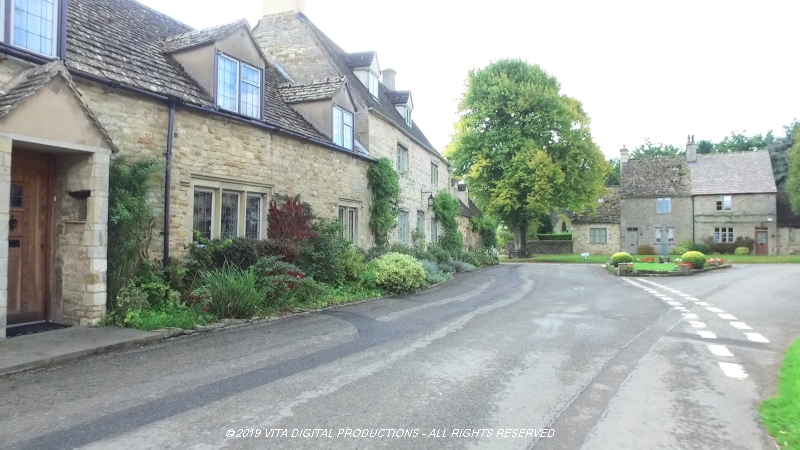 Today, Icomb is a peaceful village of only about 200 villagers.
It has numerous honey-colored stone cottages which date to the 17th and 18th centuries.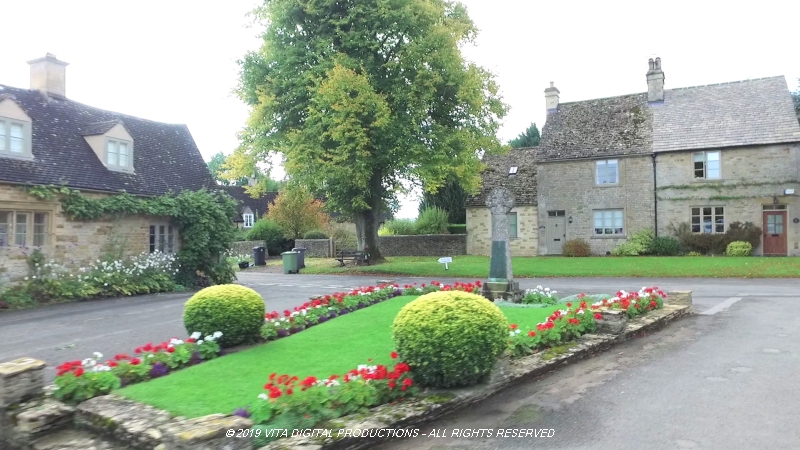 Like almost all small villages in England, it has a well-tended War Memorial, this one in the style of a Celtic cross.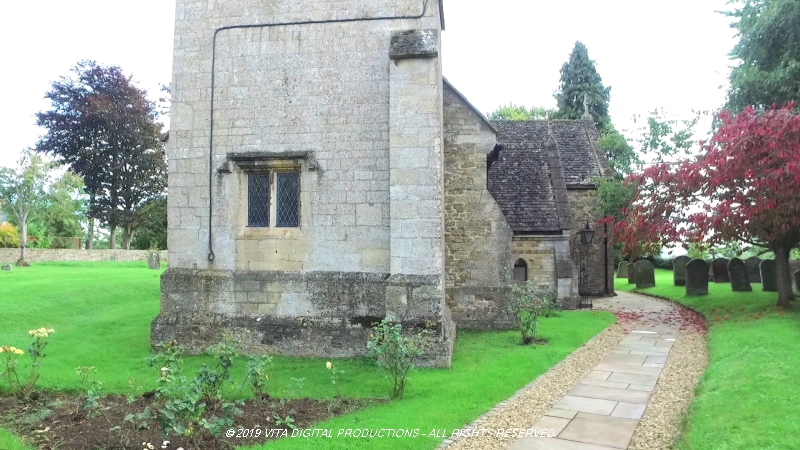 The church of St. Mary the Virgin was built in the mid-13th century, while the tower dates to the 16th century.
Inside the church is the tomb and effigy of Sir John Blaket who fought with Henry V at Agincourt.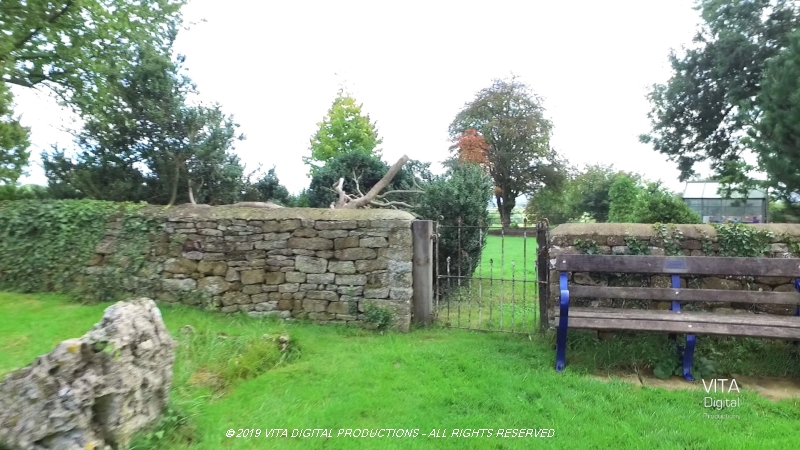 And after touring the church grounds and walking through this gate...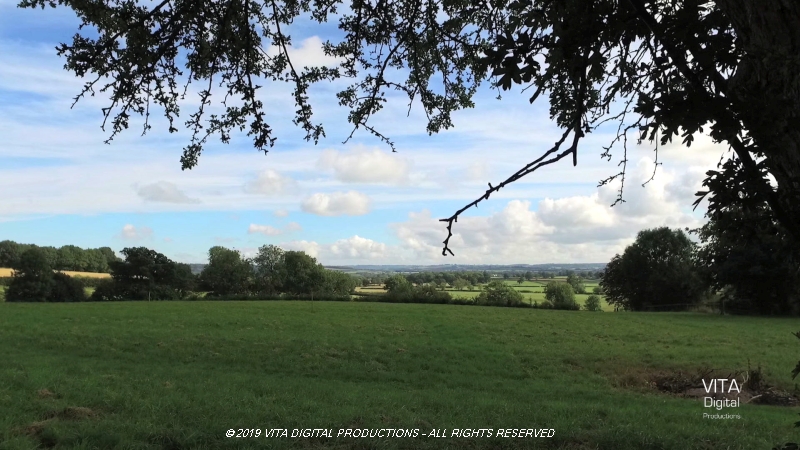 your one hour Cotswold Villages Virtual Walk - Volume 3, ends here with a view of the English countryside.
---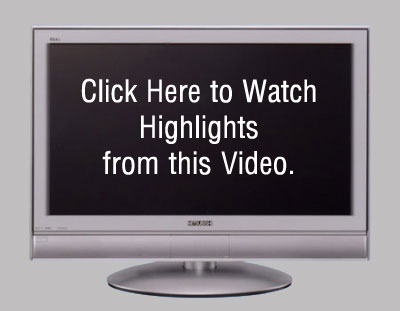 To Purchase this video as a DVD or a 720p HD Download, please click here.
---
And remember, this DVD makes a unique gift for family and friends!
---
PRODUCTION NOTES:
As you can see from the above stills, only one section of this walk had
other people while we filmed this video - most sections had no people at all.
This 60 minute virtual walk was filmed at an average speed of 3 mph and is accompanied
by the Natural Sounds in Dolby Stereo as they were recorded in the Cotswolds.
All 50 of the above photos are actual still frames from this download and DVD.
*While originally filmed in High Definition, the DVD you will receive
is in Standard Definition and 16x9 Widescreen and was
authored at the highest resolution possible.
The DVD was encoded for regions 1, 2, & 4, and is a "burned" DVD which was duplicated,
tested, and verified
in our studio before being packaged and shipped to you.
The Download version is in 720P HD and will play on iPads, Computers, Laptops,
and Netbooks using almost any media player. It will also play on Large Screen TVs using
certain devices such as WD Live Plus, X-Box, Roku, flash drives, etc.
Important: Sorry, but the Download version will not play if you burn it directly to a DVD.
---
COPYRIGHT NOTICE:

We are VITA Digital Productions and we are selling this Video Program.
We filmed all of the video footage used in this program, we edited it,
we have licensed the rights to any music used in this production,
and we own the copyright to this program and will aggressively defend it.

The program contained in this DVD and Download is licensed for HOME USE ONLY.
If you intend to use this program in connection with a business of any kind,
such as a gym, rehab facility, etc., you must contact us to obtain a business license
for a small additional fee.

Please click here to contact us.


---
Images, Text and Layout - Copyright 2019 VITA Digital Productions - All Rights Reserved