One of VITA Digital Productions' unique
Virtual Walks
(All photos on this page are
actual still frames
from the walk.)
> > > Click here to watch excerpts from the "Enchanting Burano" walk < < <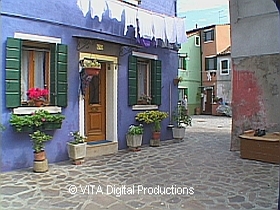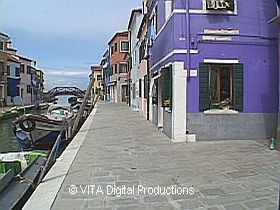 This
new DVD
with a 33 minute virtual walk on the island of Burano
is the perfect companion to a treadmill, Nordic Track, or exercise bike,
or is the
perfect gift
for family and friends.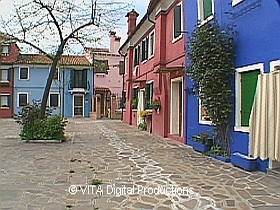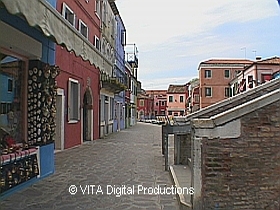 Just place it in a DVD player, step onto your treadmill,
and instantly you will experience a spring walk on the island of Burano,
one of the most picturesque islands in the world.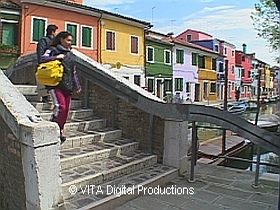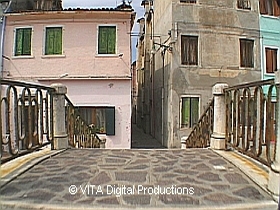 Filmed with a professional television camera and camera stabilization equipment,
the
camera seems to float
as it pulls you through colorful streets,
around corners, and over quaint bridges in this unique island village.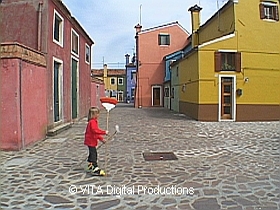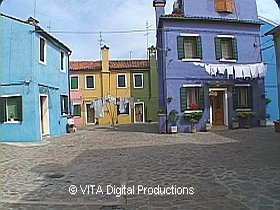 This is
not
a traditional travel video.
There is
no narrator
and there are no stationary shots of buildings, statues or fountains.
Instead the television camera is constantly moving forward, transporting the viewer
beside a tranquil canal with boats, through a wide piazza, and over a narrow stone bridge.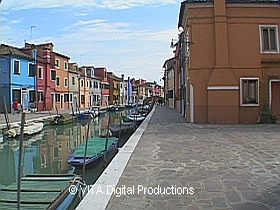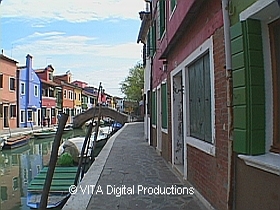 You are truly experiencing a spring day on the island of Burano.
The walk comes with a choice of two soundtracks:
You may choose to listen to the lively, upbeat music suitable for walking on your treadmill
or you may choose to hear the natural sounds as they were recorded on site in Burano.
Both stereo soundtracks
are included
on the DVD!
Exercising has never been easier or more enjoyable!

And these videos are so rich in details
that you will notice something new every time you view them.

But you don't have to have an exercise bike or treadmill
to enjoy this DVD.

It also makes the perfect gift
for people who want to experience Burano in a totally unique way,
a way not possible with traditional travel videos.

---

---

- Description of the 33 minute Walk -

Your 33 minute Burano walk begins at the vaparetto stop as you arrive on the island from Venice.

You will walk the streets with the locals as they go about their day-to-day activities.

You will enjoy the early spring day as young trees begin to show off their foliage.

Once known for its exquisite hand-made lace, today Burano still houses a school to

preserve the art of lace making. You will pass stalls and kiosks along your route where

lace tablecloths and christening gowns can still be purchased.

As you walk beside the island's main canal you pass lovely window boxes with their

brightly-colored flowers. Ladies of Burano like to hang their laundry outside

their colorful houses to dry in the breeze blowing off the Adriatic.

Everywhere you look on this island you will see how important a part the primary colors play

in the very life of Burano. The tiny houses and shops lining the canals form a delightful palette

for the eye, and great attention is paid to little details of color in this ancient village.

A BONUS CHAPTER with a 12 minute mini-documentary on The Lagoon Islands of Venice

is also included on the DVD!

> > > Click here to watch excerpts from the "Enchanting Burano" walk < < < You'll enjoy this 30 minute walk either with the lively, upbeat music
or with the natural sounds recorded on site as these videos were made.
Both soundtracks are included on the DVD!



---


And remember, this makes a unique gift for family and friends!



---

---

Note: We are VITA Digital Productions and we are selling this DVD.
We filmed all of the video footage used in this program, we edited it,
we have licensed the rights to the music used in this production,
and we own the copyright to this program.

The DVD you will receive is a "burned" DVD which was duplicated in our studio.

It contains an interactive menu and will play on DVD players and computers.

All of the above photos are actual still frames from the walk.