One of VITA Digital Productions' extensive series of
Cycling Scenery Videos
(All photos on this page are
actual still frames
from this video.)
Click Here to watch Clips from this Video.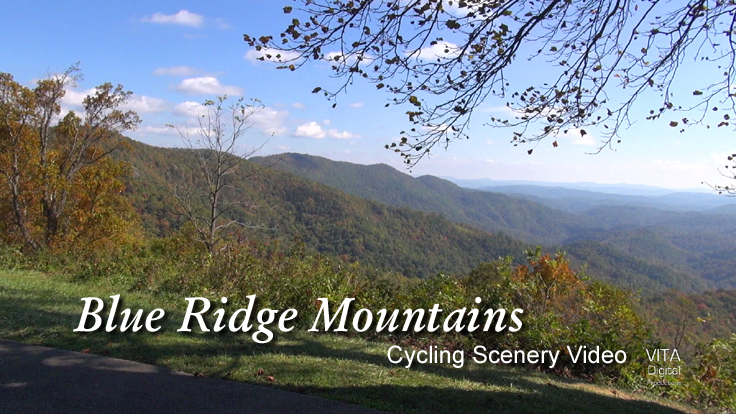 This new DVD or HD Download is a
60 minute widescreen virtual cycling video
shot in the Blue Ridge Mountains. Filmed at speeds of 16 to 20 mph,
it's the perfect accessory for your indoor cycle, recumbent or upright bike.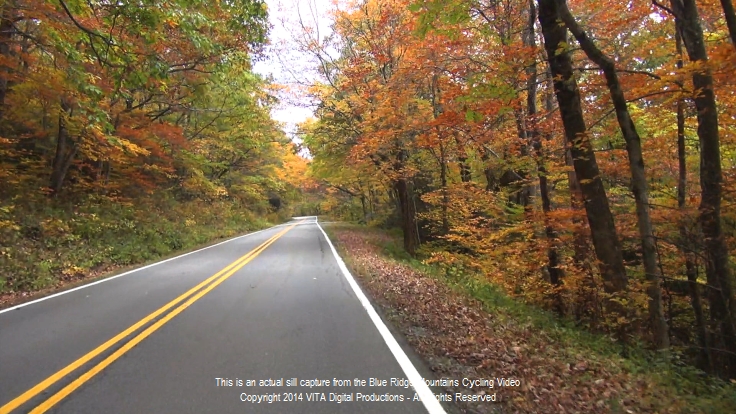 Just place it in a DVD player, mount your exercise bike, and instantly you will be
traveling at 16 to 20 mph through the beautiful Blue Ridge Mountains of North Carolina.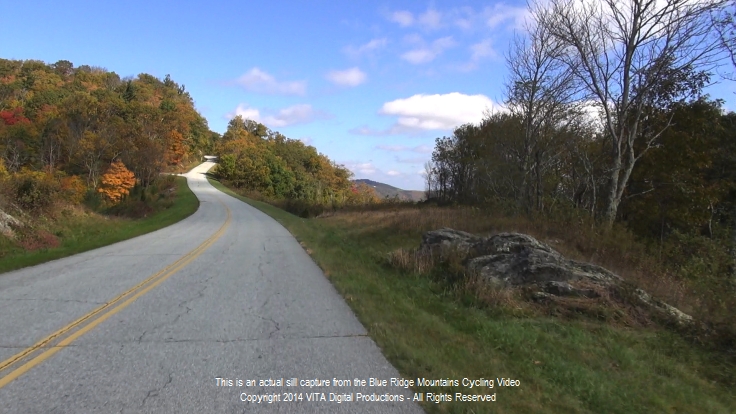 Filmed in Widescreen with High Definition* television cameras and camera stabilization equipment,
the camera seems to float as it transports you through the Blue Ridge Mountains in October.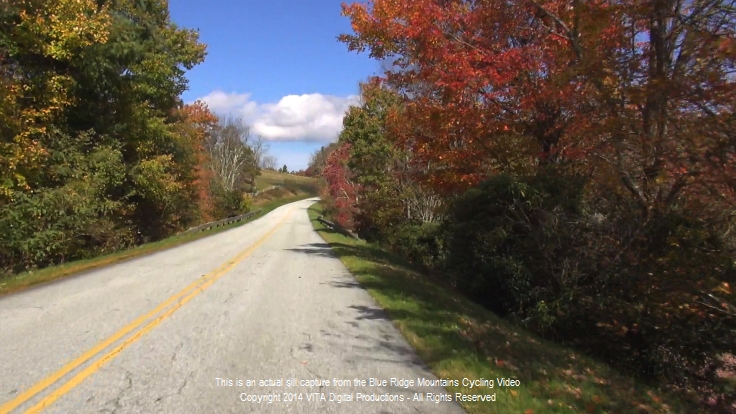 This video provides you with the same sights and sounds as you would
experience cycling in the Blue Ridge Mountains on a sunny autumn day.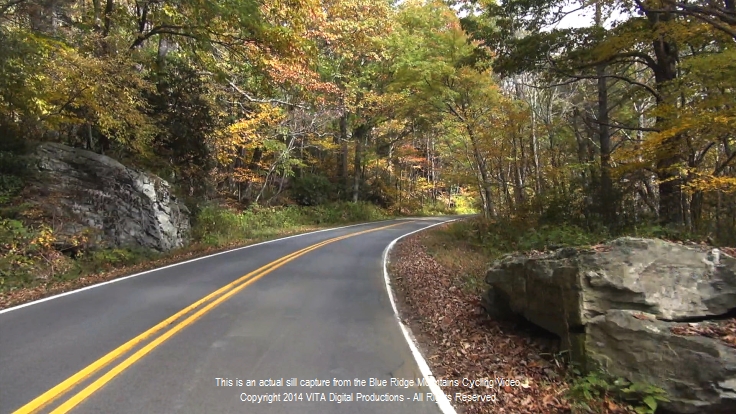 This is not a traditional travel video.
The television camera is constantly moving you forward, transporting the viewer
through different sections of this beautiful area.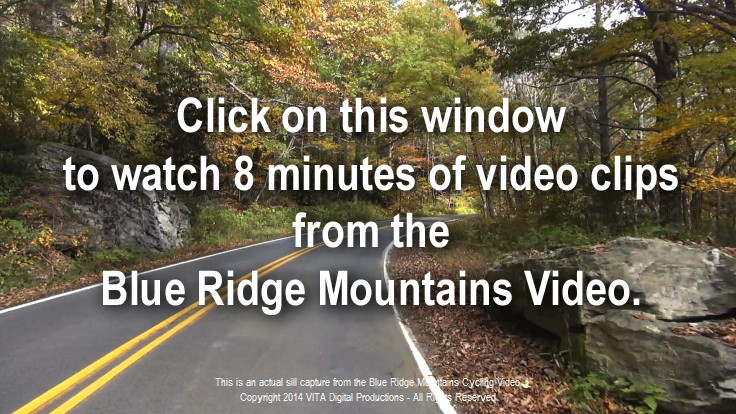 This 60 minute virtual bike ride is accompanied by the natural sounds
just as they were recorded in digital Stereo in North Carolina.
Exercising has never been easier or more enjoyable!


And this video is so rich in details
that you will notice something new every time you view it.


But you don't have to have an indoor exercise bike
to enjoy this one hour scenic video.


It also makes the perfect gift for people who want
to experience the Blue Ridge Mountains in a totally unique way:
a way not possible with traditional travel videos.


One of VITA Digital Productions' extensive series of
Cycling Scenery Videos
(All photos on this page are
actual still frames
from this Video.)
Click Here to watch Clips from this Video.
To Purchase this video as a DVD or as a 720p HD Download, please click here.
A Detailed Description of this Cycling Scenery Video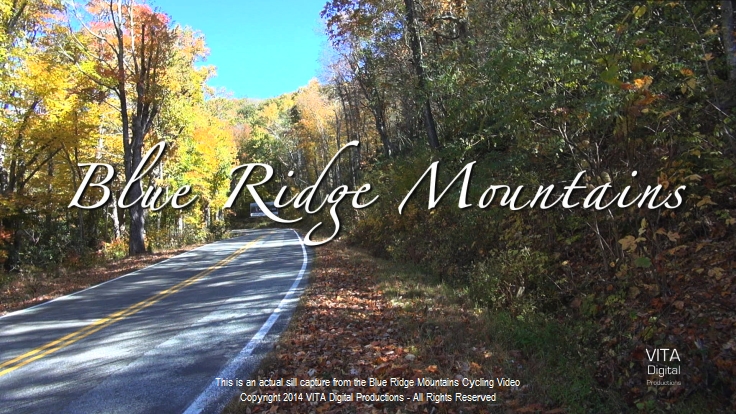 Your one hour Cycling Scenery Video begins in the Blue Ridge Mountians
just outside the village of Linville, NC on scenic US 221.
The road passes under a canopy of trees just beginning to display their autumn colors.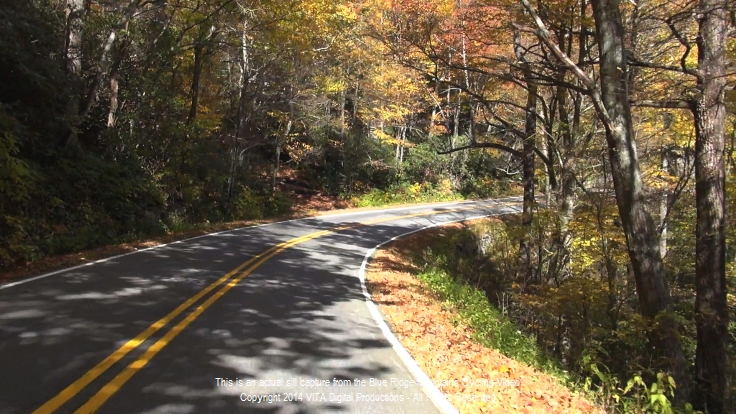 US 221 winds its way through some beautiful mountain scenery....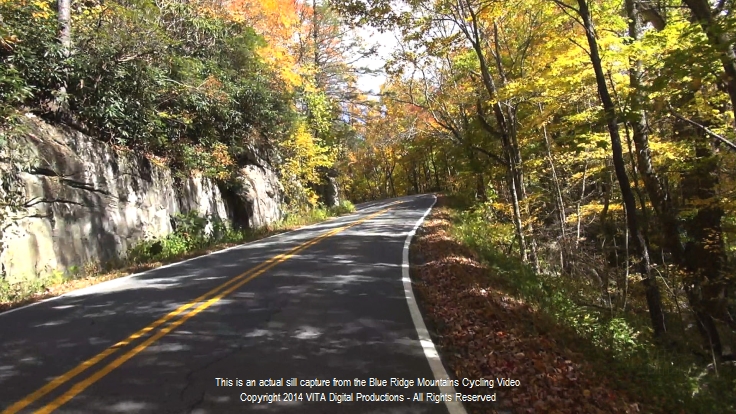 and past rock outcroppings.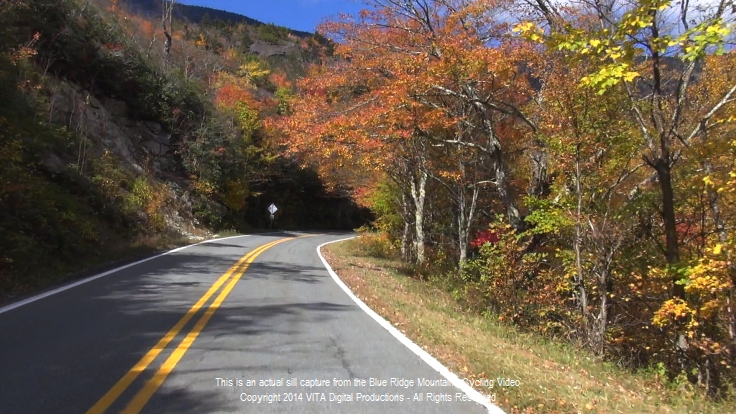 As you approach another canopy of trees over the road, you catch
a quick glimpse of the Blue Ridge Parkway as it passes over the Linn Cove Viaduct.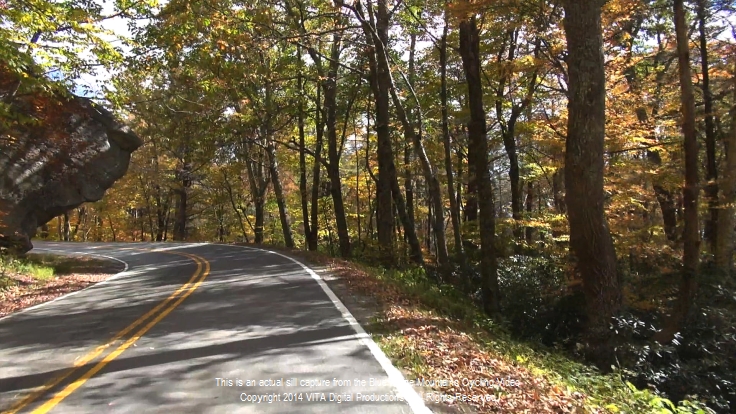 Continuing northeasterly on US 221, you pass another impressive rock outcropping.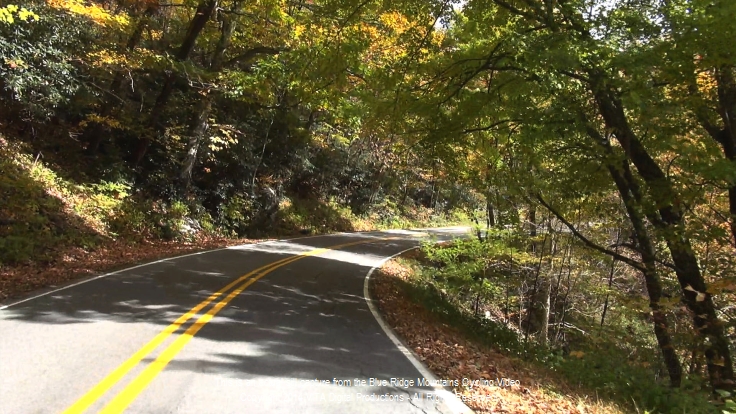 It's a beautiful day for cycling in the Blue Ridge Mountains!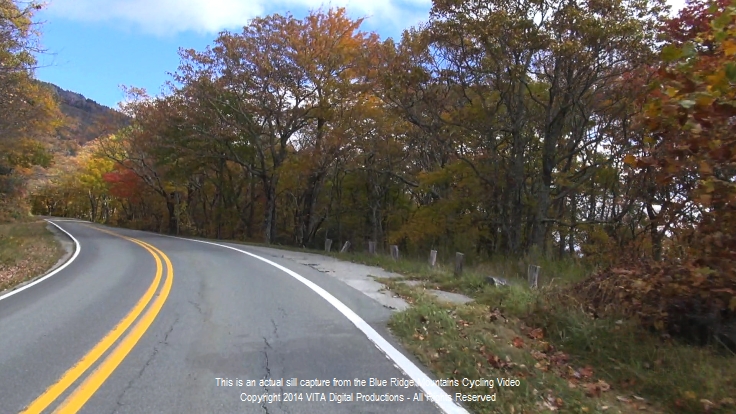 Blue skies abound on this October day.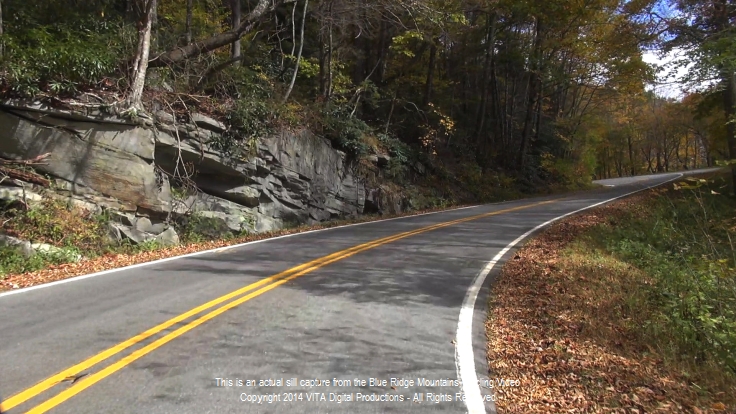 Trees cling tenaciously to the neighboring rocks.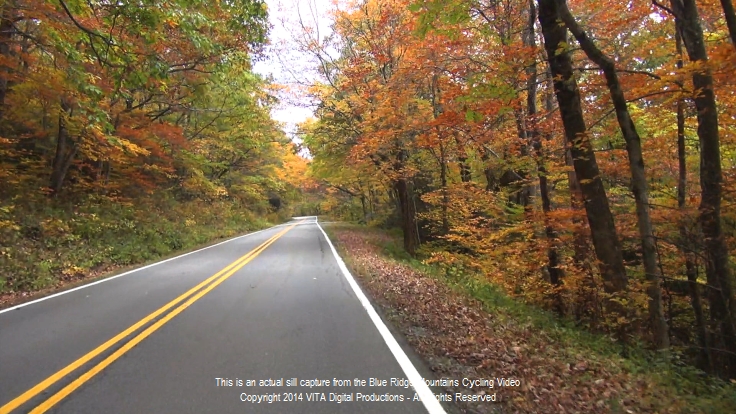 The deep greens of the summer forest are transitioning into the rich colors of autumn.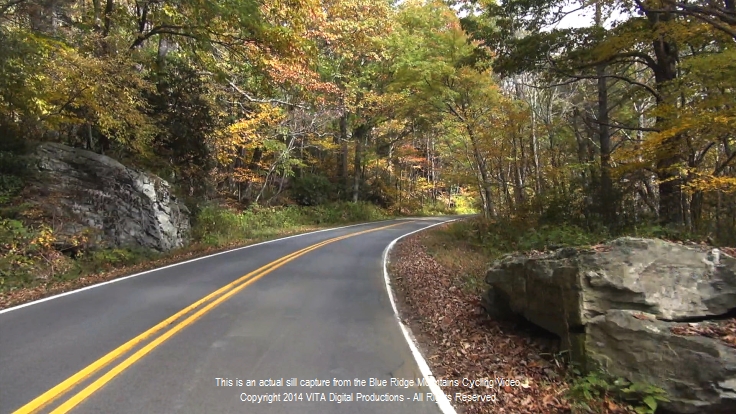 Proceeding onward, you pass between more rock formations.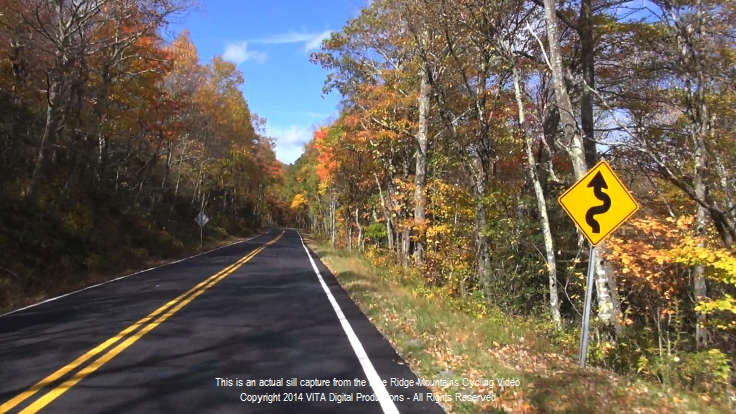 Next you come to one of the few straight stretches of roadway before
encountering more curves.
In terms of biodiversity, the only similar deciduous forest region in the world
is found in central China.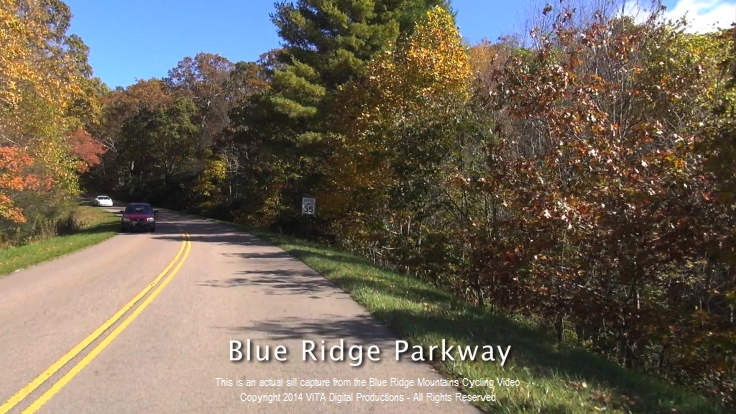 The second half of your Cycling Scenery Video switches to the famous
Blue Ridge Parkway.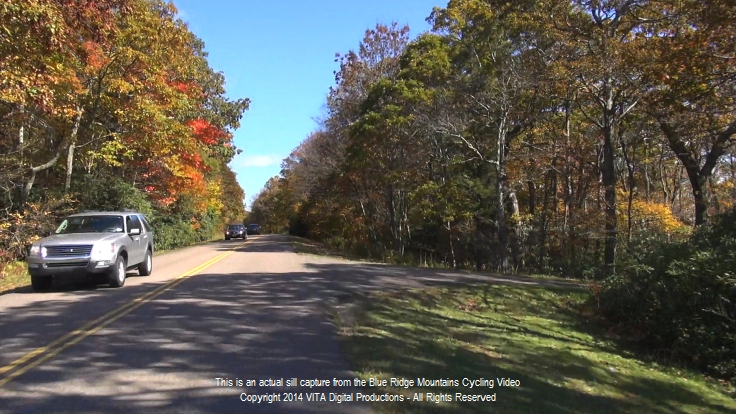 The Blue Ridge Parkway is within a day's drive of half
the population of the United States.
The nearby Great Smoky Mountains National Park is the most visited
national park in the United States.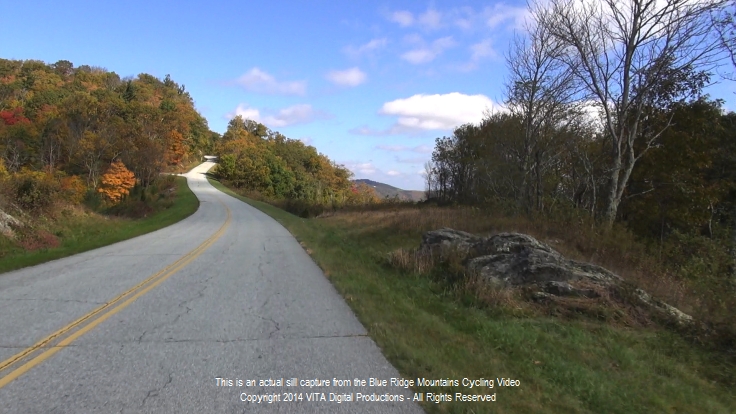 The Blue Ridge contains the highest mountains in eastern
North America south of Baffin Island.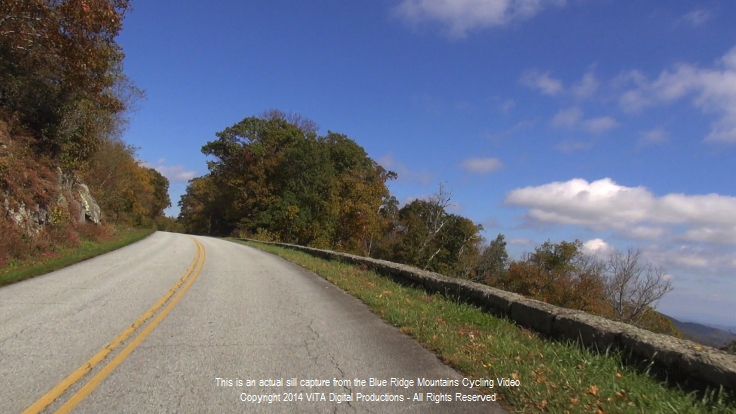 Your uphill climb is made easier by the white puffy clouds
in the blue sky.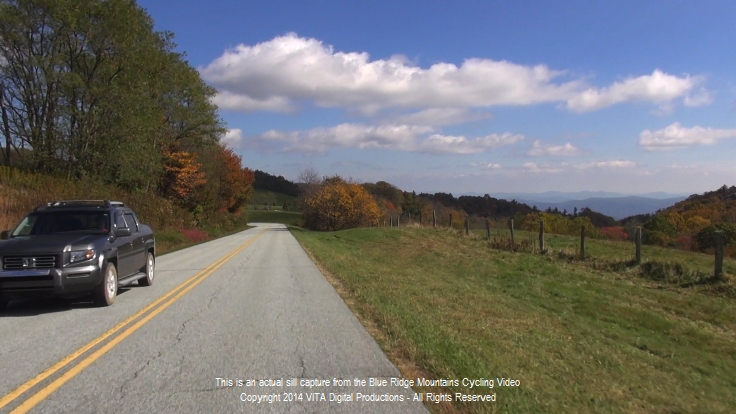 The Blue Ridge Parkway is the perfect locale for cyclists.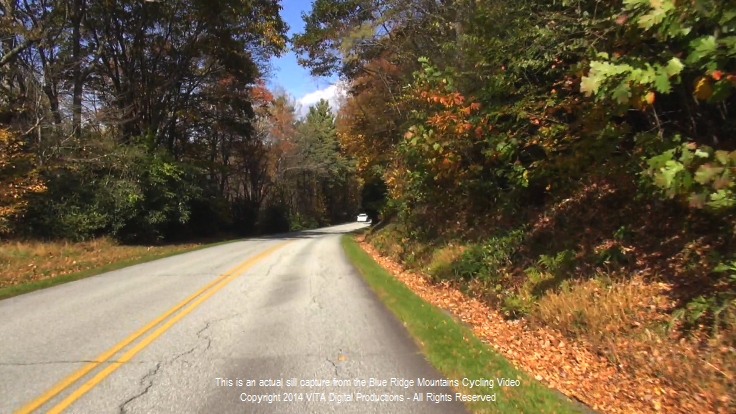 The Blue Ridge Mountains has the highest annual US rainfall outside the
Pacific Northwest.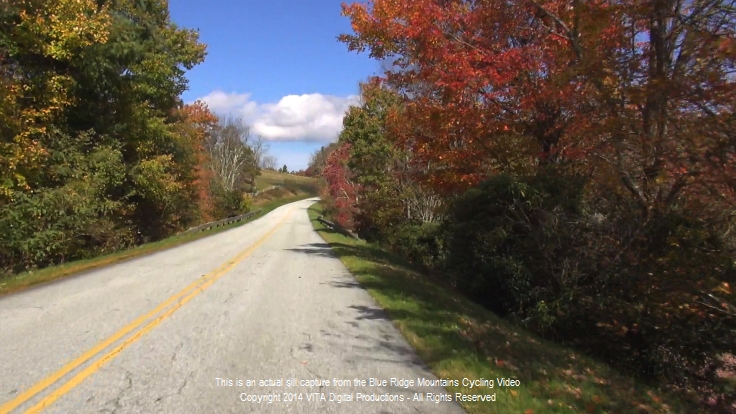 The Blue Ridge Parkway runs 469 miles (755 km) along crests of the
Southern Appalachians and links two national parks: Shenandoah and
Great Smoky Mountains.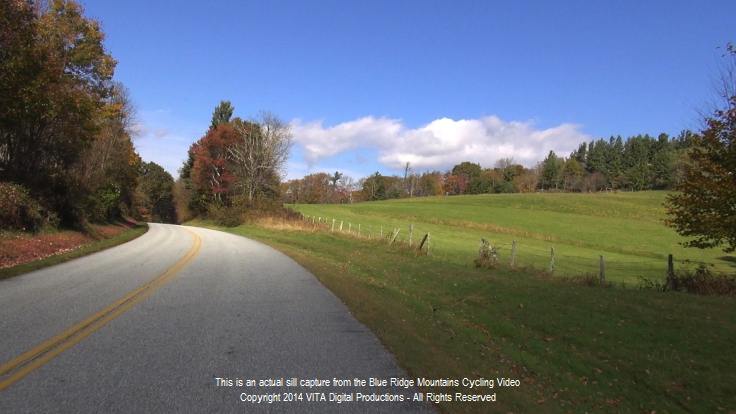 This section of the Parkway is filled with lush greenscapes and scenic vistas.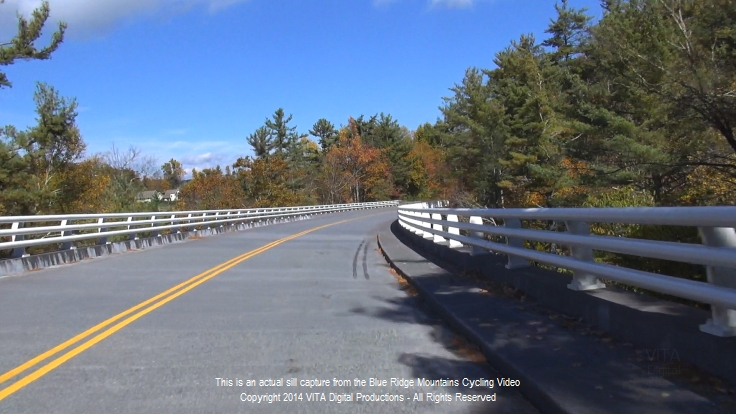 The Blue Ridge Parkway passes over the historic Goshen Creek Bridge,
which recently received a controversial new decking and bridge railing.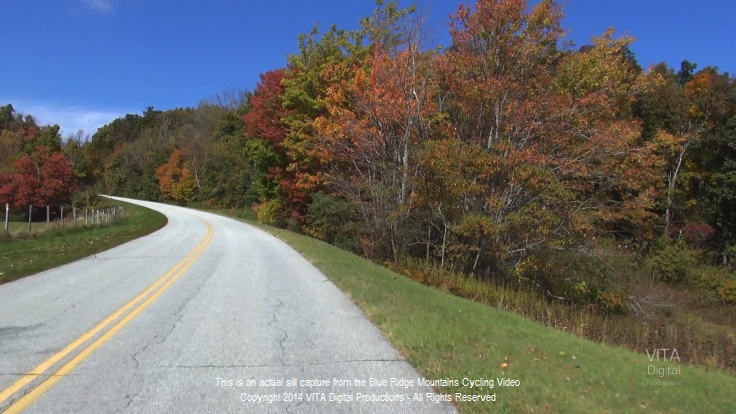 A gentle upward climb lies ahead.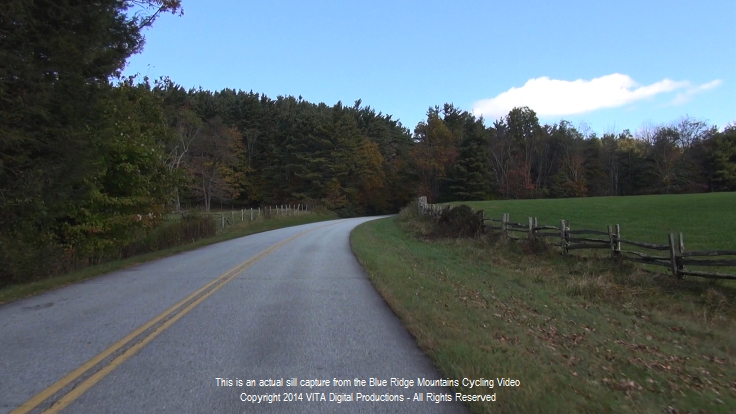 The Parkway passes one of the numerous split rail fences,
popular in very rocky areas where post hole digging is almost impossible.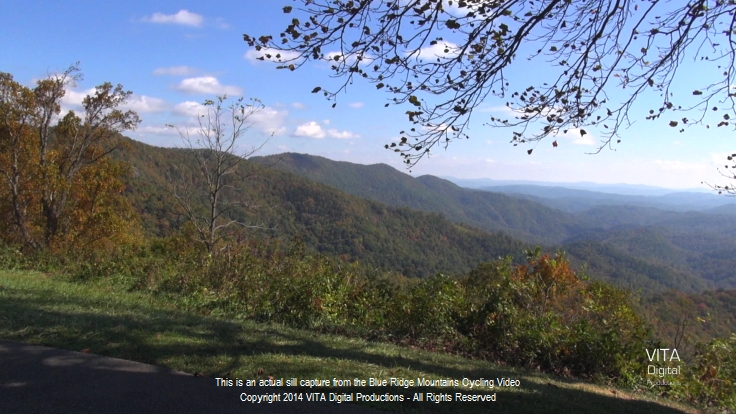 Your one hour Cycling Scenery Video ends at the appropriately named Grandview
Overlook, milepost 281, with a spectular view of the Yadkin Valley.
And remember, this DVD makes a unique gift for family and friends!
---
To Purchase this video as a DVD or as a 720p HD Download, please click here.
IMPORTANT
We are VITA Digital Productions and we are selling this video which is available both as a DVD and a 720p High Definition Download.

We filmed all of the video footage used in this program, we edited it, and we own the copyright to this DVD and we will aggressively defend it.

This video was filmed with Professional HD Television cameras using Camera Stabilization Equipment and edited on State-of-the-Art editing systems. We are Professionals - you've seen our High Definition Footage used in documentaries, movies, and commercials which have appeared on the History Channel, the Biography Channel, A&E, NBC, CBS, ABC, CBC, and the BBC.

The program contained in this DVD and HD Download is licensed for HOME USE ONLY. If you intend to use this program in connection with a business of any kind, you must contact us to obtain a license to do so.

The DVD you will receive is a "burned" DVD which was created at the highest quality settings possible and Made in the USA. While not shrink-wrapped, it is UPC coded and the DVD you will receive is NEW in every sense of the word.

This DVD is shipped in a standard size white plastic DVD case and contains an interactive menu and will play on DVD players and computers.

* While filmed with NTSC (USA format) High Definition Television cameras, the DVD you will receive is in Standard Definition at the highest SD resolution possible for a DVD.

For the best viewing experience on a large flat screen TV, we recommend using a DVD player that UPSCALES.

All of the above photos are actual still frames from the DVD or HD Download you will receive.

PRODUCTION NOTES:

The 60 minute cycling video was filmed at speeds between 16 and 20 mph and is accompanied by the natural sounds (in Dolby Stereo) as they were recorded on site in North Carolina.


Please click here to contact us.
Images, Text and Layout Images, Text and Layout Copyright 2017 VITA Digital Productions - All Rights Reserved